Former UN Secretary General U Thant once said that "wars begin in the minds of men".
One year ago, as the world waited to see if Russia would invade Ukraine, it seemed the answer rested in the mind of only one man: Vladimir Putin.
As Western allies became more convinced that Moscow would move against Kyiv, the conflict was seen as Mr Putin's war.
It would begin with him, and would likely end with him.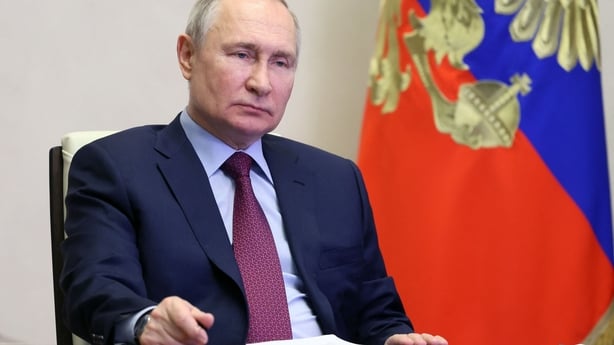 One year into a war which has not gone the way Moscow envisaged, Vladimir Vladimirovich Putin is now inexorably linked to a conflict which the Kremlin had expected to be over within months, if not weeks.
The plan was a short, sharp attack with a quick march to Kyiv to confirm Russian authority, but a range of factors intervened to make that supposition a dim and distant memory.
An intense fight back by Ukraine, as well as a poorly supplied and demoralised Russian army made it necessary for Russia to regroup and redefine what it wanted to achieve from this conflict.
One year on, Vladimir Putin has bedded in for a longer haul campaign.
We need your consent to load this rte-player contentWe use rte-player to manage extra content that can set cookies on your device and collect data about your activity. Please review their details and accept them to load the content.Manage Preferences
SANCTIONS
In the immediate wake of war, the West launched a range of sanctions against Russia.
The hope was that a harsh financial impact would concentrate Russian minds about the war, or "special military operation" as the Kremlin calls it.
Oligarchs unable to holiday in the south of France, or middle-class Russians unable to access Western brands might pressurise President Putin to change tack.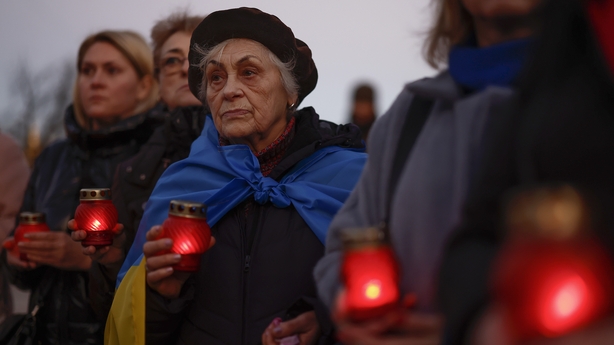 Polina Ivanova, Russia/Ukraine Correspondent with the Financial Times points out that "some predictions saw Russia's GDP falling 30%" because of sanctions but "that did not materialise".
In specific industries, like car manufacturing, there was a significant impact because of the lack of access to the required parts and machinery. But more generally, Ms Ivanova said the middle classes in cities like Moscow "have not felt the sort of hit to their wallets in a big way, or a real change to consumer lifestyles" that many had expected.
But just as Mr Putin is readying for the long haul in this war, sanctions may also involve the West playing a longer game.
Ms Ivanova calls it a potential "slow, snowball effect" suggesting that Russia's increased isolation from the global market will cause a slow deterioration in its economy across different sectors: "more of a steady degradation than a collapse".
Russia has seen many major companies head for the exit door, and the European energy market which was so important to Moscow is seriously depleted.
It was a trade which took decades to build, but only a short time to sunder.
Thousands of miles of a gas pipeline between Siberia and Europe suddenly appears to be heading in the wrong direction, as Moscow seeks to cultivate markets in China and India.
Gazprom, the Russian gas giant, has not disclosed details of its financial results since the war began.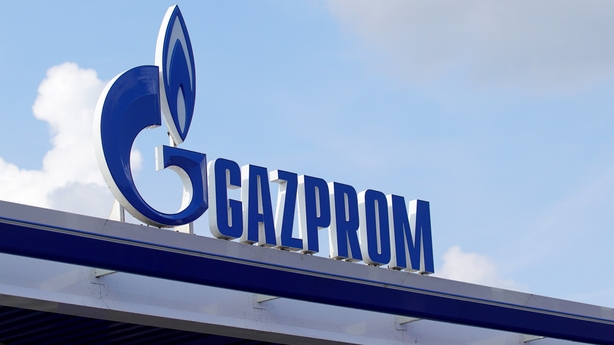 But the Reuters news agency has estimated that, based on export fees and export volumes data, Gazprom's revenue from overseas sales were around $3.4bln (€3.17) last month down from $6.3bln (€5.8) in the same period the year before.
That halving in revenue over the last year would further widen the $25bln (€23.3) budget deficit Russia posted in January.
The International Monetary Fund (IMF) has forecast slight growth of 0.3% for the Russian economy in 2023, though the IMF and the World Bank along with the Organisation for Economic Co-Operation (OECD) suggest that last year Russia's GDP dropped anywhere between 2.2% and 3.9%.
That is nothing like the 30% drop in GDP Ms Ivanova heard talked about in the early days of the war, but it shows a widening of the budget deficit in Russia, in spite of many emergency measures being implemented by the Kremlin in the wake of the war to try and insulate the economy from the major shock of sanctions.
LEADERSHIP
After twenty years as Russian leader, albeit at times in different roles, the grip which Vladimir Putin has on power has helped considerably in selling the war, or "special military operation", to the Russian public.
Sam Greene, a professor in the Russia Department at Kings College in London, is also co-author of "Putin v The People" which looks at the roots of President Putin's support across a wide range of Russian society.
---
Read More: Putin vs Zelensky: 'Incompatible' leaders face off in Ukraine
What will it take to rebuild Ukraine?
A year into Ukraine war, there are only grim horizons
---
Professor Greene says that 12 months in, as the war grinds on, President Putin has lost the battle to keep this war away from the lives of many Russians.
Inevitably, a lengthened conflict has seen the war become much more a fact of life in Russia, with the Kremlin "spending a lot of time and effort trying to ensure that people stay on board, trying to explain to people why they are going to have to make sacrifices, including sacrifices to human life... that they are going to have to make for some time to come."
But, even for a leader sensitive to public opinion, Prof Greene believes that Mr Putin will feel "relatively satisfied with the degree of support he has been able to get from the Russian people".
That support has of course been punctuated with pockets of protests, quickly clamped down on by new laws criminalising any criticism of the war.
The exodus of draft age people from the country in September when a mobilisation order was issued was the clearest indication yet that "support" for the war in Russia is not as robust as President Putin would wish.
Ms Ivanova points out that among many parts of the Russian population there is substantial opposition to the war.
Among "urban, young, educated people" the war has been a life changing event which has seen an estimated half a million people leave Russia.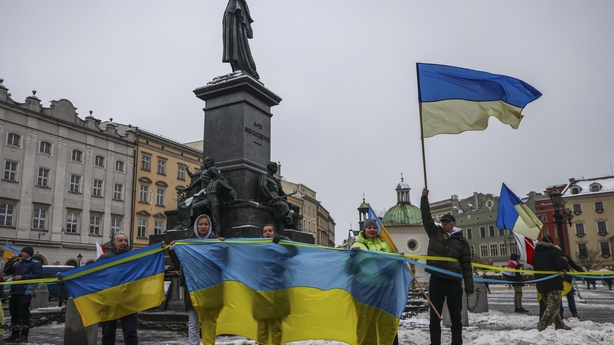 THE FUTURE
As Mr Putin heads into another year of war, his strategy has no doubt changed.
Initial hopes of a swift success have changed into a slow burn conflict, which has become militarily bogged down.
The parameters of what would constitute success have changed, as President Putin looks to a renewed offensive by Russian troops to deliver him some good news.
The hope also that agreement among Western nations on a unified approach to the war will begin to splinter, leading to less weapons and support for Ukraine.
His own leadership is undoubtedly weaker as a result of what many view now as the greatest miscalculation of Mr Putin's career.
But any threat does not appear immediate.
As Prof Greene points out the reality is that Mr Putin "has advantages that most Western leaders wouldn't dare dream of".
The lack of opposition, a lack of critical questioning from the media and a control over the narrative that the population hears all combine to help keep Mr Putin in power and in control.
Much like the war itself, that does not look like a situation which will change very soon.