One is a former KGB agent and ruthless autocrat in power for more than two decades. The other is a successful comedian-turned-politician who found himself a war-time leader after less than three years as president.
Russian strongman Vladimir Putin and Ukrainian President Volodymyr Zelensky are the faces of the year-long war in Ukraine, Europe's bloodiest conflict since World War II.
Both born in the USSR - though 25 years apart - they have become the flag bearers of diametrically opposed visions of the post-Soviet world.
For Putin, 70, the Soviet collapse was a disaster that he is determined to correct, hinting that nuclear weapons are needed to return Kyiv into Moscow's fold.
But Zelensky, 45, has aligned his country's future with the West, having been elected in a 2019 landslide on a wave of malcontent over Russian aggression and corruption among old Soviet elites.
The gulf between them was unmistakable at their first face-to-face meeting in 2019 in Paris alongside French President Emmanuel Macron and Angela Merkel, Germany's then chancellor.
Zelensky, smiling sheepishly and enjoying the international limelight at talks to end fighting in east Ukraine, at one point happily obeys cues from Putin to turn and smile for the cameras.
"Both then and now it was obvious that these were two fundamentally different types of leaders," said Andrei Kolesnikov, a Russian political analyst at the Carnegie Endowment for International Peace, a US think tank.
"One modern, young, informal, focused on development; the other closed, archaic, authoritarian, with complexes and crazy ideas."
'Arrogance, disrespect'
Since the Kremlin ordered Russian troops to topple the Ukrainian government one year ago, both men have defied expectations set out for them.
Zelensky not only remained in Kyiv while it was being bombed in the opening hours of the invasion, but he has made numerous trips to the front line, including to Bakhmut - the war's longest-battle and now the epicentre of fighting.
Ukrainian political analyst Anatoliy Oktysiuk explained that prior to the war, Zelensky presented himself as "a president of peace".
"Putin treated him like a clown, a comedian, a buffoon. The invasion that he started was the result of his underestimation, arrogance, and disrespect for Zelensky," Mr Oktysiuk said.
That all changed after Putin launched his full-scale invasion of Ukraine, displacing millions and leaving tens of thousands dead.
Putin's place in politics has changed too.
Putin, who had cultivated his hardline image with photoshoots in the Siberian wilderness, has failed so far in his military objectives in Ukraine and has shirked the front lines, instead handing awards at safe distance in the Kremlin.
He has become an international pariah abroad, while Zelensky has received a steady flow of top European diplomats. Putin is excluded on the international arena while Zelensky is welcomed as a guest of honour in Washington and London.
And - unlike in 2019 - Zelensky has now refused negotiations with Russia so long as Putin is in power.
"Who is he now? After (the) full-scale invasion, for me he is nobody," Zelensky said in an interview with British media earlier this year.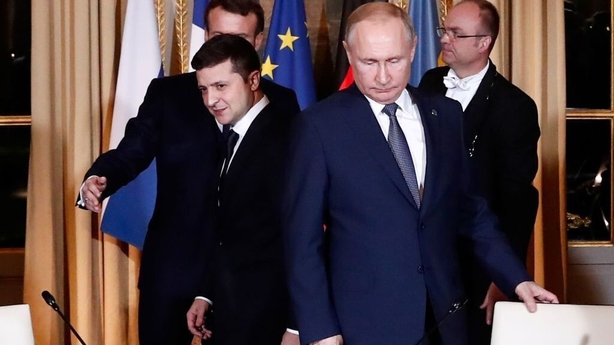 ---
---
'Neo Nazi, drug-taking kidnappers'
The vitriol is mutual. The day after Putin sent his army to Ukraine, he called on Ukrainian servicemen to turn their arms on their own leaders.
"It will be easier for us to come to terms with you than with this gang of drug addicts and neo-Nazis, who settled in Kyiv and took the entire Ukrainian population hostage," Putin said.
But the feeling in Moscow that the Kremlin would be unable to negotiate with Zelensky goes back to before the outbreak of fighting in February, Mr Kolesnikov, the Russian political analyst, says.
"Putin does not see Zelensky as the type of politician with whom he is ready to talk or negotiate. To him, Zelensky is an alien. They are incompatible," he said.
One year into the conflict, Zelensky has galvanised an international cohort of eager donors of military and financial aid, and Russian gains on the battlefield are excruciatingly slow and costly - for both sides.
Both appear determined to keep fighting, with Zelensky facing down the threat of war fatigue at home and abroad and the Kremlin forced to fight to the end.
"Putin is becoming even more intransigent and aggressive, he is sinking into his conspiracy theories, and he is ready to go to war without regard to his exhausting resources and reputation," Mr Kolesnikov said.
What's propelling this all-in approach, Mr Oktysiuk, the Ukrainian analyst said, is Putin's fear that the same momentum for change that propelled Zelensky to power could begin to turn heads in Russia.
"A clown, a comedian, wins the election and tells how he will change the country," Mr Oktysiuk said. "If this happened in Ukraine, why can't it happen in Russia?"