Russian forces now control "most" of eastern Ukraine's Sievierodonetsk, the scene of fierce battles for days as the Russian army tries to seize it, the local governor has said.
"Unfortunately, today, Russian troops control most of the city," the governor of the Luhansk region, Sergiy Gaiday, said in a video.
He said "90%" of the city was destroyed. He said there was now "no possibility to leave Sievierodonetsk".
Moscow's forces appeared to be advancing in their goal of seizing the key city, with Mr Gaiday several hours earlier saying they controlled "half" of it.
He nonetheless said that Kyiv's army still "holds the defences in their current positions".
Meanwhile, Mr Gaiday called on civilians to stay in shelters after Russian forces reportedly struck a tank containing nitric acid at a chemical plant in Sievierodonetsk.
An air strike by Moscow forces "hit a tank with nitric acid at a chemical plant", Mr Gaiday, said on Telegram.
"Nitric acid is dangerous if inhaled, swallowed and in contact with skin," he added. "Do not come out of shelters!"
Pro-Moscow separatist authorities said the tank had "exploded" on territory controlled by Ukrainian forces.
"At the Azot chemical plant, a container with chemicals was blown up. Preliminarily, it is nitric acid," Rodion Mironchik, a representative of the self-proclaimed Luhansk People's Republic, said on Telegram.
He said the territory of the plant was under Ukrainian control.
We need your consent to load this rte-player contentWe use rte-player to manage extra content that can set cookies on your device and collect data about your activity. Please review their details and accept them to load the content.Manage Preferences
An evacuation bus had to stop its mission from taking people out of Sievierodonetsk yesterday after a French journalist travelling with it was killed by Russian shelling.
After failing to capture the Ukrainian capital, Kyiv, in the early stages of the war, Russia has shifted its focus to the eastern Donbas region and is attempting to consolidate areas under its control.
Sievierodonetsk, which had a pre-war population of around 100,000 people, is one of several important urban hubs that lie on Russia's path to capturing the entire Luhansk region and east Ukraine's de-facto administrative centre, Kramatorsk.
Two more Russian soldiers jailed
Two Russian soldiers have each been sentenced to more than 11 years in prison after a Ukrainian court found them guilty of firing artillery at civilian areas in Kharkiv.
Alexander Bobykin and Alexander Ivanov were on trial for violating norms and customs of warfare, the court in central region of Poltava heard.
Both pleaded guilty to firing Grad missiles on the villages Kozacha Lopan and Veterynarne in the north-eastern Kharkiv region in the early days of the war.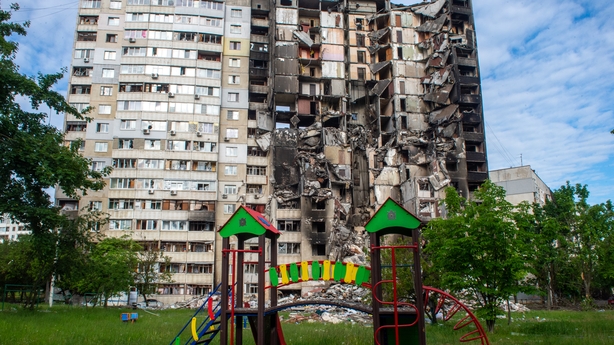 The verdict comes one week after a court in Kyiv handed Vadim Shishimarin, a 21-year-old Russian solider a life sentence for killing a civilian, which marked the country's first judicial decision following the invasion.
"The Kotelevsky District Court in the Poltava region sentenced them to 11 years and six months in prison," the Ukrainian prosecutor general said in a statement.
Ukrainian news agency Interfax reported that their legal defence had requested a more lenient sentence, claiming the soldiers had been following orders and acting under duress.
Ukraine has said it has opened thousands of investigations into alleged war crimes, with 80 suspects identified, and more trials like these are expected to take place.
Human rights organisations have voiced hope that Ukrainian trials of Russian soldiers will be impartial and transparent.
Speaking at The Hague, Ukraine's prosecutor general Iryna Venediktova said that Ukraine had identified 15,000 war crimes cases across the country since Russia's invasion on 24 February with 600 suspects for the "anchor" crime of aggression.
She said that suspects included "high level of top military, politicians and propaganda agents of Russian Federation".
Ukraine has identified several thousand suspected war crimes in the eastern Donbas region, while Ms Venediktova also announced the country's first rape case, allegedly committed by a Russian soldier, currently at large.
Speaking after the conviction of 21-year-old Shishimarin, the Kremlin said it had not received any information about the case during his trial.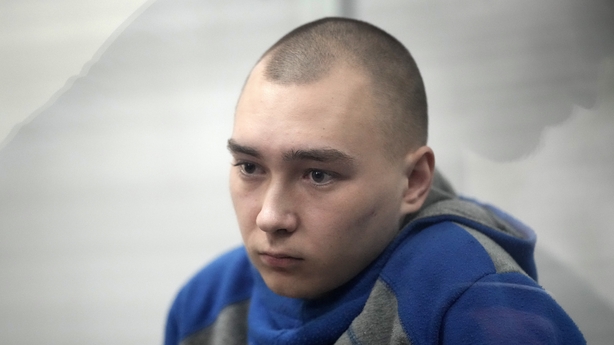 "The fate of every Russian citizen is of paramount importance to us," it said last week.
Meanwhile Russian Foreign Minister Sergei Lavrov said that it was up to the West and Kyiv to resolve a growing global food crisis provoked by the conflict in Ukraine.
Russia's offensive in Ukraine and Western sanctions have disrupted deliveries of wheat and other commodities from the two countries, fuelling concerns about the risk of hunger around the world.
Western countries "created a lot of artificial problems by closing their ports to Russian ships, disrupting logistics and financial chains," Mr Lavrov said.
"They need to seriously consider what is more important for them: to do PR on the issue of food security or to take concrete steps to solve this problem," he added.
Mr Lavrov also called on Ukraine to de-mine its territorial waters to allow the safe passage of ships through the Black and Azov seas.
"If the problem of de-mining is resolved, Russia's naval forces will ensure the unhindered passage of these ships into the Mediterranean and onwards to (their) destinations".
It comes after a ship left the Ukrainian port of Mariupol for the first time today since Russia took the city and was reported to be headed east to Russia, according to the Russian-backed separatist leader of the Ukrainian breakaway region of Donetsk.
A spokesperson for the port said last week that the ship would be loading 2,700 tonnes of metal in Mariupol before travelling east to the Russian city of Rostov-on-Don.
'Shipment amounts to looting'
Ukraine said the shipment of metal to Russia from Mariupol amounted to looting.
Meanwhile, a Moscow-backed separatist leader was reported by state-run TASS news agency this morning as saying that Russian forces had not advanced as rapidly as they had hoped in the battle for Sievierodonetsk, the easternmost city still in Ukraine's hands.
As the Russian offensive continued across Ukraine's eastern Donbas region, the European Union agreed to ban most imports of Russian oil, a move intended to blow a hole in the Kremlin's war finances.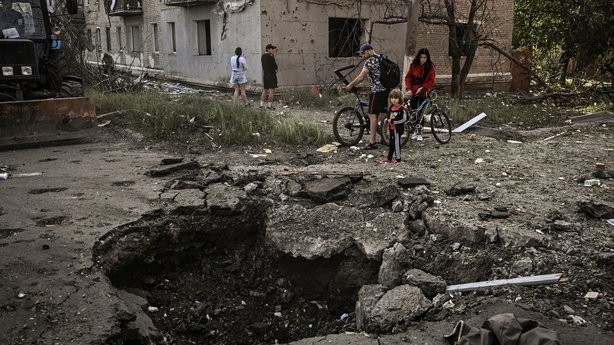 In the bloc's toughest sanction on Moscow since the invasion of Ukraine three months ago, European Council President Charles Michel said the ban agreed yesterday at an EU summit in Brussels, would immediately cover more than two-thirds of oil imports from Russia and cut a "huge source of financing for its war machine."
They also agreed to cut off the largest Russian bank, Sberbank, from the SWIFT system and to ban three more Russian state-owned broadcasters, Mr Michel added.
The announcement came as Russian forces pushed into key objectives in the Donbas, where Ukrainian President Volodymyr Zelensky said the situation remained "extremely difficult".
---
---
Ukraine has called for the West to send more long-range weapons but US President Joe Biden said Washington would not send Ukraine rocket systems that can reach into Russia, a decision Russian Security Council Deputy Chairman Dmitry Medvedev called "rational".
Mr Zelensky said Russian forces yesterday shelled the northeastern city of Kharkiv again, as well as the border region of Sumy, which was hit from inside Russia.
Russian shelling has reduced much of Sievierodonetsk to ruins, but the Ukrainian defence has slowed the wider Russian campaign across the Donbas region.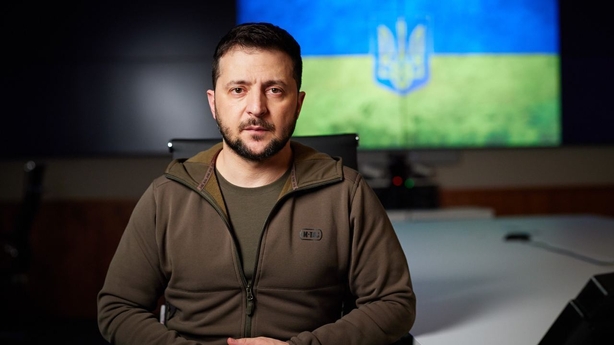 Luhansk Governor Serhiy Gaidai said: "They use the same tactics over and over again. They shell for several hours - for three, four, five hours - in a row and then attack," he said.
"Those who attack die. Then shelling and attack follow again, and so on until they break through somewhere."
With temperatures rising, there was a "terrible smell of death" on the outskirts of Sievierodonetsk, Mr Gaidai said.
Temporary pipeline exemption
Efforts to agree an EU oil embargo had been blocked by Hungary's refusal to agree to a ban on Russian imports it receives through the huge Soviet-era "Friendship" pipeline that runs across Ukraine.
Mr Michel told a news conference there was a "temporary exception for the oil that comes through pipeline to the EU," but added: "We want to revert to the European Council as soon as possible in order to address this temporary exception and to make sure that we will be able to target all the Russian oil."
Russian President Vladimir Putin told his Turkish counterpart Recep Tayyip Erdogan that Moscow was ready to facilitate unhindered grain exports from Ukrainian ports in coordination with Turkey, and work with Ankara to free up maritime shipping from Ukraine.
He blamed global food shortages on "short-sighted" Western policies.
Western leaders have chided Russia for blockading Ukrainian ports, sending prices of grain and other commodities soaring. The United Nations has said a global food crisis is deepening and has been trying to broker a deal to unblock Ukraine's grain exports.
"Emphasis was placed on ensuring safe navigation in the Black and Azov seas and eliminating the mine threat in their waters," the Kremlin said of Mr Putin's call with Mr Erdogan.
Mr Putin said if sanctions were lifted, Russia could export significant volumes of fertilisers and agricultural products.
Mr Zelensky also spoke with Mr Erdogan and said they discussed food security and defence cooperation, "and, of course, how to accelerate the end of this war".