British Prime Minister Boris Johnson has dramatically sacked Cabinet rival Michael Gove and rejected calls to quit, as support for his leadership continues to collapse.
The prime minister met ministers in No 10 throughout the day, where he was told he had lost the confidence of the Tory party and should not continue in office - but he refused to listen.
Mr Gove is thought to have told the prime minister this morning that it was time for him to quit.
That was followed by a delegation of Cabinet ministers going to No 10 to tell Mr Johnson he should stand down after losing the trust of his MPs.
Mr Johnson's relationship with Mr Gove has long been troubled, with the prime minister's leadership campaign in 2016 derailed when his rival withdrew support and decided to run himself.
We need your consent to load this rte-player contentWe use rte-player to manage extra content that can set cookies on your device and collect data about your activity. Please review their details and accept them to load the content.Manage Preferences
However, it was not only Mr Gove who sought to persuade Mr Johnson that his time in No 10 should end.
Home Secretary Priti Patel, Business Secretary Kwasi Kwarteng, Transport Secretary Grant Shapps, Northern Ireland Secretary Brandon Lewis and Welsh Secretary Simon Hart - who has also since resigned - were among the Cabinet ministers telling Mr Johnson to stand down.
It is understood that Ms Patel spoke to the prime minister to convey the "overwhelming view" of the parliamentary party.
Mr Shapps is thought to have told Mr Johnson that he stood little chance of winning another confidence vote and should instead set out a timetable for a departure on his own terms.
Nadhim Zahawi, who was only appointed Chancellor yesterday, was also thought to be among those taking part in the showdown with Mr Johnson.
However, Mr Johnson rejected suggestions he should seek a "more dignified exit" and will instead fight for his political future.
No 10 sources confirmed Mr Gove had been sacked, with one telling the BBC: "You cannot have a snake who is not with you on any of the big arguments who then gleefully briefs the press that he has called for the leader to go."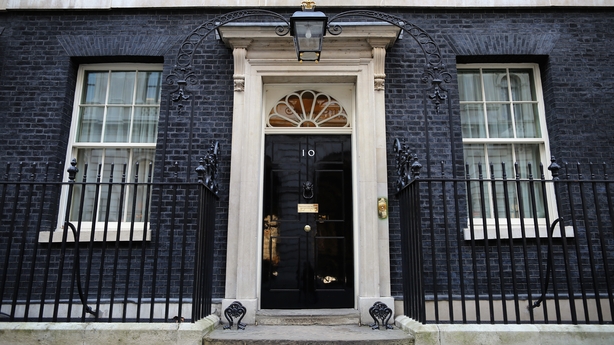 Graham Brady, chairman of the Tory 1922 Committee, spoke to Mr Johnson today to set out the level of backbench opposition.
A new executive for the committee will be elected on Monday which could change the leadership rules, allowing for another confidence vote just a month after the last one - which Mr Johnson may lose given the way MPs have deserted him since Tuesday.
Mr Gove's came after a day which saw 14 ministers quit, along with a series of parliamentary private secretaries (PPSs) - unpaid aides.
Danny Kruger quit as an aide at Mr Gove's former department, saying he was "very sorry indeed" to hear his ex-boss had been fired as "it should be the PM leaving office".
But James Duddridge, PPS to the prime minister, told Sky News: "There is plenty of talent within the party. I'm not going to go through the Cabinet reshuffle, but I know that there are plenty of people keen, willing and able to serve and will do so under Boris Johnson."
Allies including Culture Secretary Nadine Dorries and Brexit Opportunities Minister Jacob Rees-Mogg all remained supportive of Mr Johnson.
Ms Dorries said the prime minister's priority was to "stabilise the Government".
'Charge of the lightweight brigade'
Mr Johnson's performance in parliament today was met with a brutal response.
Underlining the tenuous position he is in, some colleagues in his cabinet team of top ministers struggled to contain their laughter as the opposition Labour leader poked fun at his cabinet for being in the "charge of the lightweight brigade".
Three members of Mr Johnson's own party asked whether he would resign.
"Clearly, if there were circumstances in which I felt it was impossible for the government to go on and discharge the mandate that we've been given" then I would, Mr Johnson said.
Overall, it was a muted performance for a prime minister who has seen his political fortunes tumble from a landslide election victory in 2019 to now, when the resignation of his finance and health ministers opened the floodgates for more junior ministers to quit.
Standing in the backbenches, his former health minister, Sajid Javid, detailed the scandals, missteps and gaffes that have marked Mr Johnson's tenure so far.
"At some point, we have to conclude that enough is enough. I believe that point is now," Mr Javid told a silent parliament, with Mr Johnson listening stony faced.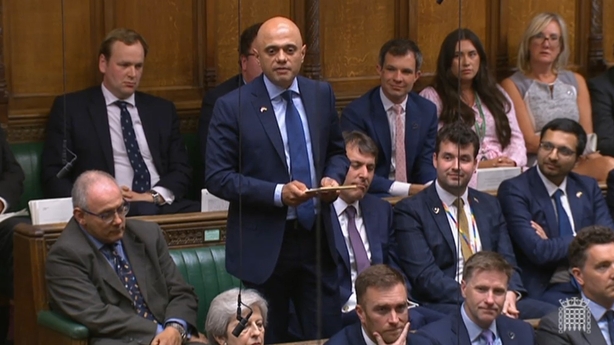 'Kicking and screaming'
At a later appearance before the chairs of select committees, the prime minister was asked about his defence policies, his stance on Ukraine and Brexit. He appeared to rule out wanting to call an early election.
At one point, he was asked if he was suffering memory loss when he could not answer a question - a reference to his excuse for appointing someone who had faced accusations of sexual misconduct.
"I suspect we will have to drag him kicking and screaming from Downing Street," one Conservative MP told Reuters, speaking on condition of anonymity. "But if we have to do it that way then we will."
A former journalist and London mayor who became the face of Britain's departure from the European Union, his landslide 2019 election win soon gave way to a combative and often chaotic approach to governing.
His leadership has been mired in controversies over the last few months, with the prime minister fined by police for breaking Covid-19 lockdown laws and a damning report published about the behaviour of officials at his Downing Street office who breached their own lockdown rules.
There have also been policy U-turns, an ill-fated defence of MP Owen Paterson, who broke lobbying rules, and criticism he has not done enough to tackle inflation, with many Britons struggling to cope with rising fuel and food prices.
The latest controversy saw Mr Johnson apologising for appointing MP Chris Pincher to a role involved in party welfare and discipline, even after being briefed that he had been the subject of complaints about sexual misconduct.
Downing Street's narrative changed several times over what the prime minister knew of the past behaviour of Mr Pincher, who was forced to resign, and when he knew it. His spokesman blamed a lapse in Mr Johnson's memory.
That prompted Rishi Sunak to quit as chancellor of the exchequer - the finance minister - and Mr Javid to resign as health secretary.
Several junior ministers who quit cited Mr Johnson's lack of judgement, standards, and an inability to tell the truth.
A snap YouGov poll found 69% of Britons thought Mr Johnson should step down as prime minister. A month ago, Mr Johnson survived a confidence vote of Conservative MPs.
Current party rules mean he cannot face another such challenge for a year but some MPs are seeking to change those rules. Were Johnson to go, the process to replace him could take a couple of months.
"As the prime minister constantly tries to deflect from the issue, always tries to blame other people for mistakes and that leaves nothing left for him to do other than to take responsibility and resign," said Gary Sambrook, a Tory MP first elected in 2019.
---
Read More:
Possible runners and riders to replace Boris Johnson
Live Updates: 'Enough is enough,' says former UK health minister
---
Starmer brands Johnson a 'pathetic spectacle'
The prime minister was branded a "pathetic spectacle" by Labour party leader Keir Starmer, before Labour MPs waved and shouted "bye bye" to the prime minister.
Mr Starmer said ministers resigning from Mr Johnson's government have not got a "shred of integrity" given the level of recent scandals, adding it was the "first recorded case of the sinking ships fleeing the rats".
He opened Prime Minister's Questions by reading out the testimony of a man who accused Mr Pincher of assault.
Mr Johnson insisted he was not going to "trivialise what happened" when then asked if he ever said "Pincher by name, Pincher by nature", with Mr Starmer noting: "No denial."
After Mr Johnson sought to criticise Mr Starmer's "muddled" response to Brexit and other matters, he added: "He is himself facing a criminal investigation, for which he asked me to resign."
Mr Starmer countered: "What a pathetic spectacle. The dying act of his political career is to parrot that nonsense.
"As for those who are left, only in office because no-one else is prepared to debase themselves any longer: the charge of the lightweight brigade. Have some self-respect."
Additional reporting: PA and Reuters