The Taoiseach has appealed to British Prime Minister Boris Johnson to "steady the ship" and pull back from acting unilaterally on the Northern Ireland Protocol.
Speaking to reporters at the European Parliament in Strasbourg, Mr Martin said Europe will respond in a "calm and firm" way to whatever decisions are taken by the British government, and whatever legislation is published or enacted.
Asked about plans by the UK government to publish legislation that would empower Secretaries of State to override parts of the Protocol, he said: "That would not work."
Mr Martin added: "That would be deeply damaging because it would represent the violation of international agreements. And it really is very difficult in this day and age to be comprehending that.
"Of course, there will be a journey through the UK parliament for that. I'm very clear that unilateralism will not work in this case."
Earlier, Minister for Foreign Affairs Simon Coveney said he hoped the planned legislation would not become the "price" of Conservative Party support for Mr Johnson.
He said Ireland will work with whoever is the prime minister, following yesterday's confidence vote in Mr Johnson.
Mr Johnson survived a confidence vote in his leadership of the Conservative Party by 211 to 148, but the scale of the revolt leaves him wounded.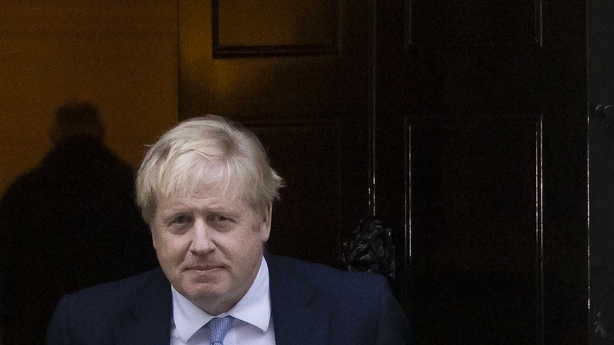 Speaking on RTÉ's Morning Ireland, Mr Coveney said the Government does not want to see Ireland becoming part of a strategy to maintain support within the Conservative Party in the context of hardening the position on the Northern Ireland Protocol.
"That has a significant knock-on effect on Ireland north and south, and we've already seen the polarising impact that divisions around the Northern Ireland Protocol have had in Northern Ireland," he said.
"That will continue until we find a way of settling these issues."
Mr Coveney said he believes concerns expressed by the unionist community can be addressed by implementing the protocol with "a lot of flexibility and pragmatism", which would settle issues that have been causing division for "far too long".
He said the British government has "not shown the seriousness" to address issues through negotiation, and instead is threatening to publish legislation this week which would effectively be using British domestic law to breach international law by setting aside elements of treaty obligations.
"That would be a big mistake, politically, because I think it would cause an awful lot more problems than it solves," he said.
"I certainly hope that's not the price of the British Prime Minister maintaining a majority support within his own party," Mr Coveney added.
Minister Simon Coveney has said the Government will work with whoever is the British Prime Minister, but they do not want to see Ireland becoming part of a strategy to maintain support within the Conservative Party | Read more: https://t.co/GLkZKy3KNB pic.twitter.com/Q3dD3DiroV

— RTÉ News (@rtenews) June 7, 2022
Last month, Britain's foreign minister Liz Truss said she intends to introduce legislation in the coming weeks to "make changes" to the Northern Ireland Protocol.
The bill will propose separate "green" and "red" lanes for goods travelling between Britain and Northern Ireland, with those destined to stay within the UK excluded from EU-level checks.
Minister Coveney also said there cannot be a situation where one party "holds everybody else to ransom".
He said he has been very clear that the Government and the EU want to respond to the concerns of unionism, but it cannot be "only about one party" in Northern Ireland.
He said it must be about everybody in Northern Ireland, and should involve the British and Irish governments working together to bridge gaps.
"So that we respond to the polarisation of politics in Northern Ireland with compromise and positive suggestions, as opposed to threats of legislation and breaches of international law," the minister said.
Mr Coveney said the "spirit of partnership" between British and Irish governments has been absent for some time now, and has resulted in more polarisation and division, putting the institutions of the Good Friday Agreement at risk.
Renegotiating Protocol 'not an option' - European Parliament President
The President of the European Parliament has said that renegotiating the Northern Ireland Protocol is "not an option" for the European Union.
Speaking on RTÉ's Drivetime programme, Roberta Metsola said: "Legally binding international agreements are law, and that means the Good Friday Agreement that brokered peace after years of life-threatening Troubles is law.
"All legal agreements to avoid a hard border on the island of Ireland, whilst protecting the integrity of the EU single market must be respected, and therefore renegotiating the protocol on Ireland and Northern Ireland is not an option for the European Parliament or the European Union - to us that is clear and unequivocal."
Ms Metsola said that the "United Kingdom's territorial integrity is fundamentally undisputed" and "is not in question".