The UK government will introduce a bill that will allow future ministers to fundamentally override the Northern Ireland Protocol by emphasising the UK internal market over the EU single market, RTÉ News understands.
If it became law the bill would overturn many of the principles of the protocol, in that it would potentially do away with any checks on goods entering Northern Ireland from Great Britain and instead favour in-market surveillance.
The centerpiece of the bill is expected to be focused on a "dual regulatory regime" where goods produced in Great Britain would be free to circulate in Northern Ireland, and goods produced in Northern Ireland would be free to circulate in Great Britain.
It is understood the UK would seek ways to provide "robust" surveillance that would do away with the need for an Irish Sea border.
The Taoiseach has appealed to British Prime Minister Boris Johnson to "steady the ship" and pull back from acting unilaterally on the Northern Ireland Protocol.
Speaking to reporters at the European Parliament in Strasbourg today, Mr Martin said Europe will respond in a "calm and firm" way to whatever decisions are taken by the British government, and whatever legislation is published or enacted.
Several sources briefed on the bill say its provisions could have serious implications for the food and drink industry in Northern Ireland and its all-Ireland dimension, but also for the regulatory arrangements for industrial goods.
In particular, the dairy industry could be hit because it relies on UK grain for its feedstocks.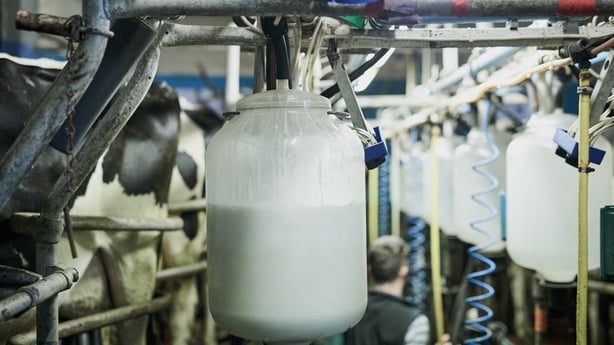 Under a dual regulatory regime that was not co-designed with the EU, such grain would not be recognised as produced to EU standard, and that would therefore put a question mark over the circulation of Northern Irish dairy products in the Republic.
Industry sources say this could put at risk some 800 million litres of milk from Northern Ireland that is processed annually in the south.
It could also put at risk Northern Ireland dairy products that are used as inputs into goods produced in the south and then sold into the EU's single market.
The legislation is expected tomorrow or Thursday of this week.
It is understood it will give future ministers enabling powers to enact secondary legislation that will give effect either to an agreed way forward, if the outcome of negotiations with the EU are successful, or will give effect to a new unilateral model created by the UK, based on a dual regulatory regime.
This morning, UK officials briefed the Northern Ireland Office and a range of stakeholders on the legislation, it is understood.
RTÉ News understands the approach of the UK government will be to create a high-level concept, such as a dual regulatory regime, and then ask industry stakeholders to come up with ideas as to how it would work, which can then be tested and challenged.
Industry sources in Northern Ireland say the system proposed would be highly challenging given the intention for the UK to seek to diverge from EU standards over time.
One source said that if the UK began to import Brazilian beef, and if it was freely circulating in Northern Ireland, then in-market surveillance would not be sufficient to stop it being smuggled across the border into the south.
The same would be true for goods sourced from animals that were treated with GB veterinary medicines that were not approved by the EU.
Sources say that if there were not checks on such goods at Northern Ireland ports, then there would be pressure to have such checks at the land border.