Britain's Brexit minister, David Frost, has said the "crunch point" in his quest to get changes to the Northern Ireland Protocol will happen some time next month.
He expects to hold an intensive period of negotiations with the EU on changes to the protocol soon, but warned they could only go on for a couple of weeks.
Asked when the UK would use Article 16 of the protocol, he replied: "When we need to".
Speaking at a fringe event at the Conservative Party Conference, Mr Frost said: "We are at the crunch point in the next month or so.
"We have not yet had a proper answer from the EU to the proposals we've put down on Northern Ireland - hopefully that will come soon.
"We then need some proper talks with them, some proper insensitive talks, to see if we can bridge the gap, which I have no doubt will be quite a big gap at first."
He said: "I will try my best to get an agreement that meets what we need in those few weeks but if we can't, then we will be in Article 16 territory.
"I would guess crunch point comes at some point, next month.
"This is something that can't wait very long. We need to bring stability to Northern Ireland, we need to find solutions that are going to last. We did our best in 2019 but clearly it didn't quite work and now we've got to do the job again and bring stability in a way that lasts."
In July the British government published a formal communication (known as a 'Command Paper' in the British system) on changes it wants to see to the protocol.
Discussions have been ongoing between officials in London and Brussels, but the EU has held off publishing a formal response until after the Conservative Party Conference.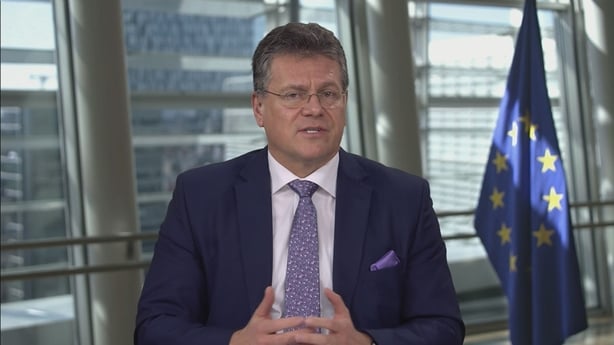 European Commission Vice President Maroš Šefčovič, who deals with the post-Brexit relationship with the UK, is expected to set out a commission response shortly afterwards, and the two parties will exchange formal negotiating texts.
European diplomats think any use of Article 16 by the UK is unlikely before the end of the COP26 climate change conference, which the UK government is hosting during the first 12 days of November.
Article 16 triggers an intensive talks process aimed at resolving specified problems arising from the operation of the protocol.
It also allows the other party to take counterbalancing measures against the side that uses Article 16 if no agreed solution is found.