Britain must bring together a coalition beyond the "usual suspects" to moderate China's "egregious behaviour" against Hong Kong, the country's foreign minister, Dominic Raab, said.

Mr Raab said a bigger caucus of opinion must be built up globally to prevent China dismissing efforts to ensure it respects Hong Kong's autonomy from Beijing.

He added the UK seeks to call out "flagrant violations" of international law, adding it has raised the issue of Hong Kong at the UN Security Council.

But Mr Raab told MPs: "China is a permanent member of the security council, China is extremely influential, it deploys all of its economic, political leverage and indeed intimidation to get others to stay quiet.

"And what the United Kingdom has shown is ... We're standing up as a matter of principle and saying this is unacceptable."

China's ceremonial legislature, the National People's Congress, recently endorsed a security law for Hong Kong which has strained relations with the UK and the US.

The law will alter the territory's mini-constitution, or Basic Law, to require its government to enforce measures to be decided later by Chinese leaders.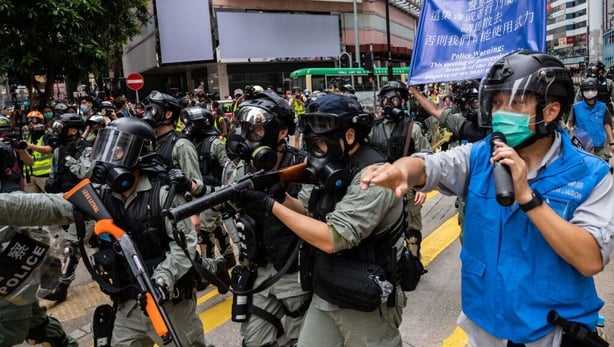 Making a statement to the House of Commons, Mr Raab said the proposed national security law would be a "clear violation" of China's international obligations and would "undermine" existing commitments to protect the rights and the freedoms of the people of Hong Kong, as set out in the Joint Declaration.

He reiterated the UK will look to provide a "pathway to citizenship" for British National (Overseas) passport holders in Hong Kong if China passes new security laws.

Conservative MP Tom Tugendhat, chairman of the UK Foreign Affairs Committee, asked what work was being done with African, Middle Eastern and South American countries to perhaps ask for a UN special envoy to help protect the rule of law.

Mr Raab replied: "The approach that we're taking is trying to maximise the largest number of countries around the world, not the usual suspects that China will dismiss as trying to weaken it or try and keep it down, to make the most powerful statement and ultimately to moderate the actions of China.

"Unless we can build up that bigger caucus of opinion - he mentioned Africa, South America, we're working with all of those partners - we will be less effective when it comes to facing down what is clearly egregious behaviour in relation to Hong Kong."

Labour foreign affairs spokesperson Lisa Nandy called for the government to "step up" its response to China.

She told MPs: "It is time for an international democratic alliance to come together and speak with one voice."

Conservative former cabinet minister Iain Duncan Smith suggested "appeasement" is now "no longer an option" for the free world when it comes to China.