The British government knows the outline of what it sees as a possible deal to leave the European Union, Michael Gove, the minister in charge of planning for a no-deal Brexit, has said.
Speaking at the governing Conservative Party's annual conference in Manchester, Mr Gove said the government's proposals for an agreement would see a deal that would differ significantly from the one negotiated by former prime minister Theresa May.
He added that there was still time for a deal to be done with the EU, and that the government could sign off on such an agreement at a summit in Brussels on 17-18 October. 
If not, the talks would go to the wire, he said.
Earlier, British Prime Minister Boris Johnson said that he would not resign to avoid having to delay Brexit beyond the end of October.
Mr Johnson has vowed to take Britain out of the EU with or without a deal, despite parliament passing a law that would require him to ask for an extension to the Brexit deadline if MPs have not approved a deal.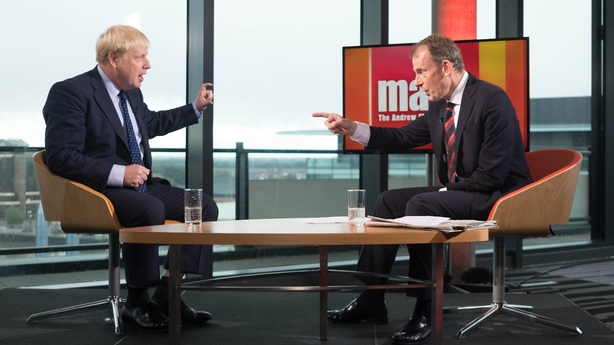 He has said he would rather be "dead in a ditch" that request a delay. Asked if he would resign so that he did not have to ask for a delay, Mr Johnson said that he would not.
Speaking on BBC's The Andrew Marr Show, he said: "No, I have undertaken to lead the party and my country at a difficult time and I am going to continue to do that. I believe it is my responsibility to do that."
He said there is still "a good chance" of getting a deal before the UK is due to leave the European Union on 31 October.
Mr Johnson said his government was working "incredibly hard", and will continue working to see if they can "get this thing over the line".
Boris Johnson insists a deal with the EU is still possible by mid-October. #Marr https://t.co/qd5dGPjf4Q pic.twitter.com/CfQYkGgodC

— BBC Politics (@BBCPolitics) September 29, 2019
---
Read more
---
He said: "Obviously the chances of deal or no deal depend very much on the common sense of our friends and partners.
"Our chances of getting a deal have not been helped by the 'surrender act'. The issue is, in Brussels, if they suspect or think there is a realistic chance that the UK can be kept in by any means beyond the 31st of October, that clearly takes away a lot of our negotiating freedom of manoeuvre."
When asked if it is possible for the UK to leave the EU without a deal, Mr Johnson replied: "Of course we can."
He said the current Withdrawal Agreement, including the backstop provision, was not acceptable and that under no circumstances would they allow the UK to be "trapped in the existing proposal".
We need your consent to load this rte-player contentWe use rte-player to manage extra content that can set cookies on your device and collect data about your activity. Please review their details and accept them to load the content.Manage Preferences

Mr Johnson also defended his use of words such as "surrender", saying to avoid doing so was "impoverishing the language and diminishing parliamentary debate".
Earlier this week, opposition MPs accused the prime minister of using language that could incite violence.
He rejected the accusations as "humbug" and provoked further anger when he described the law that demands that he ask the EU for a further Brexit extension as a "surrender bill".
Mr Johnson admitted today that tempers on both sides of the Brexit debate had become "inflamed", but said it was wrong for parliamentarians to be crowded out from using words such as surrender.
He said: "I think what most people in this country would agree is that Brexit discussion has been going on for far too long and it is true that tempers on both sides have now become inflamed.
"The best way to end this is to get Brexit done on October 31st and move the country forwards."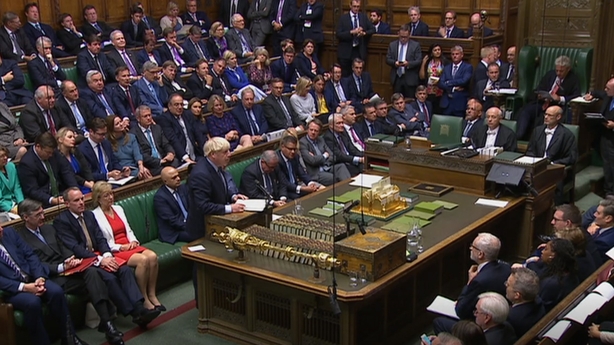 Mr Johnson also suggested that his use of the word "humbug" in response to an MP's concerns about death threats may have been a misunderstanding.
"My use of the word humbug was in the context of people trying to prevent me - us - from using the word 'surrender'," he told the BBC.
He added: "I can certainly say sorry for the misunderstanding, but my intention was to refuse to be crowded out from using the word 'surrender' to describe the Surrender Act."
Mr Johnson also claimed that the best thing for people's "psychological health" would be to deliver Brexit.
"The best thing for the country and for people's overall psychological health would be to get Brexit done," he said.
"It's not just I who thinks that - if you look at where the public is, whether they voted Leave or Remain - they really think it's up to parliament now to get this thing over the line."
Mr Johnson insisted there was "no interest to declare" amid claims about his association with former American model turned tech businesswoman Jennifer Arcuri.
The prime minister is under pressure over his conduct as London mayor after he was referred to the police complaints body to assess whether he should face a criminal investigation over his links with the American businesswoman.
Asked by Mr Marr if he declared an interest relating to his links with Ms Arcuri when he was London mayor, he replied: "Everything was done in accordance with the code ... and everything was done with full propriety."
Pressed again, Mr Johnson said: "There was no interest to declare.
"Let's be absolutely clear, I am very, very proud of everything that we did and certainly everything that I did as mayor of London.
"I may say that the current mayor of London could possibly spend more time investing in police officers than he is investing in press officers and peddling this kind of stuff."
Elsewhere, Minister for Justice Charlie Flanagan described some of Mr Johnson's comments on the BBC as "utterly depressing".
Speaking on RTÉ's The Week in Politics, Mr Flanagan said we in Ireland must do more than just "watch and wait".
He said Taoiseach Leo Varadkar's meeting with Mr Johnson this week was good and that it is important that these engagements on a bilateral basis continue.
However, he added that there is "no real negotiation" because the Withdrawal Agreement was closed and that there was "no real sense of optimism" coming from EU27.
"We're very pleased that we still have the full and unwavering support of all of our EU colleagues," Mr Flanagan said.
"I would hope that over the next few weeks that are left, that there will be real engagement on the part of the British government. I heard Boris Johnson say that this morning, but we haven't seen the evidence."
Additional reporting PA