Britain's health minister Matt Hancock has withdrawn from the Conservative Party leadership race.
Mr Hancock, who secured 20 votes in the first ballot of the contest yesterday, said the party is looking for a candidate for the "unique circumstances that exist now".
The Health Secretary tweeted: "I have decided to withdraw from the race to be the next leader of the Conservative Party.
"I will now look for the best way to advance the values we fought for."
Candidates need to secure 33 votes in the second ballot on Tuesday in order to continue in the contest.
In his campaign, on the issue of Brexit, Mr Hancock vowed to go to Brussels to broker a time limit to the backstop and said MPs would block a no-deal exit.
He also pledged to raise the national living wage to more than £10 an hour.
It is thought that Home Secretary Sajid Javid - who secured 23 votes in yesterday's ballot  - may seek Mr Hancock's backing.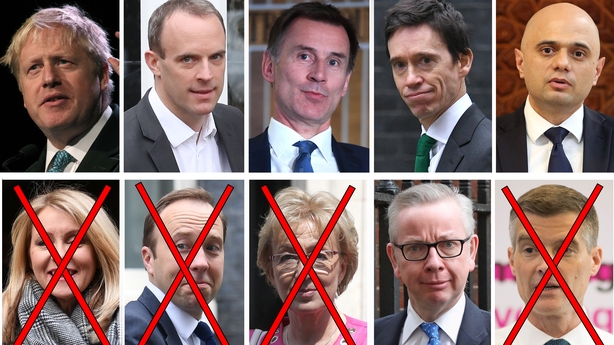 Meanwhile, front-runner for the job Boris Johnson has told the BBC that he is "more than happy" to take part in a BBC One leadership contest debate on Tuesday.
He said it was "important that we have a sensible grown-up debate".
"My own observation is that in the past when you've had loads of candidates, it can be slightly cacophonous and I think the public have had quite a lot of blue on blue action frankly over the last three years."
It came after he was criticised for a lack of media appearances, with his rival, Foreign Secretary Jeremy Hunt, accusing him of hiding from the media and preventing a wider debate in the Tory Party.
Mr Hunt told the BBC: "We can only have that debate if our frontrunner in this campaign is a little bit braver in terms of getting out into the media and actually engaging in debates. Engaging in the TV debates."
Mr Johnson also denied using cocaine since a "single inconclusive event" more than 30 years ago.
"When did you last take cocaine?" @BBCMarkMardell asks the Conservative leadership candidate @BorisJohnson   #bbcwatohttps://t.co/H3Fmllh2db pic.twitter.com/WoLNfbL8vG

— The World at One (@BBCWorldatOne) June 14, 2019