Former British foreign secretary Boris Johnson has launched his bid to become the next leader of the Conservative Party.
He has emerged as the clear frontrunner in the race to succeed Theresa May, despite so far staying largely silent in the contest.
We need your consent to load this rte-player contentWe use rte-player to manage extra content that can set cookies on your device and collect data about your activity. Please review their details and accept them to load the content.Manage Preferences
For many MPs, he is the one candidate who can see off the twin threats of Nigel Farage's Brexit Party and a Labour government led by Jeremy Corbyn.
However, he remains a divisive figure within the party, with criticisms over his role in the Vote Leave campaign and his record as foreign secretary.
A small number of anti-Brexit protesters gathered outside the venue in central London, including veteran anti-EU withdrawal protester Steve Bray, who said: "My message to Mr Johnson is he's not fit to be an MP, let alone PM."
Former defence secretary Gavin Williamson, who Mrs May sacked from the Cabinet, declined to speak to reporters when he arrived for the event.
Mr Johnson is one of ten contenders to replace Mrs May, whose premiership crumbled after she repeatedly failed to convince parliament to ratify the divorce deal she negotiated in November with the EU.
---
Read More:
Leadsom, Stewart launch bids to become next Tory leader
Ten candidates make first round of Tory leadership race 
---
Taking to the stage, amid prolonged applause, Mr Johnson said: "It's a measure of the resilience of this country that since the vote to leave the EU, and in defiance of all predictions, the economy has grown much faster than the rest of Europe.
"Unemployment has fallen to the lowest levels since 1972, exports have soared, English football teams have won both the Champions League and the Europa League by beating English football teams, and inward investment has soared.
"It's almost as if the commercial dynamism of the British people is insulating them from the crisis in our politics."
He insisted Britain must quit the EU by 31 October. "I am not aiming for a no-deal outcome," he said.
"I don't think that we will end up with any such thing, but it is only responsible to prepare vigorously and seriously for no-deal. Indeed, it is astonishing that anyone could suggest dispensing with that vital tool in the negotiation.
"We will simply not get a result if we give the impression that we want to go on kicking the can down the road and yet more delay ... Delay means defeat, delay means ruin, kick the can again and we kick the bucket.
"With every week and month that goes by in which we fail to deliver on our promise, I'm afraid we will further alienate not just our natural supporters, driving them into the arms of insurgent parties, but anyone who believes that politicians should deliver on their promises."
Mr Johnson added: "And yet we cannot ignore the morass at Westminster where parties have entered a yellow box junction, unable to move forward or back, while around the country there is a mood of dissolution, even despair, at our ability to get things done.
"The longer it goes on, the worse the risk that there will be serious contamination and loss of confidence because the people of this country deserve the best from their leader."
Home Secretary Sajid Javid also launched his campaign for the Tory party leadership today. 
Speaking at the launch, he insisted he could change the image of the Tories across the country as he stressed his humble background as the son of an immigrant.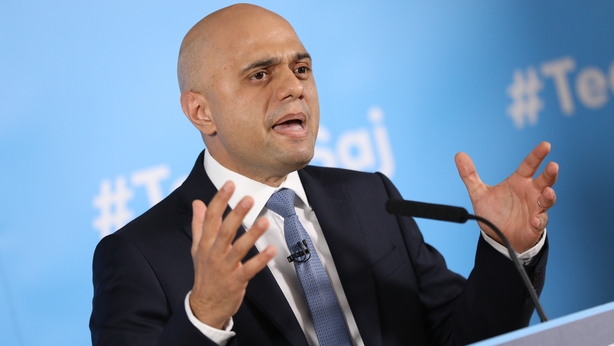 He said it was time to follow the Scottish Tories and "leave the short term comfort zone and throw out central casting" by picking somebody different.
Mr Javid said the UK must prepare for a no-deal Brexit, but insisted he could get an agreement through Parliament by 31 October.
Branding Mr Johnson as "yesterday's news", Mr Javid said voters wanted to hear the Tories talk about more than Brexit.