Three British MPs have quit the Conservative Party to join the new Independent Group in a major blow to Prime Minister Theresa May's authority.
Heidi Allen, Anna Soubry and Sarah Wollaston hit out at Mrs May's "disastrous" handling of Brexit as they quit.
The three - who will join the eight ex-Labour MPs who have formed the Independent Group (TIG) - claimed Mrs May had failed to stand up to the "hard line" European Research Group (ERG) of Brexiteers.
The move poses a fresh headache for Mrs May as she prepared to face Prime Minister's Questions in the Commons before heading to Brussels for Brexit talks with Jean-Claude Juncker.
In a letter to Mrs May, the three MPs said: "We no longer feel we can remain in the party of a Government whose policies and priorities are so firmly in the grip of the ERG and DUP.
"Brexit has re-defined the Conservative Party - undoing all the efforts to modernise it. There has been a dismal failure to stand up to the hard line ERG which operates openly as a party within a party, with its own leader, whip and policy."
They added: "The final straw for us has been this Government's disastrous handling of Brexit."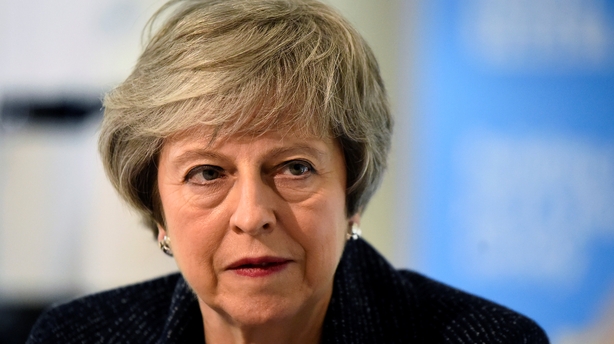 Responding to the resignations, Mrs May said: "I am saddened by this decision - these are people who have given dedicated service to our party over many years, and I thank them for it.
"Of course, the UK's membership of the EU has been a source of disagreement both in our party and our country for a long time. Ending that membership after four decades was never going to be easy.
"But by delivering on our manifesto commitment and implementing the decision of the British people we are doing the right thing for our country. And in doing so, we can move forward together towards a brighter future.
"I am determined that under my leadership the Conservative Party will always offer the decent, moderate and patriotic politics that the people of this country deserve."
We need your consent to load this rte-player contentWe use rte-player to manage extra content that can set cookies on your device and collect data about your activity. Please review their details and accept them to load the content.Manage Preferences
The shake-up of British politics appears set to continue as the small number of Tories join former Labour MPs in their new group.
The widely-expected defection of Tories follows Joan Ryan becoming the eighth ex-Labour MP to join TIG.
She fired a furious broadside at Labour leader Jeremy Corbyn, accusing him of repeatedly failing to deal with anti-Semitism in the Labour Party.
Welcome to the Independent Group @heidiallen75 @Anna_Soubry and @sarahwollaston Both our parties are broken. We are going to #ChangePolitics for the better.

— The Independent Group (@TheIndGroup) February 20, 2019
Pro-EU Tories Ms Soubry, Ms Wollaston and Ms Allen have been the focus of rumours at Westminster about potential defectors to TIG.
Veteran former Cabinet minister Ken Clarke, a leading Europhile on the Tory benches, acknowledged discontent within the Conservative ranks.
He told BBC Radio 4's Today that some of his colleagues were "getting very fed up".
He added: "There are some, I think - not including me - who probably are contemplating leaving if the party moves too far to the right and no longer represents what they regard as the mainstream Conservative views they have held for all the previous years."
Ms Ryan's decision to quit Labour followed the launch of TIG on Monday by seven of her colleagues.
The Enfield North MP, who chaired Labour Friends of Israel, said the Labour leader had ignored calls to tackle the problem and was not fit to be prime minister.
"We never had this problem in the party before he was the leader. It comes with him, it is part of his politics, I am afraid," she told Today.
"The other huge problem is that I think Jeremy Corbyn is aiding and abetting a hard Brexit," she said.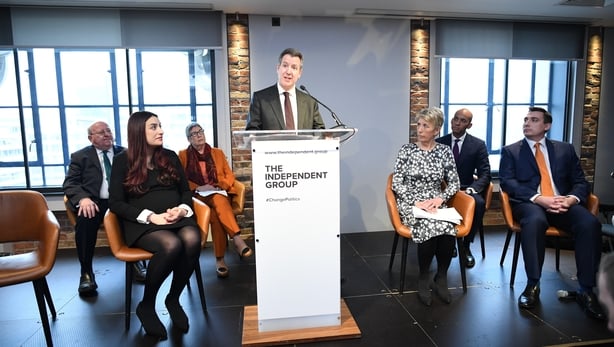 Meanwhile, Labour launched a consultation on changes to allow voters to force MPs to seek re-election if they swap parties.
Members of the TIG have indicated they will resist demands from the leadership, including shadow chancellor John McDonnell, to step down and seek a fresh mandate from voters in a by-election.
Ms Ryan said a "large number" of Labour MPs are unhappy with the leadership and she hoped there will be further defections to the Independent Group - including from other parties.
With a poll taken the day after the Independent Group's launch putting the breakaway MPs on 10% support to Labour's 26% nationally, Mr Corbyn's party would be hopeful of seizing back most if not all of the seats in by-election contests.
Although the Independent MPs may benefit from some personal support, all of their constituencies - with the exception of Angela Smith's Penistone and Stocksbridge and Ms Ryan's Enfield North - are rock-solid Labour seats which would need a substantial swing to change hands.
In an indication that Labour expects to hold on to much of its support in any by-election, party sources said one of the key reasons for allowing recall when an MP crosses the floor is because people cast their vote primarily for the party and its platform rather than the candidate.
At present, recall petitions can only be launched in a handful of circumstances, such as a serious breach of parliamentary rules or a criminal conviction. A by-election is forced if the petition is signed by 10% of constituents - usually around 7,000 people - within six weeks.
Labour will consult on extending the principle to cover MPs who switch political allegiance.