Seven British Labour MPs have announced they are resigning from the party and forming an independent group in protest at the party's approach to Brexit and its failure to stamp out anti-Semitism.
Luciana Berger, Chris Leslie, Angela Smith, Gavin Shuker, Mike Gapes, Ann Coffey and Chuka Umunna confirmed their resignations at a press conference in London.
Ms Berger initially introduced herself as "the Labour Party MP", before correcting herself and saying: "I am the Member of Parliament for Liverpool Wavertree".
She said: "This morning we have all now resigned from the Labour Party. This has been a very difficult, painful, but necessary decision.
"We represent different parts of the country, we are of different backgrounds, we were born of different generations, but we all share the same values.
Politics is broken. Let's change it. #ChangePolitics https://t.co/xMeeNQzAsf

— The Independent Group (@TheIndGroup) February 18, 2019
"From today, we will all sit in Parliament as a new independent group of MPs."
She told the press conference that she has been ashamed of the Labour Party and cannot remain in a party, which is institutionally anti-semitic.
Ms Berger said she is leaving behind a culture of "bullying" and "bigotry".
Mr Corbyn said he is disappointed by their decision to leave the party.
Seven British Labour MPs have resigned from the party | https://t.co/LvSyTjoIgL https://t.co/9ymOvSoDxT

— RTÉ News (@rtenews) February 18, 2019
Reacting to the resignations, Mr Corbyn said: "I am disappointed that these MPs have felt unable to continue to work together for the Labour policies that inspired millions at the last election and saw us increase our vote by the largest share since 1945."
He added: "Labour won people over on a programme for the many not the few - redistributing wealth and power, taking vital resources into public ownership, investing in every region and nation, and tackling climate change.
"The Conservative government is bungling Brexit, while Labour has set out a unifying and credible alternative plan. When millions are facing the misery of Universal Credit, rising crime, homelessness and poverty, now more than ever is the time to bring people together to build a better future for us all."
Mr Umunna called on MPs from Labour and other parties to "leave the old tribal politics behind" and join the new independent group.
"It is time we dumped this country's old-fashioned politics and created an alternative that does justice to who we are today and gives this country a politics fit for the here and now, the 21st century not the last one," he said.
"We've taken the first step in leaving the old tribal politics behind and we invite others who share our political values to do so too.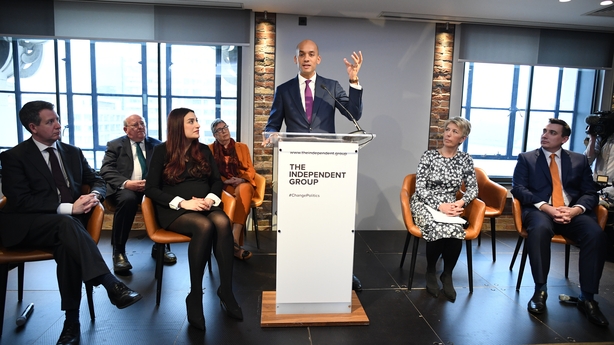 "You might come from a Labour background but you might come from other political traditions. Yes, it's a difficult decision - make no mistake about that.
"But you don't join a political party to spend years and years fighting the people within it. You get involved in politics, you join a party, to change the world.
"We invite you to leave your parties and help us forge a new consensus on a way forward for Britain."
Another of the group of seven, Chris Leslie, said the Labour Party "we joined is no longer the same" and was "hijacked by the extreme left".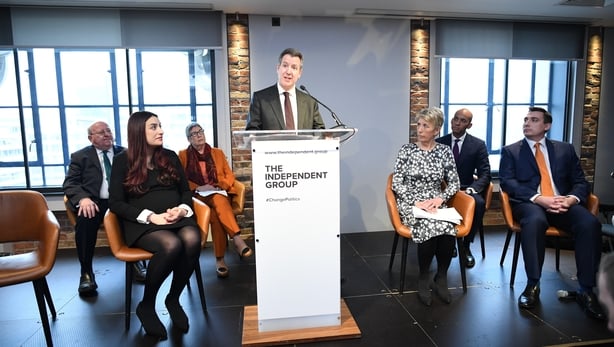 Mr Leslie said evidence of Labour's betrayal on Brexit is clear to see and it would be irresponsible to allow Mr Corbyn to become prime minister.
Ilford South MP Mike Gapes, a former chairman of the Commons Foreign Affairs Committee, told the press conference: "I am sickened that the Labour Party is now a racist, anti-Semitic party.
"I am furious that the Labour leadership is complicit in facilitating Brexit, which will cause great economic, social and political damage to our country.
"Jeremy Corbyn and those around him are on the wrong side on so many international issues - from Russia, to Syria, to Venezuela.
"A Corbyn Labour government would threaten our national security and international alliances."
Ms Coffey told the press conference: "I thought I would be in the Labour Party for the rest of my life.
"But political parties are not an end in themselves in a parliamentary democracy. The Labour Party has lost sight of this, it is no longer a broad church.
"Any criticism of the leadership is responded to with abuse and accusations of treachery. Anti-Semitism is rife and tolerated."
Labour MP Stella Creasy tweeted: "Politics is about how you fight for a better future & values that keep you going through storms and sunshine, not who you hate & the badges that you wear. As someone Labour to my core who never ducks a fight I know today Labour has to learn from what's happened, and not lash out."
Liberal Democrats leader Vince Cable, who himself left Labour for the SDP in 1982, tweeted: "It is not unexpected, or unwelcome, that a group of Labour MPs have decided to break away from Corbyn's Labour; in part motivated by his refusal to follow the party's policy on Brexit. #LabourSplit."
The Liberal Democrats are open to working with like-minded groups and individuals in order to give the people the final say on Brexit, with the option to remain in the EU. We will be engaging in talks to progress both that campaign and a wider political agenda. #LabourSplit

— Vince Cable (@vincecable) February 18, 2019
The resignation of the seven MPs from Labour will revive memories of the emergence of the Social Democratic Party in similar circumstances in the early 1980s.
The SDP was founded in 1981 by centrist Labour MPs dismayed by the party's shift to the left under then leader Michael Foot, with a mission to reshape the landscape of British politics.
It enjoyed a period of great popularity, briefly topping the polls and picking up a number of spectacular by-election victories.
However, it failed to make a decisive breakthrough, eventually merging with its Alliance partners the Liberals to form the Liberal Democrats in 1988.
It was blamed by many on the left for splitting the "progressive" vote in a way that helped Margaret Thatcher's Conservatives dominate UK politics throughout the 1980s.