A man who drove a car into London pedestrians outside Britain's parliament this morning was a British citizen who originally came from another country, British security minister Ben Wallace has said.
Police arrested the man early today after he hit pedestrians and cyclists before ramming his car into barriers in Westminster.
"He's a British citizen," Mr Wallace told the BBC.
"He came from another country originally. It's only being treated at the moment as a terrorist incident and we haven't yet fully confirmed that."
Police said the man detained is 29 years old, and they are carrying out searches at three addresses in the midlands in relation to the incident.
Scotland Yard has said the man was not known to police or MI5.
He is being held in custody at a south London police station but is not co-operating with officers, counter-terrorism head Neil Basu said.
He was arrested on suspicion of terror offences after the silver Ford Fiesta he was driving collided with cyclists and pedestrians before crashing into security barriers just before 7.40am.
The suspect is understood to be from the Birmingham area.
"Given that this appears to be a deliberate act, the method and this being an iconic site, we are treating it as a terrorist incident and the investigation is being led by officers from the counter-terrorism command," said Mr Basu.
"We have not formally identified him yet. On the details we have at the moment we don't believe this individual was known to MI5 or counter-terror police."
We need your consent to load this rte-player contentWe use rte-player to manage extra content that can set cookies on your device and collect data about your activity. Please review their details and accept them to load the content.Manage Preferences
The silver car was seen driving along the road next to Parliament Square before moving to turn right towards Westminster Abbey.
As an ambulance passes the car on its right-hand side, the vehicle swerves left, crossing oncoming traffic and a pavement before entering a small road and crashing into a security barrier.
A police officer can be seen jumping another barrier that runs along the side of the road to get away.
Two white vehicles appear to be behind the car shortly before the crash but Mr Basu insisted: "There was not a police car in pursuit of the vehicle."
Images posted to social media showed a man wearing a black puffer jacket being led away in handcuffs from the car.
There was nobody else in the vehicle and no weapons were found, police said.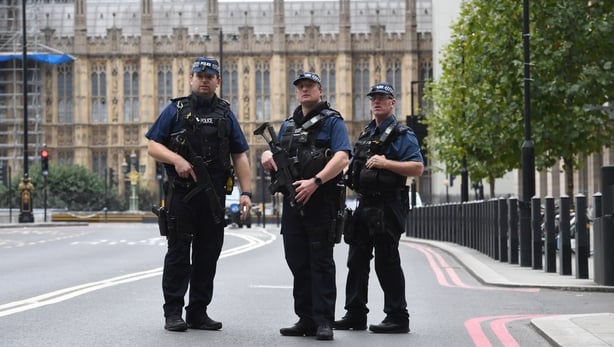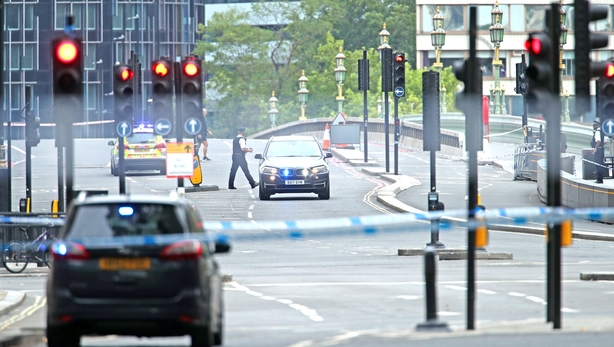 Mr Basu added no other suspects have been identified and there is "no intelligence at this time of further danger" to Londoners.
Two people were taken to hospital, while a third person with minor injuries was assessed at the scene, the London Ambulance Service (LAS) said.
One was discharged from St Thomas' Hospital before midday, while a woman is being treated for serious but not life-threatening injuries at St Mary's Hospital.
British Prime Minister Theresa May said the attack is shocking and warned that the terrorism threat to the United Kingdom remained severe.
"The threat to the United Kingdom from terrorism remains severe. I would urge the public to remain vigilant," Mrs May, who is out of the country on holiday, said in a statement.
Mrs May's spokesman said she has had regular briefings with security officials throughout the day.
My thoughts are with those injured in the incident in Westminster and my thanks to the emergency services for their immediate and courageous response.

— Theresa May (@theresa_may) August 14, 2018
Geoffrey Woodman, a strategy consultant from Battersea, had stopped at the traffic lights by Parliament Square on his cycle to work when the car swerved into cyclists and towards the security barriers.
"I was getting off the bike and put my foot down, then there was a sound like tyres screeching," he told the Press Association.
"This car turned round to the left and swerved into the wrong lane of traffic and into the bank where all the cyclists wait."
He said most people managed to jump off their bikes to safety but one woman who "seemed in some distress" was clipped by the bonnet of the car as it passed.
Another terrorist attack in London...These animals are crazy and must be dealt with through toughness and strength!

— Donald J. Trump (@realDonaldTrump) August 14, 2018
Mr Woodman said paramedics from a passing ambulance stopped to help before armed police arrived on the scene.
Cyclist James Maker of Chelmsford, Essex, passed the scene in Westminster minutes later and saw a woman injured on the ground and the car crashed into the barrier.
"I looked to the right-hand side and there was a cyclist on the floor, clearly injured," he said.
"It was a woman, they were clearly quite injured, they weren't moving and they were in the recovery position."
Streets around Parliament Square, Millbank and Victoria Tower Gardens were cordoned off as police, ambulances and firefighters arrived.
The Houses of Parliament are surrounded with security barriers of steel and concrete.
The measures were extended in the wake of the Westminster Bridge attack in March 2017 when Khalid Masood ploughed a car into crowds on Westminster Bridge, killing four people.
Masood abandoned his car then stabbed and killed unarmed policeman Keith Palmer before he was shot by armed police in a courtyard outside parliament.
The terrorist threat against the UK is seen as unprecedented.
In addition to five attacks that occurred last year, authorities say they have stopped 13 Islamist and four extreme right-wing plots since the Westminster attack in March 2017.
Car crashes into barriers at Houses of Parliament in Westminster (Video: Ewelina U Ochab) pic.twitter.com/Q8IcUyb50E

— RTÉ News (@rtenews) August 14, 2018