A London police officer who was guarding the UK parliament was among a number of people killed in a terrorist attack in Westminster.
At least 40 people were injured in the incident.
Britain's top anti-terrorism officer, Metropolitan Police Assistant Commissioner Mark Rowley, said police believe there was only one attacker, who was killed.
British police confirm that four people have died, at least 20 injured following an attack in Westminster pic.twitter.com/I7TkhyH4zJ

— RTÉ News (@rtenews) March 22, 2017
The deceased police officer has been named as Keith Palmer, a 48-year-old married man who was also a father.
He had been in the police force for 15 years.
Three members of the public were also killed.
The attacker, armed with two large knives, mowed down pedestrians with his car on Westminster Bridge, including schoolchildren, then rushed at the gates in front of the Houses of Parliament, stabbing a policeman before he was shot by armed officers.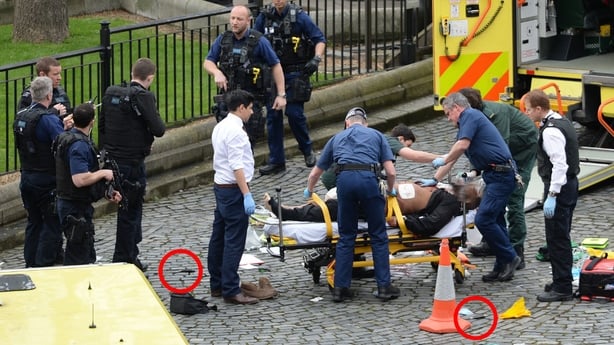 Eyewitnesses described scenes of terror when gunfire rang out as the attacker approached a second officer within yards of the Houses of Parliament.
Paramedics fought to save his life and that of his police victim on the floor of the cobbled courtyard in front of Parliament.
The police officer was wheeled away on a stretcher with his face covered and sources later confirmed he had died.
One woman hit by the attacker's car before he reached parliament was confirmed dead by a doctor at St Thomas' Hospital.
Another person also hit by the car on Westminster Bridge died also.
In pictures: Westminster lockdown
London's Metropolitan Police has said the attack is being treated "as a terrorist incident until we know otherwise".
A map details the attack outside the UK Parliament building in Westminster pic.twitter.com/RPSbt80hlp

— Press Association (@PA) March 22, 2017
Police have said a full counter-terrorism investigation is under way after the attack.
British police say there a 'number of causalities, including police officers' following an attack in Westminster pic.twitter.com/ME7CMo1xva

— RTÉ News (@rtenews) March 22, 2017
Around three shots rang out outside the Palace of Westminster after a man ran through the gates into the front yard of the parliamentary compound apparently waving a knife.
Two people were seen being treated on the ground in New Palace Yard amid shouts and screams.
An air ambulance landed in Parliament Square and a regular ambulance came in through the front gates as medics rushed to help the injured people.
As the sitting in the House of Commons was suspended, Commons Leader David Lidington told MPs: "What I am able to say to the House is there has been a serious incident within the estate.
It seems that a police officer has been stabbed, that the alleged assailant was shot by armed police.
"An air ambulance is currently attending the scene to remove the casualties.
"There are also reports of further violent incidents in the vicinity of the Palace of Westminster but I hope colleagues on all sides will appreciate that it'd be wrong of me to go into further details until we have confirmation from the police and from the House security authorities about what is going on."
A car on Westminster Bridge has just mowed down at least 5 people. pic.twitter.com/tdCR9I0NgJ

— Radosław Sikorski (@sikorskiradek) March 22, 2017
A spokesman for the Port of London Authority, which looks after safety on the River Thames, said: "A female member of the public was recovered from the water near Westminster Bridge. She is alive but undergoing urgent medical treatment on a nearby pier. We believe she fell from the bridge."
He said the river has been closed from Vauxhall to Embankment "as part of the security response".
A Downing Street source confirmed that Prime Minister Theresa May was "okay".
Mrs May was seen being ushered into a silver Jaguar car as what sounded like gunfire rang out at Parliament during the incident at around 2.45pm.
Mrs May's official spokesman said: "The Prime Minister was brought back to Number 10 from Parliament. She is currently monitoring the situation."
Mrs May will chair a meeting of the Government's emergency Cobra committee later tonight, a Downing Street spokesman said.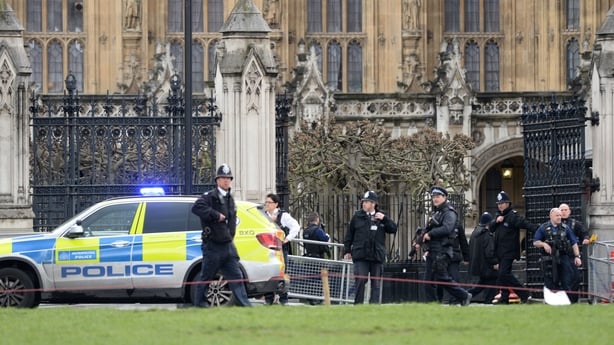 Immediately before the incident a crowd of passers-by was seen running from the direction of Westminster Bridge and around the corner into Parliament Square.
Scotland Yard said it was called to a firearms incident on Westminster Bridge amid reports of several people injured.
Conservative MP Grant Schapps says he heard four gunshots and police urged MPs to crawl to cover.
Pictures have emerged of a car having crashed into the railings of Parliament at the end of Westminster Bridge.
Mr Lidington, in a later statement to MPs, confirmed the House of Commons would adjourn for the day.
He said: "There have been conversations through the usual channels.
"I hope the House would agree that in the current circumstances it would not be right to continue with today's business."
MPs shouted in favour of a motion to adjourn the sitting.
We were called at approx 2:40pm to reports of an incident at #Westminster Bridge. Being treated as a firearms incident - police on scene

— Metropolitan Police (@metpoliceuk) March 22, 2017
Deputy Speaker Lindsay Hoyle suspended the sitting of the House and told MPs: "This House is now suspended but please wait here."
The main doors into the House of Commons were shut as MPs sat on the benches and checked their phones, while others stood in groups and spoke to each other.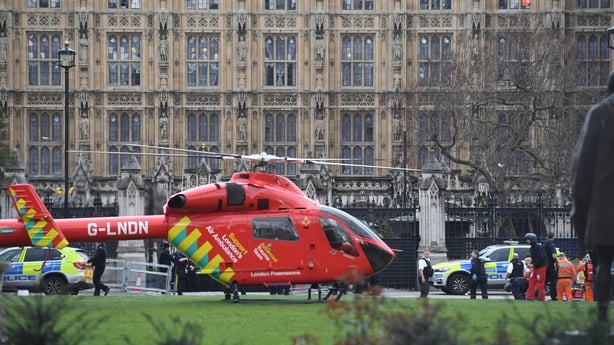 The tube station at Westminster has been shut at the request of police.
Officers – including firearms officers - are on scene and dealing with the incident in #Westminster

— Metropolitan Police (@metpoliceuk) March 22, 2017
Witness Don Brind told the Press Association he heard shots being fired and saw two people apparently injured on the ground.
Mr Brind, a researcher for MPs, said: "I heard some shouting and saw some running out of the corner of my eye and then a short time after that there was a shot. I looked and I saw a civilian on the ground, with somebody standing over him with what I assumed to be a gun.
"Then I looked and about ten yards away, there was a yellow jacketed person on the ground, who appeared to be alive and talking."
He said he assumed the person in the high-visibility jacket was a police officer.
Press Association political editor Andrew Woodcock witnessed the scenes unfolding from his office window overlooking New Palace Yard.
I heard shouts and screams from outside and looked out, and there was a group of maybe 40 or 50 people running round the corner from Bridge Street into Parliament Square.
"They appeared to be running away from something. As the group arrived at the Carriage Gates, where policemen are posted at the security entrance, a man suddenly ran out of the crowd and into the yard. He seemed to be holding up a long kitchen knife.
"I heard what sounded like shots - I think about three of them - and then the next thing I knew there were two people lying on the ground and others running to help them. Armed police were quickly on the scene and I heard them shouting to people to get out of the Yard."
Press Association reporter Laura Harding, who was in Westminster at the time of the incident, said: "Everyone has been evacuated into Central Lobby, including a group of schoolchildren and kitchen staff - around 15 schoolchildren aged around 10 - with armed police coming through the lobby now.
"The children are really calm, the teachers are comforting them.
"There are also a bunch of young people from the Hammersmith Boxing Club in their tracksuits and the British Lionhearts boxing group."
We are monitoring situation in Westminster, #London. Anyone with serious concerns for Irish people can contact 01-4082527/+44 20 72352171

— DFATravelWise (@dfatravelwise) March 22, 2017