Tens of thousands of protesters have swarmed the streets of central London to protest during Donald Trump's first visit to the UK as US President.
Organisers of the Together Against Trump mass demonstration claimed they had been told by police that more than 100,000 protesters had joined the march by mid-afternoon.
While the US leader described the relationship between his country and the UK as being at "the highest level of special" following a working lunch at Chequers with Theresa May, protesters in the capital chanted: "Donald Trump's not welcome here".
Aerial views showed densely packed crowds gathered at Portland Place and filling Oxford Street and Regent Street ahead of a rally at Trafalgar Square.
The Metropolitan Police said it would not give an estimate of numbers in attendance, but MPS Events tweeted that such was the scale of the crowd that stallholders in Trafalgar Square had been asked to take down their stands "to maximise the space available".
Celebrities including Stephen Fry and James Bond actress Samantha Bond tweeted their support for those marching, while Downton Abbey actress Laura Carmichael joined crowds.
Politicians including Labour leader Jeremy Corbyn, former deputy prime minister Nick Clegg and former Labour leader Ed Miliband took part in the protests.
The day of demonstrations began with a giant baby blimp caricature of an angry Mr Trump being flown in Parliament Square.
While the president did not personally witness the blimp's flight, he did say it had made him "feel unwelcome" in London.
The Together Against Trump march followed the Women's March, which used the hashtag Bring The Noise, earlier on Friday afternoon, during which pots and pans were bashed and chanting erupted from the crowd against a backdrop of drumming and cheering.
Immigration, the treatment of refugee women, equal rights for women and people of different sexes were among the topics raised and organisers of that demo said more than 80,000 people had turned out.
Scotland Yard said there had been no arrests by 3.30pm at the women's march.
The colourful march began after a choir sang, the suffragette march was played on a loudspeaker and people joined in with the songs We Are Family and Sisters Are Doing It For Themselves.

It was a carnival atmosphere among the crowd, which included babies being pushed in prams plus men and women of different ages and races.
The marchers banged out a wall of noise as they headed from London's west end to Parliament Square in a loud carnival atmosphere of drumming and cheering.
Protesters said they were united against Mr Trump and many had put their creative caps on with a range of colourful banners.
James O'Brien, from Co Mayo, was selling Trump toilet paper at Oxford Circus which was attracting amused passers-by.
"We thought it'd be fun," he said.
Getting the attention of potential buyers, he said: "The most satisfaction you can have in a toilet, kids."
A percentage of the money raised from the toilet rolls is going towards mental health awareness.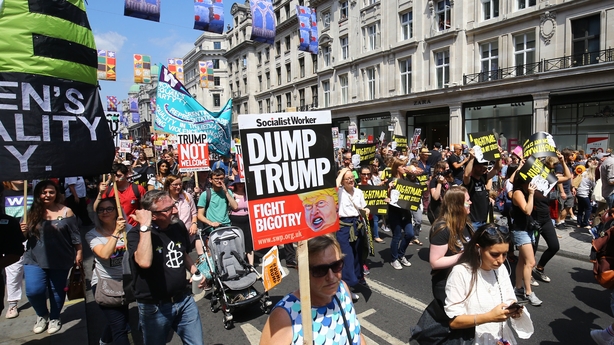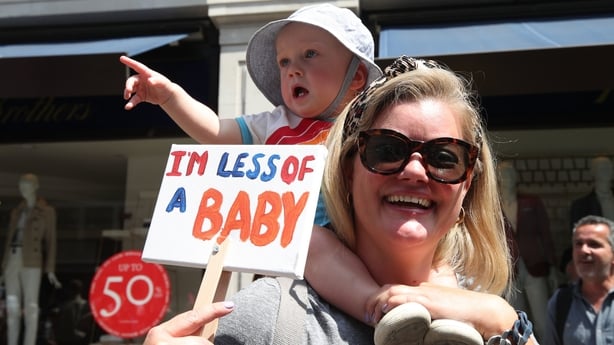 ---
Read more
---
Elsewhere, thousands of people have gathered in Glasgow's George Square to protest against Mr Trump's visit as he prepares to fly to Scotland.
Among the placards carried by campaigners were messages against the US president's policies including "Give the weans Irn Bru not iron cages" while others urged him to go home, with signs saying "Bolt ya rocket and make Scotland great again".
The protest took place before the president had even touched down in Scotland.
Mr Trump is due to fly into Prestwick Airport for the private Scottish leg of his UK visit later.
The Glasgow protest is one of several planned to take place in Scotland this weekend, as Mr Trump makes a "private visit" to his Turnberry golf resort in Ayrshire.
A national demonstration is to take place at the Scottish Parliament in Edinburgh tomorrow along with a Carnival of Resistance in the Meadows area of the capital.
Campaigners will also gather outside the Trump International Golf Links in Balmedie, Aberdeenshire, and it is predicted there could be further demonstrations at Trump Turnberry where the president is expected to play golf.