British Prime Minister Theresa May has said it is deeply disturbing to see two British citizens poisoned by the Novichok nerve agent.
"To see two more people exposed to Novichok in the UK is obviously deeply disturbing and the police, I know, will be leaving no stone unturned in their investigation," Mrs May told reporters in Germany where she was meeting Chancellor Angela Merkel.
"My thoughts are with the people of Wiltshire," she added.
The man and woman are critically ill in hospital after being poisoned in the village of Amesbury on Saturday.
Police have said that: "Following further tests of samples from the patients, we now know that they were exposed to the nerve agent after handling a contaminated item".
"Detectives are working as quickly and as diligently as possible to identify the source of the contamination," the statement from London's Metropolitan Police added.
Britain's security minister Ben Wallace said the couple were not directly targeted.
He said the "working assumption" is that they were exposed to Novichok either as a result of the attack on former Russian spy Sergei Skripal and his daughter Yulia in Salisbury earlier this year, or "something else".
It is the same toxin that was used in the poisoning of the Skripals in nearby Salisbury in March.
Counter-terrorism police are leading the investigation into the incident after tests at the Porton Down defence laboratory confirmed the nature of the substance, which Britain says is a Soviet-made military grade nerve agent.
The head of counter-terrorism police Neil Basu last night told reporters "It's the same nerve agent. Whether we can ever tell if it's the same batch will be up to scientists to determine.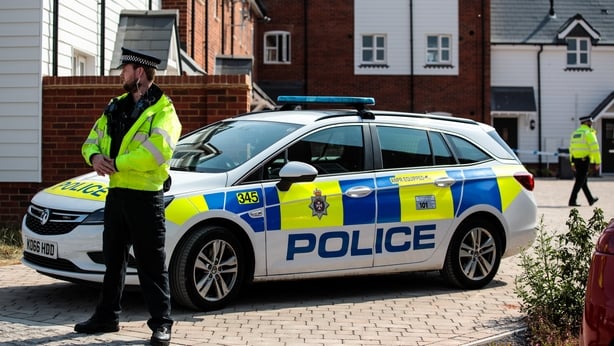 "The priority for the investigation team now, is to establish how these two people have come into contact with this nerve agent".
Mr Basu said there was no evidence to suggest that the 45-year-old man and the woman, 44, named locally as Charlie Rowley and Dawn Sturgess, "were targeted in any way".
The two fell ill on Saturday in Amesbury, close to where former double agent Sergei Skripal and his daughter Yulia collapsed on a bench on 4 March in an incident that sparked a bitter diplomatic crisis between the UK and Russia.
---
Read more
What is Novichok?
---
Police had initially assumed that the couple had consumed a contaminated batch of drugs.
But samples from both patients were sent to Porton Down on Monday "due to concern over the symptoms the man and woman were displaying," Mr Basu said.
Both are still in a critical condition and are at Salisbury District Hospital - the same facility where the Skripals were treated.
We need your consent to load this rte-player contentWe use rte-player to manage extra content that can set cookies on your device and collect data about your activity. Please review their details and accept them to load the content.Manage Preferences
In Salisbury, local residents said they were "shocked" that their quiet area was again hitting the headlines.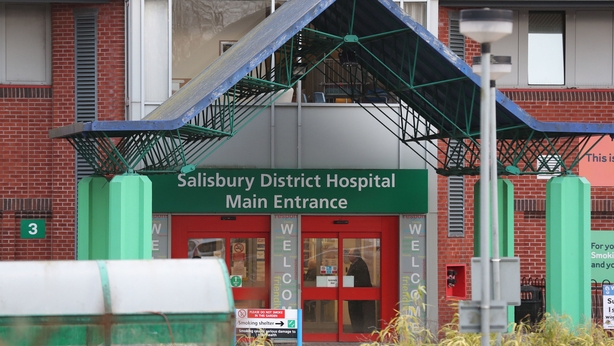 Mr Skripal, 67, and his 33-year-old daughter Yulia, who was visiting from Moscow, collapsed in Salisbury in March and were treated for an extended period of time before being released from hospital.
A police officer who came to their aid, Nick Bailey, was also taken to hospital.
The police said they suspected the nerve agent may have been smeared on a front door handle in liquid form.
Russia said that the British government should apologise after London demanded Moscow explain itself over the latest nerve agent incident.
"I am sure that for everything that Theresa May's government has stirred up, this government and its representatives will have to apologise to Russia and the international community," foreign ministry spokeswoman Maria Zakharova told reporters.
"As is tradition in Britain, it will happen later but it will happen."
Russia previously rejected British accusations of involvement in the Skripal poisoning, which sparked a diplomatic crisis that saw Russia and the West expelling dozens of diplomats in tit-for-tat moves.