Britain will methodically work out who carried out a nerve agent attack on a Russian ex-spy and his daughter, then take robust action, Home Secretary Amber Rudd has said.
Former double agent Sergei Skripal, 66, and his daughter Yulia, 33, have been in hospital since they were found unconscious on Sunday on a bench outside a shopping centre in Salisbury.
British media and some politicians have speculated that the Russian state could be behind the attack - suggestions dismissed by Moscow as knee-jerk, anti-Russian propaganda.
Despite her calls to avoid speculation and allow police to carry out their investigation, several politicians pointed the finger at Russia during their questions to Ms Rudd.
A number of them called for investigations to be re-opened into the deaths of Russian exiles in Britain in recent years.
Ms Rudd rebuffed them, urging people to keep a cool head and saying the focus should remain on the Salisbury incident.
Meanwhile, a police officer who was exposed to the nerve agent is "talking and is engaging" in hospital, but remains in a serious condition.
Detective Sergeant Nick Bailey was one of the first police officers to arrive at the bench where Mr Skripal and his daughter were found.
I want to express my heartfelt thanks to the emergency services for their bravery and professionalism in continuing to deal with the incident in Salisbury. My thoughts are with all those affected, including the police officer who is being treated in hospital.

— Amber Rudd MP (@AmberRuddHR) March 7, 2018
British Prime Minister Theresa May said her thoughts are with Det Sgt Bailey, adding: "The events of Sunday are a stark reminder, if ever one was needed, of the dangerous situations our emergency services face and the dedication and courage they display every day in order to keep us safe."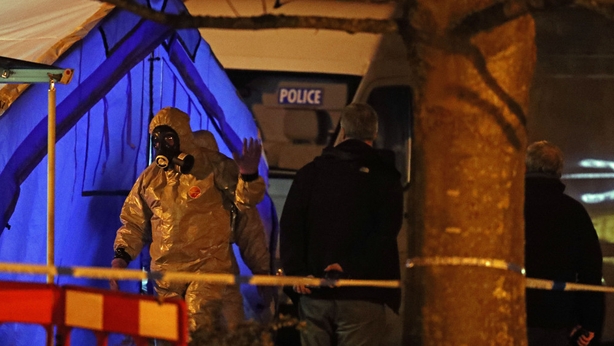 Assistant Commissioner Mark Rowley, the head of counter-terrorism policing, revealed yesterday that the incident was being treated as attempted murder and the pair had been "targeted specifically."
He declined to specify the nerve agent or how it was administered.
He said: "Having established that a nerve agent was the cause of the symptoms, leading us to treat this as attempted murder, I can also confirm that we believe the two people who originally became unwell were targeted specifically.
"Our role now of course is to establish who is behind this and why they carried out this act."
---
Read More:
Nerve agent used in attempted murder of Russian ex-spy
Who is double agent Sergei Skripal?
---
Russia has denied responsibility for the attack, which comes seven years after Mr Skripal was released from the country as part of a spy swap with the US.
He had been convicted in his home country in 2006 for passing state secrets to MI6.
British Foreign Secretary Boris Johnson has described the events in Salisbury as "very troubling."
He said: "If this does turn out to be in any way the result of hostile activity by another government, or directed, led, by another government, then the people of this country can be absolutely sure that the UK will respond robustly."