Britain's Prime Minister Boris Johnson has won a parliamentary majority, according to Sky News and BBC television, after a snap election called over Brexit.
Results showed the Tories had won 326 of the 650 seats in the lower House of Commons, meaning they could not be beaten.
Exit polls from last night's vote indicated they could win 368 seats.
Earlier, Mr Johnson said that his government appeared to have won a powerful new mandate to get Brexit done.
He hailed his "powerful new mandate to get Brexit done" as his party romped to victory in the 2019 general election.
"At this stage it does look as though this one-nation Conservative government has been given a powerful new mandate to get Brexit done and not just to get Brexit done but to unite this country and to take it forward," Mr Johnson said after winning his seat of Uxbridge.
"I think this will turn out to be a historic election that gives us now, in this new government, the chance to respect the democratic will of the British people, to change this country for the better and to unleash the potential of the entire people of this country."
"That is what we will now do, and if we are lucky enough to be returned as the exit poll seems to suggest then that work will begin ... today."
The Tory landslide prompted Jeremy Corbyn to announce he will not lead the Labour Party into another election after his party suffered humiliation.
---
Read more:
Northern Ireland live results as seats are filled
UK election night: An hour-by-hour guide
---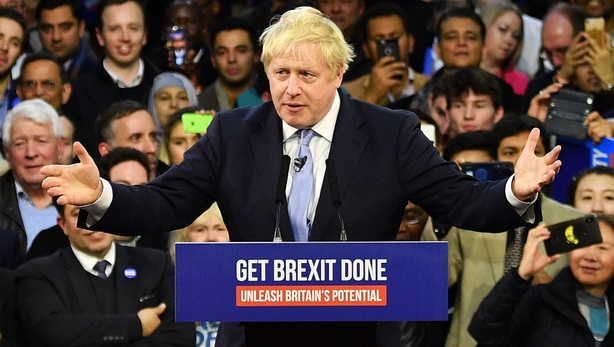 The Tories snatched seat after seat in Labour heartlands bringing the so-called "red wall" crumbling down after the Prime Minister's "get Brexit done" election message hit home with working class Leave voters.
For Mr Johnson, whose brief tenure in power has been marked by chaotic scenes in parliament and stark division on the streets over Britain's tortuous departure from the European Union, the victory is vindication.
He must now not only deliver Brexit but also convince Britons that the contentious divorce, which would lead to lengthy trade talks, is worth it.
A decisive win for the Conservatives will mean disappointment for the millions of people who voted to remain in the EU in a 2016 referendum and who dared to hope the result might be overturned thanks to gridlock in Westminster.
Now that Mr Johnson's bet on a snap election has paid off, he will swiftly ratify the Brexit deal he struck with the EU so that the UK can leave on 31 January - ten months later than initially planned.
European Council President Charles Michel said EU leaders will discuss the results of the election, adding: "We will see what will be the official results but there is a strong message.
"We will have the discussion...the European Council, Article 50, you know that we are ready for the next steps.
"We will see if it's possible for the British Parliament to accept the Withdrawal Agreement to take a decision, and if it is the case, we are ready for the next steps."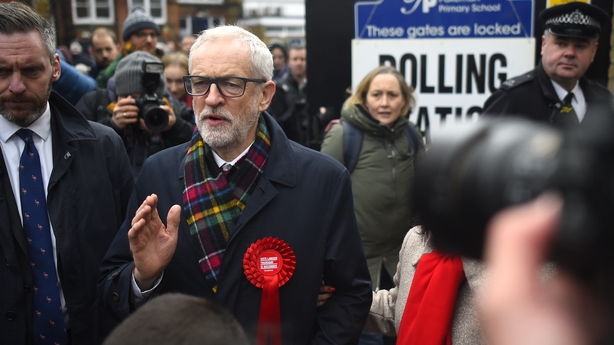 The results are, however, a significant setback for the Labour leader Jeremy Corbyn.
Mr Corbyn said: "This is obviously a very disappointing night for the Labour Party with the result that we've got", adding: "I want to say this, I will remain the MP for Islington North and I'm proud to represent the people of Islington North."
Labour, who had 243 MPs when parliament was dissolved last month, is forecast to win 197 seats.
The party clung onto several North East seats but with much reduced majorities.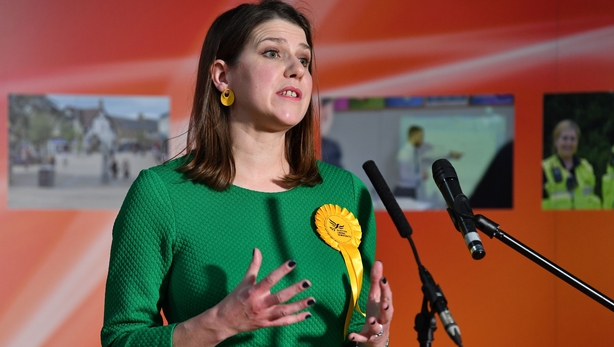 Meanwhile, Liberal Democrat leader Jo Swinson has lost her seat to the SNP's Amy Callaghan who won the East Dunbartonshire seat by less than 150 votes.
Ms Swinson congratulated Ms Callaghan, adding: "It is an amazing job, I'm sure you will love doing it and I wish you well and what you said about young women and smashing boundaries I wholeheartedly agree."
The Lib Dem leader also thanked her family and party for their support.
According to the exit poll, the Liberal Democrats are said to win 13 seats and the Scottish National Party 55.
SNP leader Nicola Sturgeon says "there is no doubt there is a mandate" for a Scottish independence referendum #GE19 pic.twitter.com/IX6bsiq4T7

— RTÉ News (@rtenews) December 13, 2019
SNP leader Nicola Sturgeon said Mr Johnson "emphatically does not have a mandate" to take Scotland out of the EU.
Speaking on Sky News, she said: "I'm bitterly disappointed at the result UK wide, I think Tory governments are bad for the UK, more than they're bad for Scotland, and I really don't want the UK to leave the European Union.
"But I've got to accept that England appears to have voted in a particular way, they appear to have voted for a Conservative government and appear to have voted to endorse the UK leaving the European Union.
"So Boris Johnson may have a mandate to take England out of the European Union, but he emphatically does not have a mandate to take Scotland out of the European Union.
"And Scotland must have the choice over our own future because it can't be any clearer than it has been made in this election today that Scotland doesn't want a five year Boris Johnson government and doesn't want to lose our status as a European nation."
---
In Northern Ireland, the DUP is facing up to losing its influential position as Westminster kingmaker and potentially any chance of securing changes to the Brexit deal.
Sinn Féin won seven seats at the last election and said it hopes to make gains today, while the 18th outgoing MP, independent Sylvia Hermon, has stepped down.
The UUP, SDLP and Alliance are all hoping to make a return to the green benches in the House of Commons.
Additional Reporting Reuters