British Prime Minister Theresa May has been warned she will have to re-think her Brexit negotiating strategy following her humiliation at the ballot box.
Senior Conservatives said there was no longer support in parliament for a so-called "hard Brexit" after the party saw its Commons majority wiped out.
Former chancellor George Osborne predicted that Mrs May could be forced out of No 10 within a matter of days, saying she was "dead woman walking".
Graham Brady, the chairman of the Tory backbench 1922 Committee and one of the party's key power-brokers, insisted that there was no appetite among MPs for an immediate leadership challenge which could see them plunged into another general election.
However, he acknowledged that the party would have to abandon much of the programme set out in the general election manifesto as it would no longer be able to get it through Parliament.
Earlier, Democratic Unionist Party leader Arlene Foster confirmed she would be meeting Mrs May in Downing Street on Tuesday with a view to finalising a deal to prop up a minority Tory government.
While the DUP campaigned to leave the EU in last year's referendum, it has refused to endorse Mrs May's position that "no deal is better than a bad deal" - insisting that there must be no return of the "hard border" with the Republic.
Mr Osborne, who was sacked by Mrs May and now is editor of the London Evening Standard, said there was now no majority in the Commons for a "hard Brexit".
He said: "The DUP need a deal because they are absolutely committed not to have a hard border with the Republic of Ireland," he told BBC One's The Andrew Marr Show.
"Theresa May's central claim which is no deal is better than a bad deal now becomes undeliverable because the DUP will never allow no deal."
Defence Secretary Michael Fallon said senior ministers had made clear to Mrs May she operated in the light of the election result.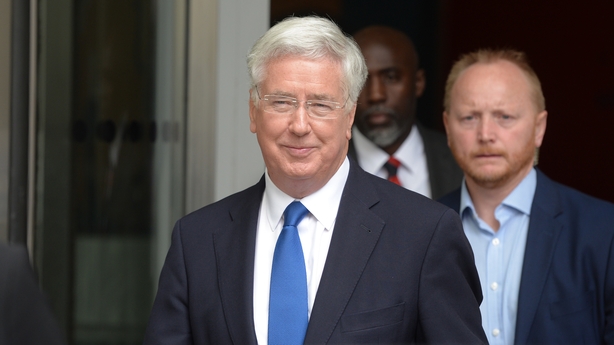 "We are going to see, I hope, more collective decision-making in the cabinet. I and other senior colleagues have made that clear to her," he told The Andrew Marr Show.
"I think you will also see that she will want to work much more closely with the parliamentary party both in the conduct of business and the development of policy."
Earlier, Labour leader Jeremy Corbyn confirmed that the party - like Mrs May - was committed to leaving the EU and pulling out of the single market, while seeking a "jobs-first Brexit".
"Where I frame it is, we want a tariff-free access to the European market, we also want to maintain a very important university and research collaboration in Europe," he said.
He said his party would "absolutely" ensure Brexit occurs if they secured power, with a focus on negotiating tariff-free access as part of a "jobs-first Brexit".
Corbyn says it is possible that there will be another British election 'later this year or early next year' https://t.co/8WW1ax6Uro pic.twitter.com/eJMZQhUjrL

— RTÉ News (@rtenews) June 11, 2017
Labour won 262 seats in the General Election, up from the 232 secured by Ed Miliband in 2015, but the Conservatives remain the largest party in Parliament.
Mr Corbyn believes that without an outright majority, Mrs May's position is vulnerable and he intends to oppose the Queen's Speech and table a "substantial amendment" in an attempt to bring down her administration.
Another general election within months is also expected, Mr Corbyn said.