The chief executive of Facebook has said he cannot give a guarantee that the company will be able to stop its platforms being used by malicious actors trying to influence the outcome of the European Elections.
Speaking to RTÉ News during a rare visit to Dublin, Mark Zuckerberg said the social network is in an ongoing "arms race", constantly building up defences.
But he added that sophisticated actors are also evolving their tactics.
"We've certainly made a lot of progress in building defences to protect the integrity of elections," he said.
"But no, I don't think anyone can guarantee that in a world where you have nation states that are trying to interfere in elections there is no single thing that we can do, and say we have now solved the issue.
"Here in the EU for the upcoming elections we are bringing the whole battery of all of the strategies and tools that worked very well in a lot of important elections so far."
Mr Zuckerberg said Facebook had grown a lot better at dealing with the issue since the controversial US Presidential Elections in 2016. 
He said: "There have been a lot of important elections since then that have been relatively clean and have had good results on this front. And we are fully committed to making sure that we do everything we can to do our part to secure the elections.
"But I think that we should expect that for some of these countries that are out there that are trying to interfere, they are just going to keep trying, so we need to stay head of that and keep on doing this work in order to stay ahead."
Mr Zuckerberg denied that his recent call for a more active role from governments in regulating the internet and social media was an effort by the company to absolve itself of responsibility.
He said either way Facebook is going to have responsibility for making sure it polices harmful content and gets it off its services.
But he said he thinks nowadays a lot of people do not want tech companies or private companies to be making so many decisions about what speech is acceptable, and what is harmful content that needs to be taken down.
"So I think that there is a role for a broader public debate here and I think some of these things would benefit from a more democratic process and a more active government role," he said.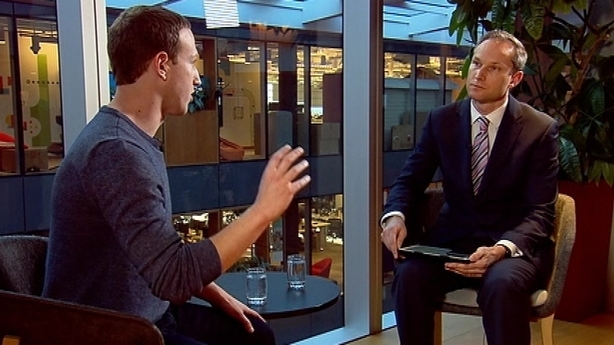 Mr Zuckerberg admitted that there is a lot more Facebook can do when it comes to taking down content that is harmful to children, such as images associated with self-harm and suicide. 
Asked why the firm cannot use its technology expertise and data insights to stop children like Molly Russell from accessing harmful content, he said the social network is building systems to be more proactive.
The 14-year-old girl from the UK took her own life in 2017 after she accessed disturbing self-harm images on Instagram.
Mr Zuckerberg said he wants to get to a point where through a combination of artificial intelligence and having thousands of people doing reviewing, it can take down harmful content before people even see it.
He added that such systems are working well already when it comes to terrorist content, with 99% of Al Qaeda and IS content flagged by Facebook systems.
"We are doing it not just for terrorism, but for hate speech, bullying, issues around child safety, incitement to violence, election interference, all these really important issues," he said.
"It is a lot of work, this is what I have personally spent a lot of my last few years on, we are investing a lot in this and it is a huge part of the important work that is happening here in Ireland, but there is certainly a lot more to do and this is another area where we could really use partnerships with law enforcement and government to help us tackle this as well."
Asked whether tax is the main reason why Facebook continues to invest in Ireland, Mr Zuckerberg said it is one of the factors but not the only one.
He said the country had established itself as a leader for the tech industry and has amazing talent.
"Ireland is incredibly important to us on all these fronts and I think the government here has been very forward looking in trying to establish Ireland and Dublin especially as a hub for tech companies overall," he said.
"The talent is a really big deal and of course having an environment which is forward looking to tech companies overall is a really positive thing."
Mr Zuckerberg will return to the US tonight.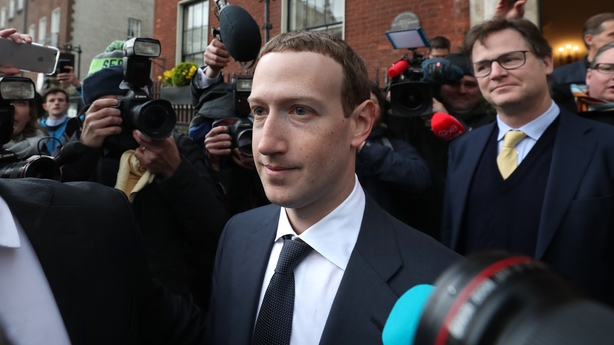 Speaking to reporters this afternoon, Mr Zuckerberg said there was a need for broader regulation of social media and the internet so that not all decisions rest with private companies.
He said he had spent most of the last few years trying to address a lot of issues the company is facing, including policing harmful content, upholding election integrity and ensuring strong data privacy.
He said he thinks the social network has made a lot of progress and he is proud of that.
But he said there are some areas, especially around content, where it is not clear that Facebook should be making these decisions itself, or that any private company should be making such decisions.
These include definitions around speech and political advertising.
Mr Zuckerberg said that, for example, there are things Facebook can do to prevent the kind of election interference it has seen.
But he added that people do not want a private company deciding what is political speech and what is not.
Mr Zuckerberg also said it was almost inevitable at this point that every country is going to want some kind of comprehensive privacy legislation.
Therefore, he said, it is really important that there is a move as quickly as possible towards having as many countries as possible adopt something like the European Union's General Data Protection Regulation framework.
Mark Zuckeberg leaving that meeting with TDs just now. pic.twitter.com/8yiAzM3Hir

— Will Goodbody (@willgoodbody) April 2, 2019
Mr Zuckerberg met three TDs who are members of the International Grand Committee on Disinformation and Fake News to discuss a number of concerns, including regulation of social media and dealing with harmful content and political advertising online.
He held talks with Fine Gael's Hildegarde Naughton, Fianna Fáil's James Lawless and Green Party leader Eamon Ryan at a hotel in the capital.
Ms Naughton said Mr Zuckerberg did not give "a clear answer" when asked about methods to prevent disturbing content being live streamed to the social media platform.
Speaking on RTÉ's Six One News, Ms Naughton said she asked whether there could be a "time delay" on such live streams where there is time to "intercept, moderate, or block" content. She said the meeting was "very positive and constructive".
She said that she also requested that Mr Zuckerberg attend a meeting of an International Grand Committee, which is to be held in public in Leinster House in September.
Mr Zuckerberg said he "would consider it", Ms Naughton said.
In a statement issued after the meeting, the three TDs said they raised their concerns, as well as impressing upon Mr Zuckerberg the need to engage with legislators.
They said they also updated the Facebook CEO on initiatives from the Oireachtas Communications Committee.