Social media companies should be held more accountable for harmful online content, it has been warned.
The call came amid concerns over the sinister 'Momo Challenge' - a cyberbullying game which allegedly encourages young people to perform dangerous tasks, including self-harm.
Gardaí and the PSNI have issued warnings about 'Momo' and said there have been reports of the game appearing on YouTube. It is understood it has also appeared on other platforms such as WhatsApp.
Speaking to RTÉ News, Cyber Psychologist and Adjunct Professor at UCD, Dr Mary Aiken, said there is currently no legislation to meaningfully address the issue of dangerous online material.
She said: "As a cyber psychologist, my argument is that every abnormal criminal or deviant group can send links online and can target those who are vulnerable, such as children.
"This behaviour encouraging children to harm themselves is evidence of sadistic if not psychopathic intent."
Dr Aiken said that cyberbullying games such as the 'Momo Challenge' are a "form of everyday sadism, targeting vulnerable children".
CyberSafeIreland, a charity which promotes online safety among children, said it has been contacted a number of times in recent days about 'Momo'.
However, the charity said it has not seen evidence of cases where the challenge has caused harm to children in Ireland. Parents are still being urged, however, to keep a close eye on their children's online activities.
"Halfway through the movie, 'Momo' popped up on screen"
Grace, from Dublin, was watching a film with her nine-year-old daughter on YouTube recently when the 'Momo' face popped up on screen.
Grace said that it was the first time she had come across it and disabled it straight away. But in conversation, Grace was surprised to find out that her daughter had already come across the 'Momo' face before.
"It took me by surprise as much as my nine-year-old, but I disabled it and we had a discussion about it.
"It turns out that my daughter had been familiar with this image from a previous situation. But she hadn't told me about it which frightened the life out of me, to be honest."
The picture of 'Momo' appears as a portrait picture of a puppet, with long thin black hair, bulging eyes and a 'V' shaped smirk. Grace said that when 'Momo' appeared on the screen, the face had an instruction to click on the link beneath it.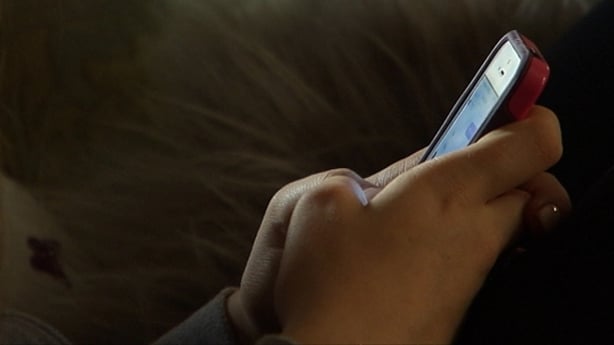 ---
Just what is the Momo challenge?
---
Grace said that her daughter first came across 'Momo' while watching a video tutorial on YouTube.
"She had being doing some sort of YouTube tutorial before and it had popped up on the screen and she disabled it.
"And the following day it had popped up on the screen again, and she disabled it and she hadn't told me about it at the time."
Grace said that cyber safety was something that her daughter had been warned about before and did not click on the link.
She said that it was "insidious" that the 'Momo' link appeared halfway through the movie, as parents would leave their children alone to watch a film.
"A lot of parents would leave their children to watch a movie and think that's particularly safe because they're not online, they're not searching for anything on YouTube themselves.
"You know what they're watching but you turn your back and this pops up on the screen."
Dr Aiken said that young children would not understand the consequences of their behaviour online, and said that parents need to talk to their children urgently about online safety.
She said: "I think they need to explain to children that there are, unfortunately, people out there who actively wish to harm them and who might encourage a child to get involved in a series of activities which can lead to harm.
"But it's tragic that we have to make young children aware that there is such evil in this world, and I don't use that word lightly, because there are simpler ways [through legislation] to tackle these problems."
Dr Aiken has worked on a bill proposed by Senator Joan Freeman which aims to hold companies behind social media platforms "legally accountable and responsible for the distribution of harmful material to minors".
The Children's Digital Protection Bill 2018 is currently going through the third stage in the Seanad.
Dr Aiken said that the British government is "getting very active" in tackling self-harm content online and has "talked about bringing in regulations in and around the area of the responsibility of social media when it comes to online harm".
However, she said that Ireland is effectively "going backwards in this area".
"The companies that profit in this space, have to be part of the solution, and they have to be held accountable by society for online harm," she said.
Google, which also owns YouTube, has said that it has policies against harmful content and will remove it if flagged.
Meanwhile, social media giant Facebook has said that it is vigilant to any content which is dangerous or promotes self-harm, but it has not received reports from its users about the 'Momo Challenge'.