Huawei has insisted there are no backdoors in its technology that could allow China to spy on countries as the US ramps up efforts to block the leader in 5G by urging allies to block it, writes Yvonne Murray.
Imagine landing at Dublin airport. You clear passport control in seconds thanks to facial recognition cameras.
Your smart-tagged bag is delivered to your driverless car that's waiting for you outside Arrivals.
You move seamlessly through the smart city's streets, while streaming a glitch-free HD movie and sending instructions to your home robot to turn on the heating and hoover the front room.
This is the kind of future that fifth generation mobile technology is promising - a revolution in interconnectivity that will change the way we live.
And it's not just to enhance the experience of individual phone users.
5G will be used to wirelessly link and control national services like search and rescue operations, as well as medical devices, agricultural machinery and industrial power plants.
This is the technology that will allow doctors to perform surgery from thousands of miles away, in real time.
What then, if you were told that one of the companies at the heart of this new technology is subject to a law which compels it to "support, assist and cooperate with" China's national intelligence services?
This is the debate many countries are now grappling with as the United States steps up the pressure on allies to ditch Chinese telecoms giant Huawei from their 5G rollout over claims of cyber-espionage and IP theft.
Huawei's chairman, Guo Ping, told the Mobile World Congress in Barcelona today that there are no "backdoors" in its technology that could allow Beijing to spy on countries.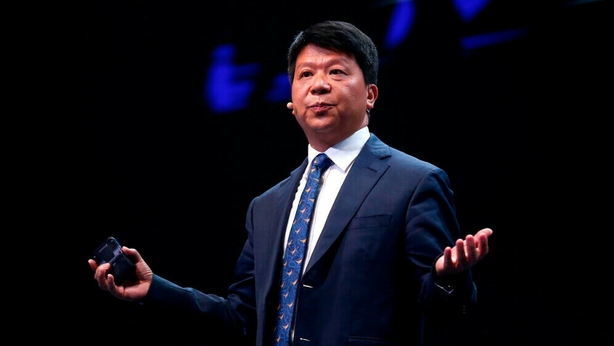 At the centre of the row is a senior Huawei executive, Meng Wanzhou, who is also the daughter of the company's founder. She was arrested as she changed planes in Canada at the request of US authorities, before being released on bail and is now awaiting extradition proceedings.
Huawei, which is now the world's largest telecoms equipment maker, denies any wrongdoing and has repeatedly said the company would never do anything "to harm its customers."
But Australia and New Zealand were quick to follow the US's lead in restricting Huawei's involvement in their next generation 5G networks, although New Zealand later said it was still under review.
Some European governments, like Germany and the UK, seem to be leaning towards keeping Huawei in their networks.
Others, like Ireland, have been slow in reaching a decision.
"There has been silence from our own Government and no indication that they are even aware of the issue," Fianna Fáil Science and Technology spokesperson James Lawless said in a statement, issued last month.
"What is our own intelligence service's assessment and have there been any security breaches in Ireland on the back of Huawei technology?" he wrote.
In a statement, the Department of Communications, Climate Action and Environment said, it would not be appropriate to comment on the US allegations against Huawei but "as a general point, there are legislative requirements on telecoms operators in relation to managing risks posed to the security of their networks and services.
"ComReg, which is statutorily independent in the exercise of its functions, is responsible for ensuring compliance with these provisions," it said.
"The Department nonetheless keeps the security of the telecommunications sector under ongoing review," the statement added.
"State security is primarily a matter for the Minister for Justice and Equality".
Growing business
The stakes for Huawei are high. Europe is its most lucrative market outside of China.
According to comments made by Carolan Lennon earlier this month, the CEO of Ireland's largest telecommunications company Eir - which has confirmed it is sticking with Huawei's radio access equipment in its 5G rollout - "around 48% of telcos in Europe have Huawei as a partner."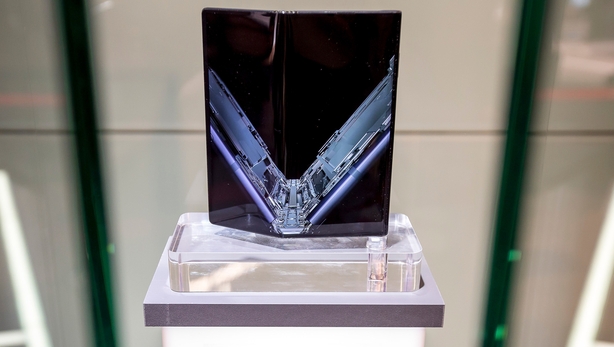 The Chinese company's growing reputation and influence in Europe has attracted some high-profile representatives.
Ireland's former Minister for Europe, Dick Roche, is a lobbyist for Huawei in Brussels.
Requests for comment to Mr Roche's office on the recent allegations against his client, went unanswered.
US pressure mounts
But the United States, where Huawei is accused of trade secrets theft, wire fraud and obstruction of justice, is keeping the pressure on.
"We cannot ensure the defence of the West if our allies grow dependent on the East," US Vice President Mike Pence said at a recent security conference in Munich.
"As Chinese law requires them to provide Beijing's vast security apparatus with access to any data that touches their network or equipment," he added.
"We must protect our critical telecom infrastructure," he said.
Mr Pence's remarks followed Secretary of State Mike Pompeo's stark warning to European countries.
Speaking in Hungary, Mr Pompeo said that if countries use Huawei equipment, "it makes it more difficult for us to partner alongside them."
Mr Pompeo reiterated the administration's views in Washington last Thursday.
"If a country adopts (Huawei systems) and puts it in some of their critical information systems, we won't be able to share information with them, we won't be able to work alongside them," he said.
Allegations against Huawei have also surfaced outside the United States.
The sales director for Huawei in Poland was arrested on suspected spying charges last month.
In January last year, French newspaper, Le Monde reported a hack on the computer system at the Chinese-built headquarters of the African Union in Ethiopia, which was reported to have been downloading confidential data onto servers based in Shanghai, every night over a period of five years.
The computer system had been installed by Huawei.
The report was dismissed as "ridiculous and preposterous" by Chinese officials.
A spokesperson for Huawei said the company was "unaware" and was "not involved in any alleged data breach at the African Union."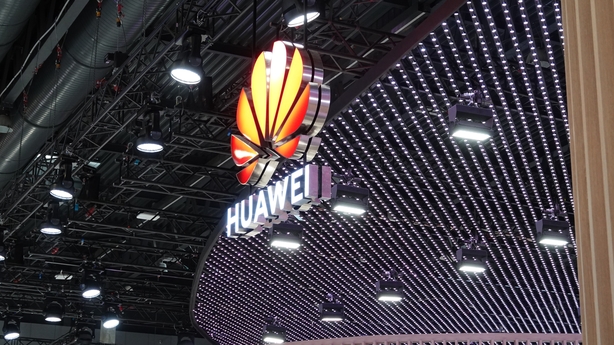 China's response
The Chinese government believes the US-led campaign against Huawei is politically motivated.
Threatened by China's rise, officials believe, the US wants to hold back China's technological advancement.
"The US has been fabricating various unwarranted charges and cooking up all sorts of threat theories without any firm evidence," said Hua Chunying, a spokesperson for China's foreign ministry at a press conference in Beijing.
"It all boils down to using state power to suppress the legitimate development rights and interests of Chinese enterprises and resorting to political intervention in economic behaviours," she said.
Huawei has been robust in defending its own reputation. In a rare interview with the BBC this month, Huawei's founder Ren Zhengfei said: "There's no way the US can crush us.
"The world cannot leave us because we are more advanced.
"Our company will never undertake any spying activities," he added. "If we have any such actions, then I'll shut the company down," he added.
Huawei's claims that their 5G technology is more advanced, efficient and cost effective than their competitors, are supported by many people in Ireland's telecommunications industry.
Swapping Huawei's technology out would be expensive and there is some concern that it could significantly delay the country's 5G development.
There is also a feeling among some industry insiders that security concerns about Huawei are overblown.
"Can we be sure that (US telecommunications company) Cisco doesn't have a few back doors?" one senior Irish telecoms executive said.
One party state
But some analysts believe we should pay closer attention to the fundamental differences between China's system of one-party governance and Western democracy - based on separation of powers and the rule of law.
Many question whether Huawei, given China's communist party-controlled legal framework, would have any choice but to comply with China's national intelligence laws if it came to it.
"Assuming there were a situation in which the government tried to compel Huawei to engage in intelligence-gathering and Huawei refused, we would be concerned." said William Nee, China researcher at Amnesty International.
"We have seen numerous 'sensitive' cases in China in recent years in which the procedural safeguards that should be afforded to defendants are systematically ignored by the government," he said.
"On top of that, there is obviously not an independent judiciary," he added "with the President of China's Supreme People's Court explicitly rejecting judicial independence as a "false Western ideal.""
Critics also point to the detention of two Canadians in China just days after the arrest of Meng Wanzhou in Canada.
Michael Kovrig and Michael Spavor are being held without charge or legal access in what some analysts have called a "tit-for-tat" operation - a suggestion refuted by the Chinese government.
Doesn't everyone spy?
"There is no doubt that the US, China, and many other countries, engage in espionage," said Steve Conlon, a former PhD and assistant lecturer at Dublin City University, now Vice President Corporate Intelligence at the US firm, Rivada Networks.
"But there is no suggestion that the US government controls or can compel compliance from Finland's Nokia or Sweden's Ericsson, for example," he said.
"Secondly, (the US whistle-blower) Edward Snowden revelations," he added, "led to a seismic shift in how western technology companies do business and work with security services; we just need to look at Apple's refusal to 'hack' the iPhone 5c of a terrorist."
Chinese telecommunications companies operate "in an environment which is the very antithesis of these values that we in Ireland also hold," he said.
"We must ask which in the long term will be more expensive?" Mr Conlon added about removing Huawei from the 5G network. "A risk mitigation rip-and-replace program or a devastating cyberattack?" he said.
Mr Conlon has written to DCU urging his former university to review its partnership with Huawei.
"I have grave concerns that DCU may be unwillingly creating technologies that allow the Chinese government to subjugate political enemies through various smart and safe cities initiatives," he wrote.
DCU, Trinity College Dublin, UCC and UCD currently have research partnerships with Huawei.
Last month Queen's University Belfast and Oxford University said they would not be seeking new research funding from Huawei. Oxford cited "public concerns raised in recent months surrounding UK partnerships with Huawei."
Hi-tech surveillance
Human rights campaigners argue that some of Huawei's operations in China's own domestic market should raise concerns, particularly in the Western province of Xinjiang where the Chinese government has been building a highly sophisticated citizen surveillance network.
The local population is heavily monitored using cutting-edge facial recognition cameras, data collection and tracking software. Up to a million Uighur and Kazakh Muslims are reportedly being held in detention camps.
The Chinese government says the measures are necessary to combat terrorism.
"In the Xinjiang Uighur Autonomous Region, which is in the midst of an unprecedented crackdown of human rights violations targeting ethnic minorities," said William Nee, "we've seen Huawei start new partnerships with the regional public security department in providing smart security technology."
"At a minimum, this calls into question whether Huawei is carrying out vigorous human rights due diligence," he said, "and raises concerns that the company could uncritically support the Chinese government elsewhere."
With regard to the situation in Xinjiang a Huawei spokesperson said "Huawei provides only civilian technology to our customers."
"We play no part and have no role in defining government policy in terms of how the technology is used," the spokesperson said, "and do not manage the implementation of safe city programmes."
Ireland-US ties
Ireland is home to the headquarters of many US tech companies. The possibility of multinationals taking issue with the use of Huawei technology in Ireland's 5G infrastructure is also a concern for Mr Lawless.
"In the same vein," he said, "I have been critical of Ireland's underinvestment in the national cyber security centre and social media policing as it exposes MNCs based here to additional and unnecessary risks."
US officials have already raised the issue of Huawei's involvement in Ireland's 5G network with Tánaiste and Minister for Foreign Affairs Simon Coveney.
It is likely to come up again when Taoiseach Leo Varadkar visits Washington for St Patrick's Day next month.
As the world stands on the frontier of another giant technological revolution, the US is asking countries like Ireland to make a choice.