Staff at Google offices around the world, including Dublin, have staged an unprecedented series of walkouts in protest at the company's treatment of women.
Employees are demanding several key changes in how sexual misconduct allegations are dealt with at the firm, including a call to end forced arbitration, a move which would make it possible for victims to sue.
The action in Dublin was staged between 11am and midday and those taking part in the protest were reluctant to speak to the media, even though Google said it had told staff they could speak to media in a personal capacity.
Kate Smith, a Google employee who helped organise the Dublin Walkout for Real Change, addressed the assembled crowd and said it was an act of solidarity with anyone who had experienced any form of sexual harassment or misconduct in Google's workplace.
"While I have not personally experienced any form of sexual harassment or misconduct at Google I wish to create a space for all of us here to gather together and show our support for doing whatever it takes to eliminate such awful behaviour" she said.
She said she was standing there as an ally for anyone who has suffered, who is suffering or who may suffer as a result of any such unacceptable treatment.
Google employs more than 7,000 staff directly and indirectly in Ireland.
We need your consent to load this rte-player contentWe use rte-player to manage extra content that can set cookies on your device and collect data about your activity. Please review their details and accept them to load the content.Manage Preferences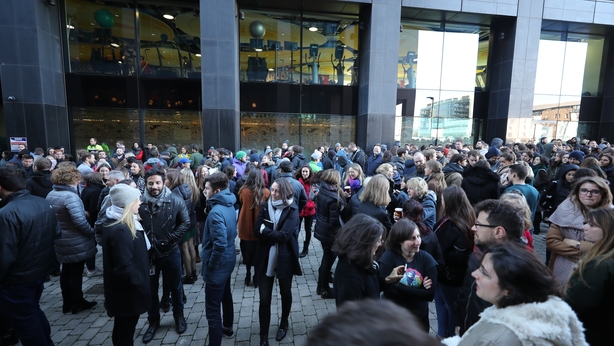 In Silicon Valley, women are also becoming fed up with the male-dominated composition of the technology industry's workforce - an imbalance that critics say fosters unsavoury behaviour.
It was reported last week that Google had fired 48 employees in the past two years, including 13 senior executives, as a result of sexual harassment allegations.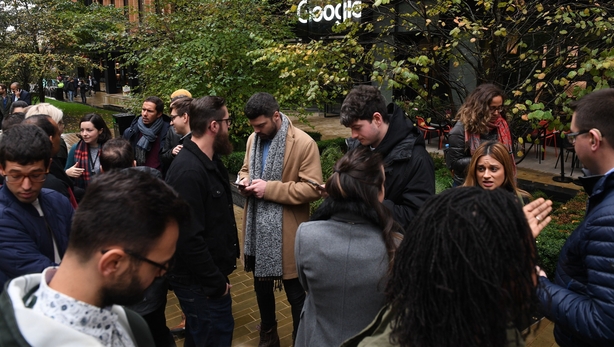 The company issued a statement in response to a New York Times report detailing allegations of sexual misconduct against the creator of Google's Android software, Andy Rubin.
Mr Rubin, who denies the allegations, received a €90m severance package in 2014, even though Google thought the allegations were credible.
Google chief executive Sudar Pichai said the company has made a number of changes "including taking an increasingly hard line on appropriate conduct by people in positions of authority".
Mr Pichai apologised for the company's "past actions" in an email sent to employees on Tuesday.
"I understand the anger and disappointment that many of you feel," Mr Pichai wrote.
"I feel it as well, and I am fully committed to making progress on an issue that has persisted for far too long in our society. and, yes, here at Google, too."
But today's walkout could signal that a significant number of the 94,000 employees working for Google and its corporate parent Alphabet remained unconvinced the company is doing enough to adhere to Alphabet's own edict urging all employees to "do the right thing".
Additional Reporting PA