It is mid-March and in the mobile world that can mean only one thing.
Just weeks after they were first unveiled at Mobile World Congress, a number of high-end smartphones are being released onto the market around now.
The Samsung Galaxy S9 hits retailers' shelves around the country today, the latest update of the South Korean manufacturer's flagship range.
But is it worth its €800+ price tag? We've been trying it out.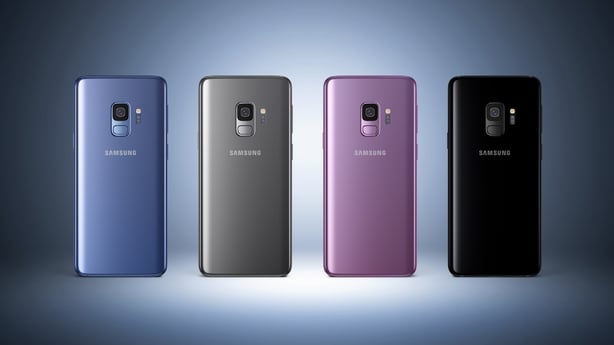 DESIGN:
If you were hoping that the Galaxy S9 would arrive with a major design refresh, then you are going to be disappointed.
To the untrained eye the device is virtually indistinguishable from its predecessor, the Galaxy S8, which launched a year ago.
That's not necessarily a bad thing though. The S8 undoubtedly marked the start of a new era of expansive near bezel-less displays and curved edges.
In adopting a similar design, the S9 hasn't lost any of that style and remains eye catching.
There are a few subtle variations though, which are worth pointing out.
First, the fingerprint scanner has moved underneath the camera away from the lens which is good, because on the S8 they were too close together, leading to the potential for smudging.
The S9 also has Gorilla Glass 5 added, as well as stronger aluminium, both of which should make it more robust.
The headphone jack also survives another upgrade, which will be welcomed by many.
Three colours are available - Midnight Black, Coral Blue and a new hue, Lilac Purple
All told, the design changes alone certainly won't be enough to entice people to upgrade.
But the device remains premium, attractive and worthy of a flagship.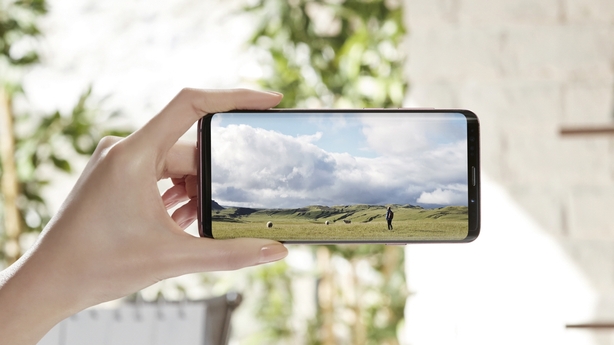 DISPLAY
Samsung's top-end phones have always led the way when in comes to screen quality and performance and the S9 is no different in that regard.
On paper the near bezel-less 5.8-inch Quad HD + Super AMOLED display, with its 18.5:9 aspect ratio and 570 pixels per inch density, is among the best available.
In practice it lives up to that billing too.
The technology may not have changed significantly since the S8, but DisplayMate has still crowned it the best screen available today, which is high praise indeed.
And it is not without foundation.
The S9's Infinity display is pin sharp, with excellent colour reproduction and clarity, deep blacks and brilliant whites, and all from a range of viewing angles.
It is also Mobile HDR Premium certified and like its predecessor it has edge displays built in.
There is also an Always On Display option for the main screen which can be customised with widgets, themes and other content.
Out of the box, the display is set at a resolution of FHD+ or 2220x1080, but it is worth jacking that up to the full resolution, WQHD+ or 2960x1440 to get the most out of the display, although it might impact your battery life to do so.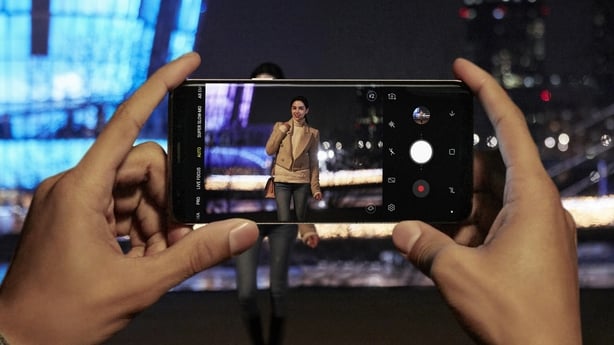 CAMERA
If the changes to the display and to the design are modest, the same can't be said for the camera.
Samsung has overhauled the imaging on the S9 considerably and the result is one of the best smartphone cameras on the market, particularly in low light.
Ironically, one of the small number of other smartphones that offers better is the S9's big brother, the S9+ and only because it has a dual camera set up.
In the case of the S9, the main camera only has one sensor – a dual pixel 12MP chip that has dedicated processing power and memory, as well as autofocus and optical image stabilisation.
The big addition is that the aperture can now automatically adapt from f/1.5 to f/2.5, depending on the lighting conditions.
The result is excellent performance in low brightness on top of its already strong ability when there is plenty of light around.
The modes have also been finessed to offer more options to those who want to tinker.
There's a super Slow-mo mode which captures video at 960fps and has built in motion detection that triggers the effect when the camera spots movement.
Features already available on other competitor phones, like the portrait mode effect on the iPhone X, have also been built in.
There's also a Selective Focus mode and a Food mode for those who like to snap their nosh.
But if your preference is to shoot on automatic, you'll rarely be disappointed with the outcome.
The selfie camera has an 8MP sensor with autofocus, as well as a "Wide Selfie" mode that enables you to squeeze more people into your shot by scanning left and right to capture them.
The phone can record video at up to 4K resolution.
The marketing hype around the S9 focused on a "reimagined" camera. That might be pushing it a tad, but nonetheless the imaging capabilities of this device are extremely good.
PERFORMANCE
The smartphone is powered by a 64-bit Octa-Core Processor , coupled with 4GB of RAM.
This is more than enough oomph (that's a technical term) to drive even the most demanding of software on the device.
Apps open and close with lightening speed, processing of images is really quick and the device rarely if ever stalls or hangs.
If there's one thing that does let the S9 down a little it's that it only comes with 64GB of memory installed.
Sure, that can be expanded to 400GB using MicroSD. But really, for over €800 you'd really expect and want more thrown in.
The device runs Android 8.0 Oreo, with Samsung's skin on top of it.
The interface is slick and easy to navigate, and not overly cluttered. Although some of the menus are pretty jam-packed with options, which is probably more of a reflection on the range of functions on the phone than a bad UI.
The S9 has a 3,000mAh battery, the same capacity as the S8.
Performance on the whole isn't bad, but perhaps could be better given that the new processor should be more efficient.
You can, in general, expect to make it through a day of average to heavy use without having to top up, but persistent heavy use will have you reaching for the USB-C charging cable late in the afternoon.
The device does also support wireless and fast charging.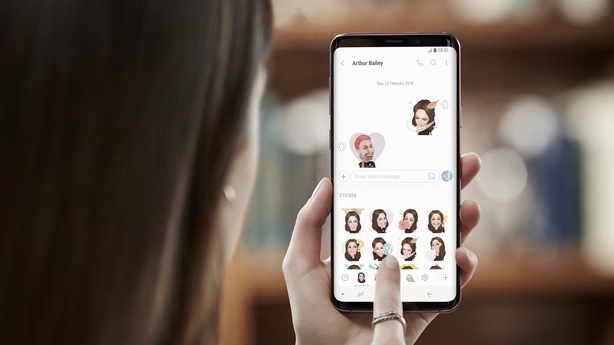 OTHER FEATURES
Imitation is the sincerest form of flattery, and Samsung was obviously impressed by the quirky features of the iPhone X.
Among them, Animojis, animated emojis that replicate your facial movements.
Samsung has added its version to the S9 and named them AR Emojis.
They essentially do the same thing as Animojis with more options, but just not quite as well executed.
One aspect that is fun though is that you can build and personalise your own AR Emoji version of yourself.
The avatar likeness isn't brilliant, but it is fun to play with.
The biometrics on the S9 are also a step up from the S8, where they were disappointing.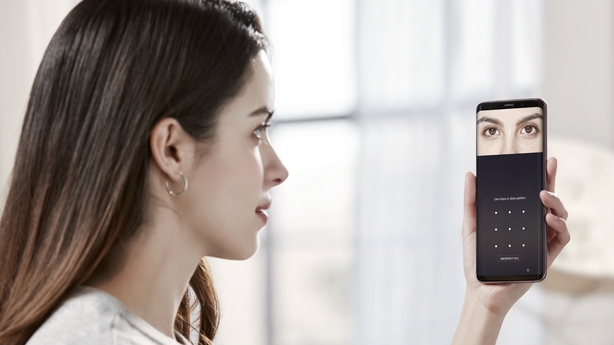 The phone can be unlocked with facial, iris or fingerprint scanning, or a combo of iris, facial recognition and machine learning, known as Intelligent Scan.
The result is a leap ahead from what went before it – verification is quick and reliable – and with multiple options it gives it an edge over the iPhone X.
Audio is pretty good too. The AKG tuned stereo speakers now face the front and have Dolby Atmos, giving an improve experience.
The S9 is, of course, waterproof too, which is now really an expectation and also comes with Samsung's new SmartThings app, which brings together the manufacturer's existing Internet of Things and smart home services into one single app.
CONCLUSION
The Galaxy S9 has much new to offer.
It has a class leading camera, much improved biometrics, lightning performance and plenty of quirks like AR Emojis for example.
But there are a number of aspects of the device where there has been little or no improvement, like the design for example and the display (even though it is very good).
For those for whom money is no object, the S9 won't disappoint.
But if you have to justify an upgrade to yourself or your employer, then it could be a more difficult proposition.
If you are stepping up from an S7 or iPhone 7 for example, the rationale of an upgrade to the S9 is clear.
But if your current device is an S8 or iPhone 8, you won't get much more bang for your buck.
Comments welcome via Twitter to @willgoodbody