By Will Goodbody, Science & Technology Correspondent
How would you feel about extending your family to include a robotic assistant, who listens intently in the corner, only speaks when spoken to and helps when asked?
Because that's what life with Amazon's smart speaker, the Echo Plus, is like.
Smart speakers are all the rage right now, with Amazon's Echo range, Google's Home, Microsoft's Invoke and Apple's HomePod all vying for attention in the increasingly crowded market.
But Amazon stole a march on the rest, getting its voice controlled Echo device out first over three years ago.
Initially it was only available in and localised for specific markets that didn't include Ireland.
A couple of weeks ago, though, Amazon announced the (expanded) range could finally be bought here and that it had partnered with Irish organisations to make the Echo more useful in the Irish context.
Since then I've been trying an EchoPlus and Echo Dot out in my own home, to see just how useful and potentially creepy they actually are.
First off, what do they look like?
The Echo Plus is a black (or silver) cylindrical shaped object about 24cm tall and 8cm wide, with a grill on the front covering the speakers, power and mute buttons and a volume ring on top and some LED lighting around the rim.
The Echo Dot is much smaller in size, but is based around the same idea, with buttons on top, a smaller integrated speaker, etc.
The Echo devices are powered by Amazon's clever voice-controlled virtual assistant, Alexa.
Setting them up is pretty simple – you download the Alexa app to your PC, phone or tablet, and sign in with your Amazon account (or set one up if you haven't got one).
You then plug in the Echo, turn it on, wait for Alexa to greet you and follow the instructions to connect it to Wifi.
Once that is done, the device is operational and ready to be customised.
Each time you want to bark an instruction at it, you use the wake word.
This is "Alexa" by default, but you can change it – although as you quickly discover a rarely used word is the best bet.
Use of the wake word makes the Echo Plus wake up and listen to what instruction or question follows.
So what can it do?
Well, quite a lot but only within defined parameters.
The first and most obvious thing you are going to want a smart speaker to do is to play music.
The Echo Plus will stream music from Amazon Music or Spotify once you have a subscription.
Want a particular track, artist, genre or any other specific request, ask and Alexa will call it up for you and play it.
Her (Alexa has a default female voice) is pretty accurate at picking up what you say thanks to the "Far-Field voice recognition" technology, even from distance and with background noise.
The sound quality isn't bad at all.
Echo Plus will also integrate with Sonos speakers via Wifi or connect to other external speakers via Bluetooth or audio out cable if you want to improve that sound quality further.
You can also group particular devices together to play the same music in multiple rooms.
If you enjoy listening to audiobooks the Echo Plus will also work with Audible and Kindle, which is pretty handy.
Alexa can also make lists for anything you like really, from shopping to your household chores.
You can also ask her to set reminders, timers and alarms – handy when you have your hands dirty when cooking, or need not to forget to pick up a child from soccer training.
Once you have the hang of that, you'll probably want to start adding skills.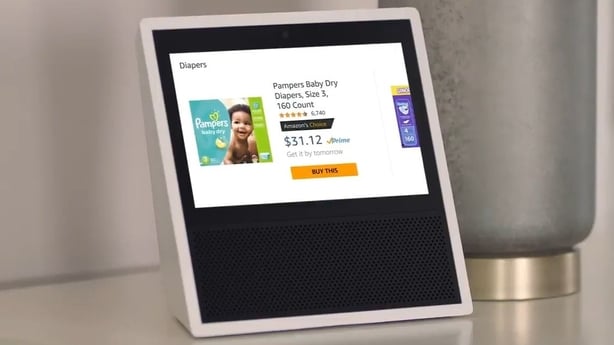 Skills are Amazon's version of apps for Alexa – third party designed applications that bring an extra layer of functionality to the Echo devices.
For example, there is an RTÉ News skill, which will give you an update on the latest headlines if you ask for it.
There is also an RTÉ Weather from Met Éireann skill if you want to find out what the forecast is for the day.
You can listen to a range of Irish radio stations, including RTÉ's, on the Irish Radio Player skill.
Or explore flight times, prices and accommodation on the Ryanair skill. You can even get the latest rugby news from the Irish Rugby skill. You get the picture.
There aren't all that many skills for specifically Irish topics yet, but there are thousands of skills available to download and install more generally.
The range is vast, from sport to business and finance, recipes to shopping and games to education.
If you have children, Alexa particularly likes telling stories and jokes.
You can also integrate your calendar into it so Alexa can tell you want is happening tomorrow.
A so-called "Flash Briefing" can also be set up – a quick update of things that are important to you, generally around news, sport, weather, traffic etc.
The other big selling point of the Echo Plus is that it has a smart home controller hub built into it.
It supports hundreds of smart home devices and ecosystems, which can all be controlled via the Echo Plus.
For example, I have a number of Hive devices as well as a Philips Hue smart lightbulb. I was able to integrate all these into the Echo Plus so that now I can tell Alexa to turn on particular lights at will.
The process is pretty smooth, although I've found the Hue bulb is a bit temperamental and keeps disconnecting randomly which is a bit annoying.
Smart home devices can also be grouped. So for example you could put all the lights in the sitting room together in a group, tell Alexa to turn on the sitting room lights and hey presto.
It is easy to see the day in the future where we'll have a range of devices like these dotted around our house that we use to control all our household functions – like locking doors, turning on and off lights, starting the washing machine, activating the alarm, etc.
You can also use the Echo devices to call other users of the device, or to call your own Echo from your phone using the "Drop In" function.
The big worry for many though is the idea that a thing is sitting in the corner listening to their every word, and then sending that data to somewhere else where others can potentially eavesdrop or hack into it.
The official line from Amazon though is that it uses the on-device keyword spotting to detect the wake word and only then does it stream audio to the cloud, including a fraction of a second of audio before the wake word.
You can see what it has recorded by reviewing your history on the app, and if you want to talk without Alexa listening, you can mute the Echo's microphone.
In short then, the Echo Plus and Dot are a clever and at times really useful addition to the home environment.
Smart though, they are not. Stray much outside the bounds of the Alexa lexicon or ask her something a little left of field and the artificial intelligence becomes real stupidity.
But when it come to the basics like streaming music, radio, providing news and weather updates etc, and using the Skills that are of personal interest and use to you, then it comes into its own.
While if voice controlled smart home technology is something you want to explore, then this is a great way to start dabbling.
Each of the competitors will have pros and cons over the other.
Apple's HomePod is reputed to have great sound but costs a lot more. Google Home is probably more intelligent because it is based on a much more mature information base but doesn't look so good.
Much comes down to cost though and at €170 for the Echo Plus and €60 for the Echo Dot, the Amazon price pitch is competitive.
The technology in this area will only but improve with time though, so you may decide it would be better to wait until the day when "Alexa, make the dinner" is closer to reality.
Comments welcome via Twitter to @willgoodbody