Taoiseach Leo Varadkar has officially opened Google's latest building in Dublin.
The Valesco Building, on the corner of Clanwilliam Place and Grand Canal Street, will be home to the company's expanding Cloud and Enterprise businesses across Europe, the Middle East and Africa.
The new investment brings to €809m the amount of money invested by the tech giant in Ireland.
The firm now employs over 7,000 people in Ireland and is also filling new positions in the cloud and enterprise sections of its business.
The building in which these people will work has 51,000 sq ft of working space and can accommodate 350 staff.
The company says the bulk of the building is already full.
The Valesco Building will also play host to a new Advanced Solutions Lab.
Customers from across the region will come to it to work alongside Google employees to develop bespoke services for their businesses.
The expansion has been welcomed by the Taoiseach and by IDA Ireland.
Mr Varadkar said that the Government will publish an action plan for internet safety in April, which will set out the measures that need to be taken to improve safety online.
He said he believes a package of measures agreed at European level has a much greater chance of success and will offer the highest level of protection for all internet users.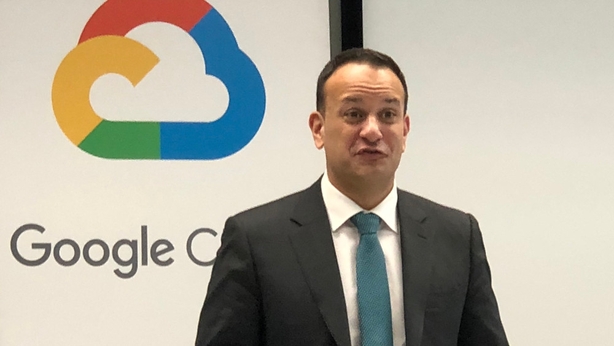 He said the challenge for everyone including tech companies is to ensure that dangers are managed in a way that offers protection but does not undermine the benefits or people's personal freedom or privacy.
He said, led by Minister for Communications Denis Naughten, the Government is consulting with organisations that protect children and also technology companies and European colleagues.
An open policy debate with all stakeholders would take place in Dublin on 8 March, he added.
In relation to data protection, the Taoiseach said the Government is determined to get clarity around international data transfers in the context of Brexit, Privacy Shield and standard contractual clauses.
He said the Government's commitment to data protection has been absolute and since 2014 it has increased the budget in this area six-fold.
Mr Varadkar added that in the months and years ahead the Government would be paying more attention to cyber-security.
He said he had met the National Centre for CyberSecurity this morning as defence against such attacks is something we have to take seriously.
The Taoiseach said as a country we must prepare for the major changes coming in areas like artificial intelligence, driver-less vehicles, renewable energies and smart grids.
He said he wants Ireland to be an early adopter of some or all of these technologies and to see Dublin becomes the tech capital of Europe.
Praising the diversity of Google's workforce, Mr Varadkar said that when he sees so many countries in the world cracking down on migration he thinks what a huge mistake that is.