Graduate research engineers at Trinity College Dublin have developed a new smartwatch and smartphone based platform to help people with an intellectual disability to get from place to place by themselves more easily.
waytoB gives users simple step-by-step instructions that are inputted by a carer who is then able to monitor their progress on the journey.
There are around 60,000 people in Ireland who have an intellectual disability, with 200 million globally.
For those people, travelling unassisted can be extremely challenging as there are no appropriate navigation tools.
But engineers studying at Trinity College Dublin began a project as part of their undergraduate studies to develop a platform that could help.
After two years of work and consultation with the community, waytoB is now being piloted among a group of around six people who have an intellectual disability and their carers.
The system enables a carer or partner to pre-programme set routes on a smartphone or desktop app.
This is then used to guide the user to their destination through a smartwatch.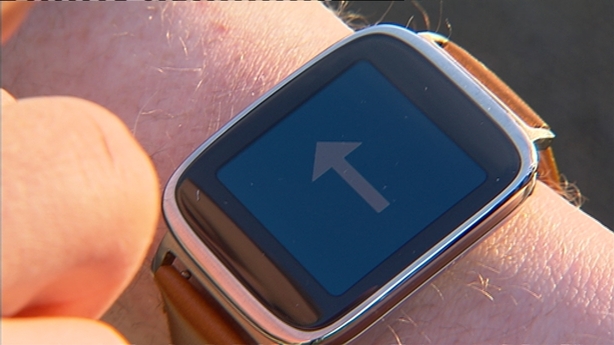 The watch displays simple orientation based instructions developed by the team that tell the user which way to turn and walk.
It also provides vibration feedback to alert the user to look at it and is integrated with public transport information.
All the while, the carer or partner can monitor the user's movements remotely, as well as their heart-rate to see if they are becoming anxious or distressed.
The device also has a panic button that automatically initiates a phone call between the user and the carer when pushed.
Those behind the platform, Talita Holzer Saad and Robbie Fryers, have just secured funding from Enterprise Ireland to further develop the system.
"We really believe we have the basis for a very important product that could have a huge impact on many lives," said Robbie Fryers.
"We look forward to bringing our platform to market with the support of Enterprise Ireland."
The pair also won the Irish leg of the 2017 James Dyson Award earlier this year for their work on waytoB.
We need your consent to load this Facebook contentWe use Facebook to manage extra content that can set cookies on your device and collect data about your activity. Please review their details and accept them to load the content.Manage Preferences
Among those testing the platform is Patrick O'Shea from Malahide who has Down Syndrome.
He told RTÉ News that he loves it because it tells him where to go.
His father, Pat, says Patrick would not be able to navigate certain routes without it.
"Patrick is very comfortable using the app," said Pat.
"He's always asking me to use it so he can be more independent and go to town on his own.
"He really likes to go out by himself, go to the pictures and have his lunch without assistance, and this is vitally important.
"The beauty of it is also that I can track him to make sure he's okay and we can contact each other quickly."
It is hoped the system will be available on the market in 2019.