€13bn. When talking about Apple in the context of Ireland right now, it is difficult to move past this enormous figure.
It is the amount of money that the company owes to Ireland in unpaid taxes arising from what the European Commission says was selective treatment given to it by the Government here.
Apple of course disputes this and has appealed the case to the European Court of Justice.
And as long as the issue remains unresolved, it will in the minds of many people in Ireland inevitably be the defining characteristic of the relationship between Ireland and the world's most valuable tech company.
Apple, many believe, is only here to avail of our welcoming tax system.
The company disagrees though and would like us all to look beyond that narrow view of its attachment to Ireland.
Instead it would like us to consider a little more deeply the strength and depth of its ties here.
It was in this context that the company recently invited a small group of national journalists to visit its European Headquarters in Cork, to get a feel for just what it is that the firm does here.
This, in the context of Apple's historical relationship with the Irish media, was a rare opportunity.
Historically the company had tended to keep Irish-based journalists at arm's length.
The reasons for this are unclear - but the practical consequence was that journalists here typically didn't know a huge amount about the nitty gritty of what actually went on at its massive sprawling campus in Holyhill in Cork city.
That though has changed considerably in recent years and Apple is now keener than ever before to tell the story of what it sees as the positive story around its Irish operations.
Notwithstanding that change of stance, the company remains extremely protective of its operations and its staff.
Hence during this visit, while we were briefed extensively, given widespread access to the facility and to staff up to the highest level there, we were somewhat restricted in what we could report, due in large part to commercial sensitivities.
The issue of tax was also not on the agenda.
None of that, however, stopped us from getting a rounded picture of the scale of the extensive work that is done from there, how it fits into Apple's wider corporate structure and the mature links it has to the local and national economy and society.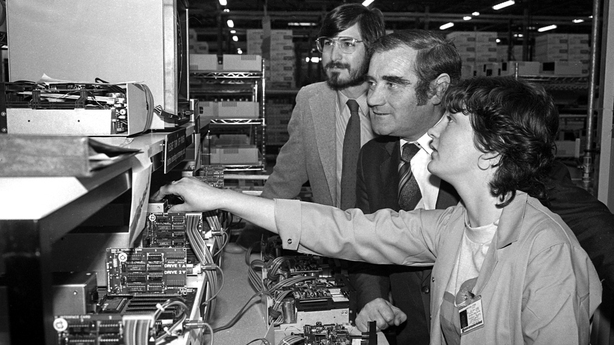 Those ties date back to 1980 when the first plant was built on the site in Holyhill to assemble Apple II computers, with 60 staff employed.
Gradually over the years, the operations were expanded to include a patchwork of additional buildings and offices, some of which have since been converted for other uses.
The firm is also currently constructing a new four-storey office block to house the 1,000 new staff that CEO Tim Cook announced in November 2015.
It also has two other facilities in Cork, in the city centre at Lavitt's Quay and on the Model Farm Road.
In total the Irish workforce now totals around 6,000, the bulk of whom are based in Cork, with around 1,000 of those working from their homes across the 26 counties.
The Holyhill workforce is the essence of diversity, comprising over 90 nationalities, with less than half of the headcount Irish - a reflection of the geographical as well as functional reach of the Cork-based European headquarters.
The Irish team is involved in nearly every aspect of the company's business, from research and development and manufacturing through to sales, supply and operations services, to after-sales care and technical support.
Although the bulk of Apple's design and engineering is done in the US, the Cork office is home to a group of software developers who carry out a range of research and testing roles, particularly around software and hardware for Mac systems.
There is also a large localisation team that adapts and contextualises Apple's various operating systems for Mac, iPhone, Watch and TV so that they work across 29 different languages.
For example, Siri's attempts at humour aren't always appropriate and well received in every language or culture apparently.
So it is the job of the localisation team to ensure no matter where a customer is based or what language they speak, they will understand their device, their device will understand them and nobody gets offended.
Mac-facturing
But as well as building software, the Cork team builds machines too.
An extensive factory floor churns out hundreds of iMac desktop computers every day for the European, South African, Middle Eastern, Russian and Turkish markets.
It is Apple's only wholly owned and operated manufacturing facility in the world and within the business is considered a centre of excellence for building product.
All other manufacturing is carried out for the company by third party businesses, predominantly in China, known as Original Equipment Manufacturers or OEMs.
The obvious question then is how can a high cost economy like Ireland compete with the Far East when it comes to manufacturing electronics?
And are the jobs of the hundreds of Cork-based staff working in building Apple products safe into the future as a result?
Yes, seems to be the resounding answer, partly because of the up to three decades of experience of the Irish manufacturing staff.
But also because getting a bulky heavy custom built (there are up to 30,000 different configurations) device like an iMac to a European customer in a matter of days rather than weeks, requires the manufacturing plant to be closer than China to that end user.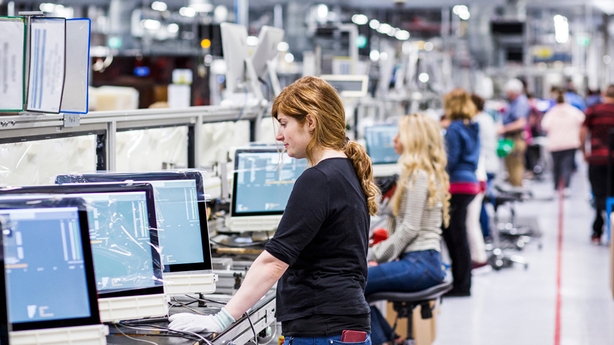 Apple's products have a reputation for being expensive - but they also have a reputation for being well designed and solidly built.
Touring the production line, that almost unhealthy obsessive attention to detail and commitment to quality and design is extremely apparent.
Take, for example, the black gasket costing 60c embedded out of sight inside the iMac under the right side of its screen.
It serves a particular function.
But it is mirrored on the left side by an identical gasket - not because it also has a function, but because an Apple designer decided it would look aesthetically wrong not to have one mirroring the functional one.
(Remember, this is inside the computer where a customer will probably never see!)
You might expect such a high-tech facility to be fully automated, but in reality it isn't.
There are people involved in most parts of the process, with 35% of the staff working on building the machines and 65% focused on ensuring quality, so that problems are picked up before they reach the customer.
Sensitivity to cost is high, so everything that can be done to keep the Cork manufacturing operation competitive is done.
And the wider financial spin-off benefits of the Cork manufacturing plant are also apparent.
Our guide pointed out some high-tech robotic assembly machines that are made by Irish companies including Sligo-based Automation Technology Services.
The plant takes graduates from local colleges and universities and many of its former employees have gone on to set up their own businesses that feed into the Apple supply chain beast.
The manufacturing expertise in Apple Cork is even considered so deep that staff from there are sent out to OEMs around the world to help them ramp up and refine production processes for new products.
Supplying the demand
And it is when those new products are about to be released on to the market that the operations teams in the building next door are at their busiest.
It is the job of the 130-strong Supply Demand Management (SDM) team to gauge as accurately as possible how many iPhones, iPads, Watches etc are going to be needed in the 147 countries and 24 online stores that Apple Cork is responsible for and to ensure there is enough supply to meet it.
SDM is just one example of a number of services that has been centralised in Holyhill in recent years.
Since then the team has been involved in launching whole new product lines including iPad and Watch into the European, Middle Eastern, African and more recently Indian markets.
This year the teams launched the iPhone X into 55 countries - their previous record was 33 with iPad.
On a need to know basis team members will be told about new products about four months before they are released.
Using market intelligence, trends and (increasingly) predictive analytics they forecast how much demand in each territory is likely to be.
The moment Tim Cook steps off the product launch stage, the manic but controlled supply operation kicks into action.
It is then up to the Retail Fulfilment Operations team to ensure those products get into 116 physical retail stores in 11 countries across the region, including Turkey and the UAE.
Those staff tick-tack daily with the stores and resellers to forecast stock requirements and ensure inventory is accurate.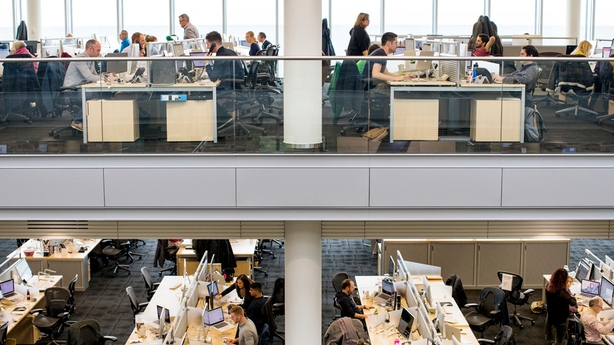 The aim, one team member told us, was to "treat every customer like a VIP" and ensure that if you order a product for Christmas, it gets to you for Christmas.
To make sure this happens, ahead of the Christmas period the team starts a special program that aims to guard and resolve any issues with deliveries that may be at risk of not making it in time due to weather, transport trouble or other problems.
Responsibility though for physically getting the products to customers fall on the Logistics team.
Comprised of over 100 people of 17 different nationalities, it co-ordinates shipments of literally hundreds of millions of products from the factory doors of OEMs in China and elsewhere to 51 countries across 13 time zones.
Apple doesn't operate their own fleet of planes, trains and automobiles - instead they use a number of different international and local carriers to do the moving.
An extraordinary level of military-like precision is required to make this happen, particularly around the launch of new products like the iPhone X, in the run-up to Christmas and especially when next day delivery is required.
The high standards Apple demands of itself to keep its customers happy are evident here too, with only 100% on-time delivery considered a success by the team.
If a carrier fails to make a delivery around the Christmas period, there is a recovery process put in place to ensure presents arrive on time - no matter what it takes.
For Apple, customer satisfaction it seems is everything.
Cashing in
Of course all this activity requires and generates huge volumes of cash.
And so a team of over 300 work in finance in Apple Cork to ensure funds continue to flow in and flow out.
Like the Supply Demand Management team, the finance team has seen its numbers swell in recent years as more and more of the company's European financial shared services are centralised in Cork.
The list of responsibilities is now, as a result, lengthy.
As well as supporting the Holyhill manufacturing operation, the finance staff are responsible for paying the OEMs and their suppliers, ensuring the running costs of their European properties are met, paying the 28,000 salaries and expenses of Apple EMEA staff, collecting payments from customers, handling audits across the region and much more, including tax.
To do this the company has developed and put in place significant automated tools, some of which have been developed through Cork and then rolled out across the world.
Sharing is caring
But even though a customer may have received their new product and the money has rolled in, the role of Apple Cork staff isn't over.
In fact, the largest proportion of those employed by the company in Ireland are in the area of customer support - otherwise known as AppleCare.
More than 1,500 Irish based employees are involved.
Many work out of the Cork offices, but Apple says it has perfected a model that enables more than 700 of them to work from home.
It is the job of AppleCare representatives to provide assistance to customers in 134 countries using a total of 14 currencies across Europe, the Middle East, India and Africa.
They do this via phone, email and chat, through 19 languages and across 12 time zones.
And it is no simple task. This is like a call centre on steroids.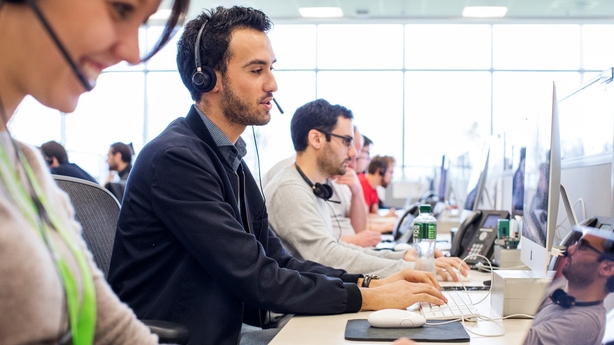 Among the hundreds of AppleCare staff are support teams to help consumers, app developers, education facilities and businesses.
They also provide technical and engineering support to Apple's own contact centres, retail stores, Authorised Service Providers and other operations.
The staff are drawn from all over the world and many have been working in Cork for some time, making the city their home.
The level of support ranges from low to high end expertise across all products and an escalation system enables advisors to pass queries up the chain if they can't resolve them themselves.
All the advisors are trained to support customers with disabilities including visual impairment and hearing problems.
There's also a separate centre in the Cork office supporting the Apple Online Store, where specially trained advisors can spend half an hour at a time with customers who have just bought a new product directly from Apple, teaching them how to set it up and use it.
Deeper than tax?
Even to those of us who watch the tech industry here closely, the sheer scale and complexity of the Apple operation in Cork couldn't but impress.
It is clear that from humble beginnings 37 years ago, the company has steadily built an operation in Holyhill and the wider Cork city area that is unparalleled within Ireland.
The spin-off effects for the local and national economy are undoubtedly huge, with 2,500 additional jobs locally and 12,000 further roles supported across Ireland.
Yes, the company has serious ongoing questions to answer about its approach to paying tax here, particularly in the light of the recent revelations contained in the Panama Papers disclosures.
Questions that as long as they remain unresolved will continue to cloud the perception of the company here.
That issue aside though, Apple does have a pertinent point when it says its connection to Ireland runs much deeper than tax - right to the core of the company's worldwide operations in fact.
It may have been what brought Steve Jobs here in 1980, but it is clear Apple now sees far more in Ireland.
And that hopefully bodes well for its future here and that of the thousands of staff dependent on it.
Comments welcome via Twitter to @willgoodbody