If you are in the market for a smartwatch this Christmas, particularly one that's geared up for in-depth fitness tracking, it is likely that these two devices will make their way onto your shortlist.
The Apple Watch 3 and the Fitbit Ionic are two of the latest premium smartwatches to hit the market and both have plenty to offer.
DESIGN
To the untrained eye, the Apple Watch 3 looks very much like its predecessor.
It has the same rectangular shape, with rounded edges and the power button and digital crown on the side.
Although there are loads of smartwatches on the market these days, the Apple Watch still has a pretty unique and premium look.
The watch comes in two sizes – 38mm and 42mm – and in a choice of four colours – aluminium, white ceramic and stainless steel.
The bands are easily interchangeable, so you can adapt your watch to your look.
The screen on the Apple Watch has always been good, and the Watch 3 is no different.
It has a second generation OLED Retina display with Force Touch which Apple says is two times brighter than before.
The Series 3 Watch comes in two options – cellular and regular.
The cellular model has an in-built SIM card that gives all the connectivity based functionality of the regular Watch, but without the need to be tethered to an iPhone.
The problem is the cellular version is not yet available in Ireland as Apple has yet to conclude deals with operators here, which is a pity.
One big plus for the new Apple Watch though is that it, like its predecessor, is waterproof, which is great for swimming enthusiasts.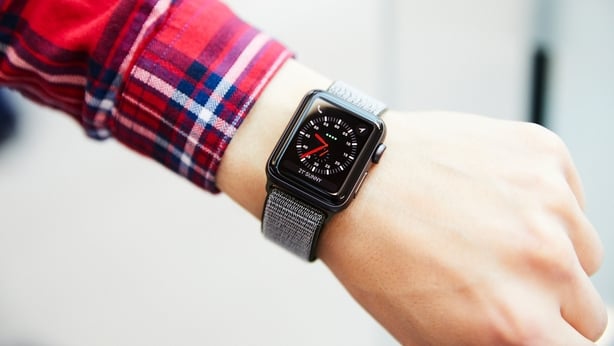 That's a feature that the Ionic, Fitbit's first foray into the smartwatch market, also boasts.
It looks markedly different to the Apple Watch, a lot flatter, squarer and more angular.
It won't be to everyone's taste, but it is attractive in a modern, not classic sense.
It is light and comfortable to wear, thanks to the aluminium case – although the (interchangeable) out of the box strap isn't that easy to put on and take off, looks a little cheap and the buckle tends to get snagged.
The device has one button on the left side and two on the right, each with their own specific functions.
They are easy to find and do help with navigation.
But to get around you can also use the colour touchscreen which is made of Corning Gorilla Glass and is bright, clear and responsive, although the bezels mean it doesn't fill the whole front.
I found it could at times though be a little tardy when you raise your hand to wake it.
OPERATION
Among the big specification changes on the Apple Watch is the new processor, which is a faster dual-core offering.
It has added a noticeable pep to the device, although it hasn't completely eradicated that slight hanging that occurred when apps were being opened on previous versions of the smartwatch.
There's a new version of the dock too, which makes it easier to get to the apps you use more often by pressing the power button.
And Siri now talks, which is good if you like talking to Siri, but bad if you like me don't find Siri particularly useful.
There's now plenty of apps available – some work better than others.
I still mostly use a smartwatch for notifications and the Apple Watch taptic engine is great at subtly alerting you to incoming messages.
Apart from that though, it's as you were on the operation front.
Battery life is excellent. The original Watch was hard pressed to make it to the end of the day with the battery still in the black.
The Watch 3 though has moved things on markedly and now it is not inconceivable to get two full days use out of the device without needing to add some juice.
With 16GB of storage, there's plenty of space for music.
The Ionic's battery life is great too, in fact better than the Apple Watch.
It has 2.5GB of space for storing music, which is considerably less than the Apple device.
But it does supports Bluetooth headphones.
The Ionic's performance is pretty solid. It is quick with most tasks, although it is prone to the occasional pause.
Clock faces can be changed via the Android, iOS and Windows compatible app, although customisation of the faces is not yet possible.
The Ionic also has its own NFC enabled in-built mobile payment system, called Fitbit Pay.
Earlier this week Fitbit announced there are now around 60 third party apps available for the device, but the list is still far more limited than what you can access through the Apple Watch OS ecosystem.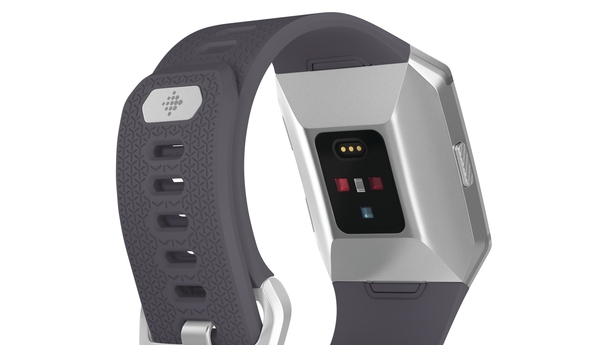 FITNESS
The Apple Watch 3 may not have changed all that much in looks, but it does have a number of new fitness features, as the pivot of the product away from jewellery to fitness tracking continues.
For those who like to run, the addition of GPS in the Apple Watch 2 is leveraged to great effect in its successor.
The updated heart rate app that is part of Watch OS 4 offers improved insight into heart rate, including measurements during resting, workout, recovery and walking. 
One clever feature is that users can also choose to receive a notification when their heart rate is elevated above a specific threshold while inactive, to alert them that something is potentially wrong.
The new Workout app has a fresh interface, as well as the ability to set up custom High Intensity Interval Training (HIIT) workout and auto-sets for swimming.
 There's also a barometric altimeter that helps with tracking activity, flights of stairs that have been scaled and outdoor workouts.
All round, the native hardware and apps on the Apple Watch 3 has loads to offer fitness enthusiasts, as well as the ability to download a whole plethora of third party health and fitness apps.
Coming from a fitness tracker background, the Ionic doesn't disappoint in this department either.
It also has built in GPS for running and cycling, which seemed to work well.
It has a heart rate tracker that proved to be consistently accurate.
The Ionic also offers tailored workout plans for running, cycling, hiking and swimming through the Fitbit Coach app and automatic sleep tracking if you like to monitor what you do in the land of nod.
It's also worth mentioning the Fitbit smartphone app, which is a great way of keeping track of all your exercise and health stats and there is a desktop dashboard too.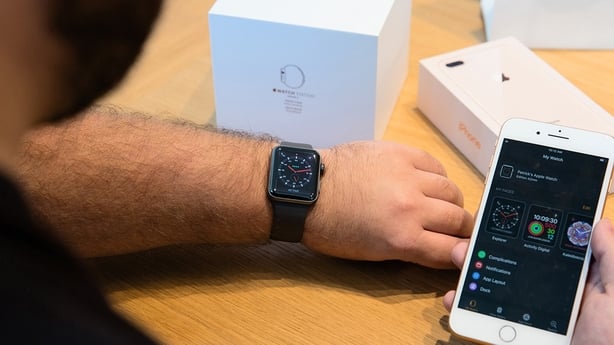 CONCLUSION
At around €330 the Ionic is marginally cheaper than the Apple Watch 3 which starts at €379.
And with the Ionic you get reasonable value for that price, particularly if you are a fitness fanatic.
But if you can afford it, the extra €50 for the Apple offering might be worth the outlay.
It is more refined both in terms of design and in terms of features than the Ionic, not surprising given it has been around for longer.
That said if you aren't an iPhone user, then the Ionic is an attractive alternative that is only likely to improve over time as it benefits from further operating system and hardware upgrades.
There are of course plenty of alternatives to both models too, like Samsung's Gear S3 and Sport ranges and the attractive looking Huawei Watch.
The only question is do you have time to research them all?!
Comments welcome via Twitter to @willgoodbody