The US intelligence whistleblower, Edward Snowden, has expressed concerns about Irish data retention laws, saying there should be no bulk surveillance anywhere.
Speaking at a cyber security conference in Dublin, Mr Snowden also said he would like to be given asylum by Ireland.
"The fundamental problem we have is there should be no surveillance that is occurring today that is happening in bulk," he said in reference to a question about a recent review by retired Chief Justice, Mr John Murray, which was critical of Ireland's existing data retention laws.
These laws require internet service providers and telecom companies to log details of customers communications and movements and store it for up to two years.
Mr Snowden said traditionally surveillance has always been a targeted problem where police think a person is a criminal, go to court, show their evidence and if the judge says it is reasonable grounds they authorise them to begin spying on the person.
But he said this has changed with the progress of technology and the fact that every digital technology now involves signalling between a source and destination.
"Anyone on that network path is going to see where it came from and where it is going to," Mr Snowden told the Cyber Threat Summit at the Helix in DCU.
As a result, governments around the world and corporations have started keeping records which has resulted in surveillance changing from a selection problem to a ranking problem, where everyone is on a list and the only question is how high they are, he added.
Mr Snowden posed the question about whether laws are the best way of enforcing privacy rights in an increasingly globalised world.
He said everyone in politics is more concerned about being smeared as soft on terror than they are of actual terrorism.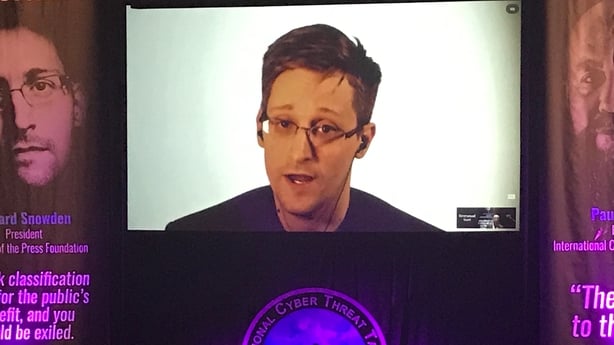 As a result, if politics and law are becoming increasingly unreliable in open societies, how do we enforce the same human rights protections in places like Russia and China, he asked.
Common agreements in place around the world are supposed to protect people's rights, but yet we have few mechanisms in place for enforcing this, Mr Snowden claimed.
Asked about the global WannaCry ransomware infection earlier this year, which was linked back to an exploit stolen from the US National Security Agency (NSA), Mr Snowden said it should have never happened.
He said the exploit was held by the NSA for over five years before it was stolen, and in this time a patch could have been written by Microsoft for it and pushed out before ransomware even became a problem.
But he added that rather than do this to increase public security, the NSA chose not to, because so long as it perceives it has a relative advantage over its enemies it will use it to hit out at them as many times as it can.
In relation to his future, Mr Snowden said his plan had not been to end up in Russia and he would like to go home to the US.
"As a dissident I think it is tragic, even repulsive that the only place that an American whistleblower can be safe is in Russia," he said.
But he said his application for asylum had been rejected by 21 countries including Ireland.
Mr Snowden told the conference he had once spent time in Ballyvaughan and said he would like to be given asylum here.
"The reality is the stakes politically," he said. "We could have the support of every member of the public in Ireland but if the Irish Government isn't going to actually carry that forward nothing is going to change."
He also told the conference that through his work he had not come across specific surveillance of Ireland on a targeted basis by the NSA or CIA.
But he added that mass surveillance is untargeted and it was possible to see packets of Irish data passing through the surveillance networks which could be read if those doing the surveillance wanted to.