Huawei has unveiled its new line-up of artificial intelligence-powered smartphones designed to take on Samsung and Apple.

The Chinese manufacturer has announced the Mate 10 and Mate 10 Pro, both of which house the company's new Kirin 970 processor chip, which Huawei says is the first ever to include a neural network processing unit (NPU), enabling the phone to think and learn.

Apple introduced its own AI-powered processor - the A11 Bionic - alongside the iPhone 8 and upcoming iPhone X last month, while Samsung and other Android smartphones now support virtual assistants designed to understand and respond to voice commands.
The flagship Mate 10 Pro also features a six-inch OLED display, dual rear cameras designed in collaboration with imaging firm Leica, and will run the latest version of the Android operating system, 8.0 Oreo.
"As we enter the age of intelligence, AI is no longer a virtual concept but something that intertwines with our daily life," Huawei chief executive Richard Yu said.
"AI can enhance the user experience; provide valuable services and improve product performance. The Huawei Mate 10 Series introduces the first mobile AI-specific Neural Network Processing Unit, launching a new era of intelligent smartphones."
The AI built into the phone will learn user habits and learn which apps are used the most Huawei says, as well as recognise objects in photos and automatically edit images to improve them.
The Chinese manufacturer says its AI processor will deliver up to 25 times more performance and 50 times more energy efficiency because of the intelligence of the Kirin chip.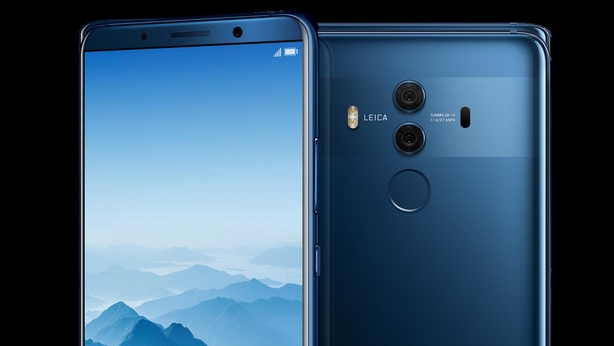 Smartphone expert Ernest Doku from uSwitch.com said Huawei's new line-up now made it a "serious contender" to challenge Samsung and Apple.
"The launch of Huawei's newest phablet today could well welcome in a new era for the Chinese manufacturer," he said.
"From a design-side, the Mate 10 marries crowd-pleasing features - such as a high-spec camera which automatically adjusts in different contexts as well as a whopping battery life - with the power of the long-awaited iPhone-beating Kirin 970 chip.
"Perhaps equally as importantly for Huawei, the Mate 10 arrives at a time when mobile users are starting to attach less importance to flagship brands, and instead they're seeking out differentiators beyond design and features.
"Less than a year after the launch of the Mate 9, the arrival of the 10 is a sign that Huawei is bullishly prepared to take advantage of these shifts in the market. With the Mate 10 boasting some highly attractive features and a compelling pricepoint, all it needs now is the support of the networks to really get Huawei into the hearts and minds of those on the fence."
The Mate 10 is due to go on sale later this month, and the Mate 10 Pro in November.