By Will Goodbody, Science & Technology Correspondent
After that disaster that was the exploding Galaxy Note 7, Samsung had a considerable amount of making up to do to its loyal Note followers and to its investors.
It correctly took time to investigate and reflect, redesigned the Note and improved its battery technology.
The result is a tech tour de force – the Galaxy Note 8 is as good a large smartphone as money can buy, for lots of reasons, from its design, to its screen through to its performance and the S-Pen.
DESIGN
The first thing you notice when you unbox the Note 8 is that it looks really great.
With curved edges, near bezel-free display, it's comfortable to hold, albeit quite heavy.
It is covered with Corning Gorilla Glass and its does gather smudgy finger marks quite easily.
But nevertheless, its design is eye-catching.
At the top of the front, above the display, sits the front facing camera and iris scanner, as well as an LED-light and the earpiece.
There is no physical button on the bottom – it is integrated into the screen.
On the rear is the dual camera module and flash, as well as the fingerprint sensor.
I'm not a fan of rear fingerprint sensors as they tend to result in the camera lens being smudged.
But they are becoming a necessary evil as physical home buttons become a thing of the past to make way for bigger displays.
On the left side is a dedicated Bixby smart assistant button and the volume switch, while on the right is the power button.
The underside has a 3.5mm audio jack as well as the USB Type-C charging socket and speaker. It is also home to the S-Pen.
It all makes for a smooth, slick and well-designed experience.
DISPLAY
Samsung is a leader in smartphone displays and has been raising the bar consistently with each new premium model over recent years.
The Note 8 is no exception to the trend.
The 6.3 inch Quad HD+ Super AMOLED screen has the now trademark Infinity Display edges, with a near bezel-less design.
It also has an unusual 18.5:9 aspect ratio, which makes the screen look and feel very long and by extension would make one-handed operation tricky for anyone with small mits.
The effect is stunning though, particularly when you up the screen resolution to Quad HD+ from the default HD+ and enter High Performance mode - although that will impact your battery life.
Colours are bright, vibrant and intense, blacks are deep and whites brilliant. It all makes for an excellent viewing experience.
Of course, much depends on the quality of the content you are looking at.
And in reality, unless you are a screen connoisseur, then you are not likely to really notice the difference between the standard set up and the highest settings.
The handset also has an always-on display which can be handy too, although by extension it will impact battery life as well.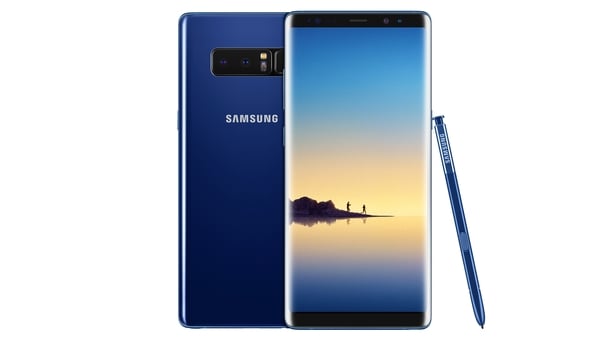 PERFORMANCE
The Note 8 is one of the most powerful smartphones out there.
It has either a Qualcomm Snapdragon 835 or Exynos Octa-Core processor and 6GB of RAM, which propel it along at break-neck speed.
This is primarily a business device. And those using it for their work will find it easily copes with the most demanding of apps as well as multi-tasking and use of the S-Pen.
It comes with just 64GB of storage built-in, which in this day and age is pretty mean.
But it can be expanded by a further 256GB via the microSD slot.
In the wake of the issues with the Note 7, not surprisingly Samsung has been cautious on the battery front with the Note 8.
The result is a 3300mAh battery which will be sufficient to just about get you through the day, provided you don't go hard on it.
But anything above normal use and you are likely to have to reach for the charger.
Charging is quick (wireless is also supported) and you can also use the battery optimisation features to string it out further.
However, it is the Achilles heel of this device and one which might in time tarnish an otherwise excellent spec.
CAMERA
The latest addition to the Note 8 camera is a second lens on the main or rear facing unit.
This enables the handset to have that clever focus shifting effect on portrait pictures, known as bokeh, where the background can be thrown in and out of focus after the picture is taken.
This feature, called Live Focus by Samsung, requires the subject to be within 1.2 metres to work. But set it up correctly and it works a treat.
The main camera offers 2x optical zoom, similar to the latest iPhone models, and with optical image stabilisation you can zoom without too much concern that the resulting picture will be blurry.
Both cameras also have High Dynamic Range, Pro mode and a host of other handy features and effects, like virtual shot and motion photo.
In terms of video, the Note 8 can record 4K at 30 frames per second, from which 9MP still photos can be extracted, which is handy.
You can also capture super-slow motion 720p video at 240 frames per second.
All told, the camera set up on the Note 8 is best in class, whether you are trying to snap a quick selfie or capture a more considered composition by adjusting settings yourself.
OTHER FEATURES
The Note 8 runs on Android 7.1.1. Nougat with Samsung's own Experience interface laid on top.
Happily you can customise some of the bloatware apps you wish to install on set-up, which means you don't have to have your phone stuffed with software you won't use.
The Note 8 also runs Bixby, Samsung's newish smart assistant.
It is still in its infancy and is far from perfect. But it is certainly a step-up from the S-Voice assistant on previous versions.
The S-Pen is included and those that like using a stylus will love it.
Whether it is for casual sketching or full-on work, the 4096 pressure levels will get the job done.
Popping out the S-Pen automatically launches the stylus menu, with options including creating a note, smart select and translate.
You can also use it to write out Live Messages which can be sent on to someone else, who will see them animate.
The device also carries an IP68 rating, protecting them against dust ingress and water to a depth of 1.5m for up to 30 minutes.
It also supports Samsung Pay, as you would expect.
CONCLUSION
The Note 8 has few downsides.
The battery life could be an issue for some, the fingerprint sensor on the rear is a bit annoying, it could do with more built-in storage and it is very expensive.
But the display on its highest settings is superb, its interface is slick and intuitive and the camera is one of the best available.
The S-Pen also adds value if it is something you will be inclined to use.
The Note 8 will shortly be given a run for its money with the arrival of the iPhone 8 Plus and iPhone X.
Other alternatives include Samsung's own Galaxy S8 Plus and the Sony Xperia XZ, all with their own unique features.
But if money is no object, the Note 8 is unlikely to leave you disappointed.
Comments welcome via Twitter to @willgoodbody