Sony has unveiled a new voice-controlled smart speaker designed to rival the Amazon Echo and Google Home.
Called the LF-S50G, the speaker houses the same Google Assistant AI that runs on Google Home.
It is activated using the command "OK, Google" and can answer queries and control smart home appliances as well as play music.
The device contains a separate full range speaker and subwoofer, as well as what it calls an "omnidirectional two stage diffuser" to send sound in all directions around a room.
The firm - which has an extensive history in audio products - is hoping to entice consumers to abandon the Echo or Home speaker in favour of its own version.
In comparison to Sony's S50G, both the Amazon Echo and Google Home have less robust speaker systems, but both have proved popular with consumers.
However, the S50G will be priced higher than its rivals when it goes on sale in November.
The new speaker also supports gesture control, with users able to control song choice and volume by waving their hand closely over the top of the device.
It also features an LED screen to display the time.
Bluetooth and near-field communication (NFC) technology built into the speaker means music can be streamed instantly to the device by tapping a mobile phone against it.
This feature will support both Android and Apple's iOS, Sony said.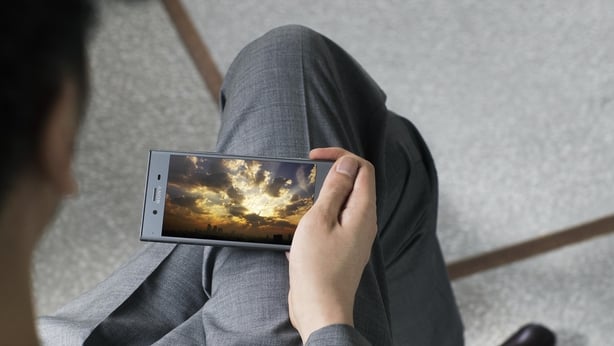 The Japanese tech giant also confirmed two much-rumoured additions to its flagship smartphone range - the Xperia XZ1 and XZ1 Compact.
The XZ1 has a 5.2in full HD, HDR-supported display and a 19-megapixel rear camera.
The Compact has similar specifications, but a smaller 4.6in screen.
Both devices also feature 13-megapixel front-facing selfie cameras.
Notably, the two devices - which will go on sale in September - will ship with Android 8.0 Oreo, the latest version of Google's mobile operating system which is yet to be widely adopted following its announcement earlier this month.
The pricing for the phones has not been confirmed.
Sony's event, which came before the opening of the IFA trade show, also included the announcement of a new premium action camera - the RX0 - and new versions of the firm's 1000X noise-cancelling headphones.
As well as new "round-the-neck" and wireless ear bud versions of the headphones, "atmospheric pressure optimising" technology has been introduced for wear during plane flights.
Sony says the headphones can alter their noise-cancelling settings when they sense changes in air pressure, a world first, the company claims.