Samsung has launched its new flagship smartphone as the South Korean electronics manufacturer bids to put last year's controversy about its exploding Note 7 device behind it.
The Galaxy S8 features a new design which sees the physical home button disappear, replaced by an entirely touch based interface.
As a result the phone's fingerprint reader has moved to the rear of the device, which also has an iris scanner and facial recognition technology for security purposes.
Unveiled at a press conference in New York this afternoon, the S8 boasts Samsung's recently launched smart assistant, Bixby, which enables users to access services and apps with voice, touch, vision and text commands.
"The Samsung Galaxy S8 ushers in a new era of smartphone design and fantastic new services, opening up new ways to experience the world," Samsung mobile president DJ Koh said.

"The Galaxy S8 is our testament to regaining your trust by redefining what's possible in safety and marks a new milestone in Samsung's smartphone legacy."
The new smartphone comes in two sizes - the S8 has a 5.8 inch display and the larger S8+ has a giant 6.2 inch screen.
The new Infinity display has an almost bezel-less design, making the screens look and feel even bigger.
The device has the same 12MP Dual Pixel main camera that was on the S7, but a new 8MP smart autofocus front facing image unit.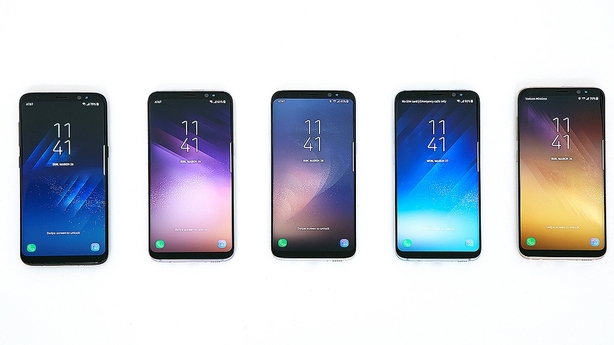 It also has an always on display, features fast and wireless charging and is IP68 water and dust resistant.
The phone is powered by an octa-core 10 nanometer processor, 4GB of RAM and has 64GB of in-built storage, with a MicroSD slot that is expandable up to 256GB.
The hardware is also capable of coping with gigabit wireless speeds, both over Wifi and LTE.
Unlike other manufacturers likes Apple, Samsung has kept the 3.5mm audio socket on the S8.
Much is riding on the success of the new device following last year's catastrophic launch of the Galaxy Note 7.
Just weeks after it hit the market, Samsung was forced to recall and eventually scrap the product because some of the batteries were spontaneously bursting into flames.
The recall of 3 million devices cost the company $5.5bn as well as untold reputational damage.
Since then Samsung has conducted an extensive investigation into the issues that caused the problems and has implemented a new eight point battery safety test regime.
Samsung's biggest rival, Apple, is expected to launch a new iPhone later this year.
Pre-orders in Ireland for the S8 will open today and run until April 19th, with the first of those devices shipping on April 20th.
Prices for both versions of the new phone have yet to be announced.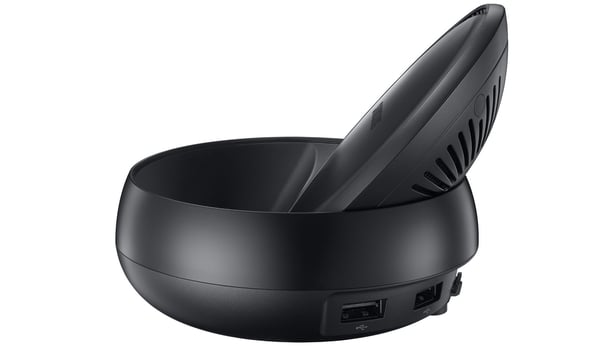 Also revealed this afternoon was the Samsung DeX docking station, which allows users to access apps, edit documents, browse the web, watch videos etc through their smartphone but while using a large screen, keyboard and mouse.
A new version of their virtual reality headset, Gear VR, which now comes complete with a new controller for easier use while wearing the device, was also unveiled.
Samsung also announced an update to its Gear 360 camera, which now records in 4K and supports live social media streaming when connected to a compatible smartphone or computer.