By Will Goodbody, Science & Technology Correspondent
Decent mid-range smartphones are ten a penny these days.
Manufacturers cannot, therefore, compromise on features, quality or price if they want to be at the races.
As a result it's a tricky tight-rope walking exercise – trying to maximise the attractiveness of a handset, while at the same time keeping it priced competitively.
HTC's latest attempt at hitting the sweet spot is the U Play – a mid-tier handset that boasts many quality features, but doesn't hit all the marks set by flagship models.
DESIGN
The first thing you notice about the HTC U Play when you un-box the device is that it is very very shiny.
Gone is the metal body that differentiated earlier premium HTC handsets, to be replaced by a Corning Gorilla Glass front and back, bent at the edges and bonded together in such a way, the company says, that the surface becomes "liquid".
Marketing nonsense aside, to be fair it is quite attractive - although you immediately realise that the glass back is a finger mark magnet.
It's also a little telling that included in the box is a clear plastic protective cover.
Also on the outside is a home button with integrated fingerprint scanner at the bottom of the display, a power button to the right along with a volume rocker, and camera and flash to the rear.
There's no 3.5mm headphone socket – it's gone, replaced with a USB Type-C which doubles as a charging point.
That's going to irritate some.
The screen on the HTC U Play is a 5.2 inch Full HD 1080p, with a pixel density of 428ppi.
It's bright, sharp and pretty responsive and hits the mark for a phone at this price.
HARDWARE
The device is driven by a 64 bit MediaTek Helio P10 Octa-core processor, coupled with 3GB of RAM.
It makes for a reasonably smooth experience, although apps or games with a slightly heavier processing requirement can struggle.
The biggest issue though is the 2,500mAh battery, which really isn't adequate for the engine.
If you are a light user, you will just about make it through the day.
But gamers or heavy users will probably find themselves having to top up before the day ends.
The U Play has 32GB of in built storage, as a well as a microSD slot that can extend it up to 2TB.
CAMERA

The U Play has pretty decent camera specs, front and rear.
Both are 16MP sensors, the main camera coming with autofocus, optical image stabilisation, Auto-HDR and the usual dazzling array of modes.
The user interface is reasonably clean and intuitive.
The camera is quite fast and it mostly takes sharp colour rich images, even in lower light conditions.
The front facing selfie unit is also respectable – coming with a panorama mode and Auto-HDR.
Both capture 1080p video at 30fps.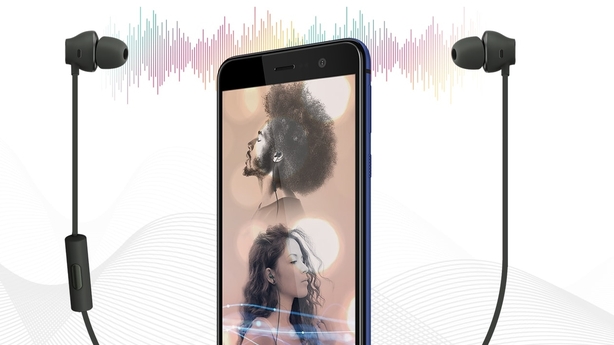 SOUND
HTC makes great play (see what I did there?!) of its USonic sound system on the device.
Effectively it is a piece of software that uses the bundled ear buds to map your ear using an annoying but thankfully brief tone.
It then plays audio in a manner to suit your ear and your surroundings.
There is a perceptible difference when it is turned on, although sceptics might wonder whether this is just some added equalizing software or whether it is actually analysing your inner ear.
The effect can be recalibrated and tweaked as you move between different noise environments.
The bundled ear buds are pretty good quality – but as mentioned earlier, don't expect to be able to use your own if they have 3.5mm plug on them. It's USB-C all the way here.
OTHER
Another big selling point, as far as the marketers at HTC are concerned, is Sense Companion.
HTC describe it as an artificial intelligence based system that learns about you the more you use it.
It will, for example, monitor your calendar and if you are due to go out and about it will remind you to charge your phone if its needed.
It may also recommend restaurants or other attractions based on location.
We didn't get to test the full capabilities of it, as in theory its functionality improves the more you use it and we only had the demonstration handset for a couple of weeks, and intelligence takes time to gather.
It is almost a given though that a decent smartphone nowadays has to have some form of smart assistant and it's questionable how useful any of them are at this stage.
The U Play runs on Android 6.0 Marshmallow, which is not the most up to date version of the Google mobile operating system, overlaid with HTC's Sense skin.
The interface is pretty smooth and straightforward, although there is a fair bit of bloatware pre-loaded on the handset.
CONCLUSION
In summary, this is good all round device, with many notable features.
It has a decent camera, audio system and it looks smart.
But there are a few drawbacks, not least the questionable battery performance and the loss of the audio jack.
Price could also be an issue here too.
At €49 on contract from Three Ireland and €449 SIM free it isn't the cheapest mid-tier device out there and in some cases the spec sheets of competitors could be better too – like on the OnePlus 3T for example.
So if you are looking for a new phone, don't rule it out, but U should also look around.
Comments welcome via Twitter to @willgoodbody