Apple has unveiled a new version of its iPad tablet computer and the first red version of the iPhone.

The limited edition iPhone 7 is the result of a partnership with Aids charity (PRODUCT)RED, with proceeds from each device sale going towards programs run by the charity.
The new 9.7in iPad comes with a Retina display screen and replaces the iPad Air 2, first released in 2014, in Apple's tablet line-up and will start at €419 for the 32GB version of the device.

Apple's Phil Schiller said: "iPad is the world's most popular tablet. Customers love the large, 9.7in display for everything from watching TV and movies, to surfing the web, making FaceTime calls and enjoying photos, and now it is even more affordable.

"New customers and anyone looking to upgrade will love this new iPad for use at home, in school and for work, with its gorgeous Retina display, our powerful A9 chip and access to the more than 1.3 million apps designed specifically for it."
Apple broke with its recent tradition by announcing the new products via its website rather than with a live event.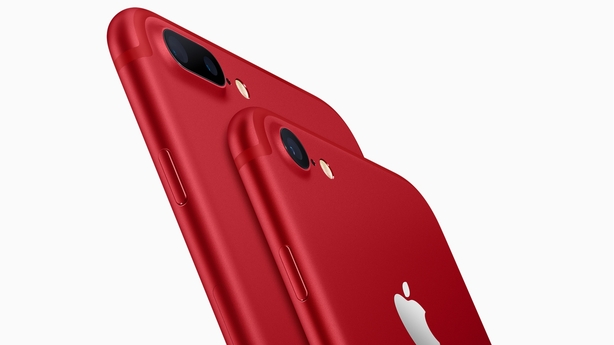 The red version of the iPhone 7 and 7 Plus is otherwise the same hardware as announced by the technology giant when first revealing the smartphone back in September.
Apple boss Tim Cook said: "Since we began working with (RED) 10 years ago, our customers have made a significant impact in fighting the spread of Aids through the purchase of our products, from the original iPod nano (PRODUCT)RED Special Edition all the way to today's line-up of Beats products and accessories for iPhone, iPad and Apple Watch.
"The introduction of this special edition iPhone in a gorgeous red finish is our biggest (PRODUCT)RED offering to date in celebration of our partnership with (RED) and we can't wait to get it into customers' hands."

The red device will start at €889 and will go on sale on March 24, the same day as the new iPad.
The next version of the iPhone, marking its 10th anniversary this year, is due to be announced in the autumn.
The tech giant also launched a new video editing app called Clips, which enables users to combine video, photos and music into short videos for sharing via social media.
Apple also said its smaller iPhone SE model will be available in 32 and 128 gigabyte (GB) versions, replacing the 16GB and 64 GB models.