By Will Goodbody, Science & Technology Correspondent
Laptop tablet hybrids are two a penny nowadays. And for good reason.
For a large number of people, they are the perfect in-between option when it comes to personal and business computing.
They can look and feel like a tablet, but with a click on of a detachable keyboard, they can give the power and ease of functionality of a traditional laptop.
The 12.9 inch iPad Pro, the Microsoft Surface Pro 4 and the Samsung Galaxy Tab Pro S, are all decent examples.
Lenovo's big offering in the market, however, is every bit a contender.
The ThinkPad X1 Tablet is a work horse, with a super keyboard and great screen.
DESIGN
Lenovo is traditionally thought of as a business brand, and the X1 tablet certainly looks and feels like a business machine.
That's not necessarily a bad thing – its smooth black finish looks slick, reasonably attractive and professional.
You certainly wouldn't feel ashamed pulling this out a board or sales meeting – although cool kids might be looking for a little more.
On the front it has a fairly thick bezel, as well as a finger-print scanner.
The rear is unremarkable, apart from the adjustable kick stand, which is released by clicking a small switch.
It folds down and out, which is different to the Surface Pro. It works reasonably well, but mightn't be to everyone's taste.
The tablet is relatively comfortable to handle and will slip with ease into every briefcase or backpack – although at 1.07kg including keyboard, it isn't the lightest out there.
Ports include a USB 3.0, USB Type-C for charging, Mini-Display, and there is also a microSD expansion slot and nano SIM tray.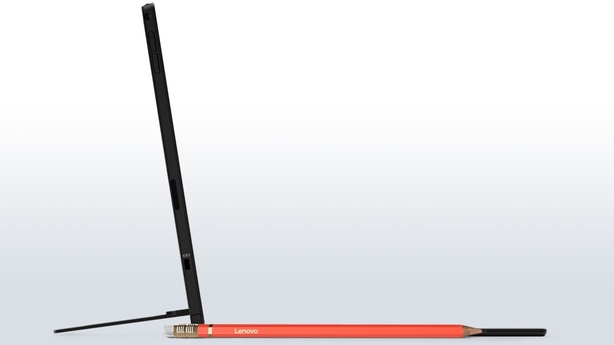 DISPLAY
The X1 has a 12 inch Full HD+ 2K screen, which is picture perfect.
It is pin sharp, displays colours vibrantly and will comfortably handle the full-range of tasks asked of it.
It was particularly good for watching video, which looks good from every angle.
HARDWARE
If power is what you need, you are unlikely to be disappointed with the performance of the X1 Thinkpad Tablet.
It comes with a choice of processors, up to Intel Core M7 vPro, with up to 16GB of RAM and a maximum of 1TB of solid state memory.
It also has an Intel HD Integrated Graphics card.
That's an engine which collectively can handle pretty much any task with ease, and the tablet really zips along.
The built in Touch Sensor fingerprint scanner is fast and accurate and adds an extra security option.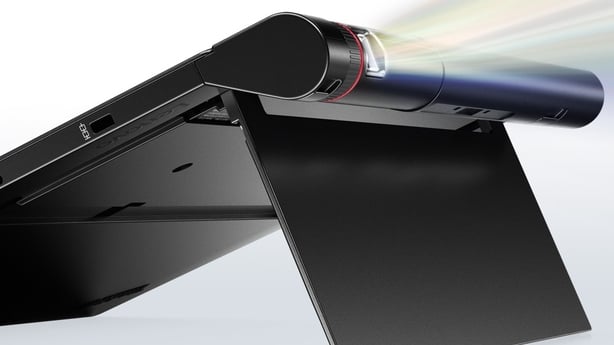 MODULES
One of the biggest selling points of the device is its keyboard, which comes included in the box.
Its inclusion is not the only good thing about it, the keyboard itself is superb. Solid, responsive, easy to attach and detach, with a couple of angle options available.
A good keyboard really does make or break these 2 in 1 devices, and in the case of the X1, it makes it.
The tablet's modular design also allows an optional extra "Productivity Module" to be connected, which extends battery life by 5 hours and includes a HDMI, OneLink+ for docking and USB.
You can also connect an optional extra "Presenter Module" to it – a pico projector which produces a 60" display from a distance of two meters.
Useful for business people on the go, although it is another thing that has to be remembered and carried.
The X1 also supports the use of a stylus pen.
BATTERY
The Lenovo Thinkpad range has a generally strong reputation when it comes to battery life.
That's as it should be for mobile computing devices pitched at busy moving executives.
The X1 Tablet doesn't particularly disappoint in this regards, although it could perhaps do better.
Certainly, the Productivity Module will greatly enhance the device's working day though, and will be a necessity for those who put big everyday power demands on their machine.
WHAT ELSE?
The device has a 2MP front facing camera, and an 8MP sensor on the rear – both adequate for the simpler photographic challenges, but don't expect too much.
The X1 Tablet has side speakers which spit out pretty reasonable sound – but again, don't plan on using it for the tunes at your next house party.
Windows 10 is the operating system of choice – and for most business users, that's a fait accompli anyway.
CONCLUSION:
It may not be the most stylish 2 in 1 in the world, nor does it have the longest lasting battery.

And with a starting price of €1,369 it isn't cheap, particularly when you factor in the extra cost of the "modules".

But the X1 Tablet has a cracking display, an excellent bundled keyboard, is high powered and the modules (notwithstanding the price) are a clever and handy idea.

Comments welcome via Twitter to @willgoodbody