By Will Goodbody, Science & Technology Correspondent
By now you will have seen and possibly read plenty about Apple's Watch – the tech giant's long anticipated first foray into the wearable space. That's because it has been available in other parts of the world since April. But it only arrived here in Ireland at the end of last month, and so remains a novel new product here for now.  
Different people have varying views about smartwatches – about what they should look like, what they should do, what they should cost. Apple's first effort in the market certainly gives us an indication of its views on the matter. But certainly doesn't answer the key question, do we or will we all need a smartwatch?
It's clear from talking to the company's marketers that they are pushing the product first as something that is personal – that is customisable in such a way and to such an extent that in using it, owners think it reflects their personality and their lifestyle.
The second angle Apple is keen to stress is that it is only meant to be used for short interactions – 10-15 seconds at a time. This might seem like a low level of engagement for such a high priced product, but in truth that's all you are going to want to use it for.
As you'd expect, Apple has pitched 'Watch' as a premium product. From the moment you open the fancy packaging and box, the experience is meant to be as much about buying a piece of high-quality jewellery as it is about having a small computer strapped to your wrist.
The version that Apple last week lent me was the stainless steel 42mm 'Watch' model with a Milanese loop strap. This model and strap (which is an extra) together cost almost €900, so it doesn't come cheap. There is a less expensive range, the "Watch Sport", which starts at €429 and a much more expensive option in the 18 carat gold "Watch Edition" range, which can cost up to €18,500 depending on the model.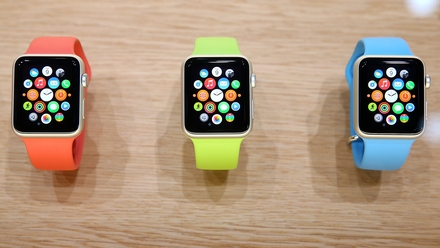 As a piece of jewellery, there is no doubting the Watch design fits the part, although the look may not be to everyone's taste. The entire range is rectangular in shape, with an anodised aluminium case on the Sport (available in a range of colours) and a stainless steel case on the Watch (space black and silver). There's also a wide selection of interchangeable straps available to suit most people's needs.
Although they look a little bulky, I didn't find the weight or dimensions to be a problem. Most models come in 38mm and 42mm sizes, with the former designed to appeal to female buyers.
Sticking out of the right side is the digital crown, which can be used for navigating the user interface, and for activating the Siri digital assistant. A second button beside the crown is used for powering the device on and off, and for accessing the favourite contacts menu. The back has a number of sensors on it, and for them to work the Watch must be worn tightly on the wrist (on either arm).
The Sport models come with an Ion-X display, and the Watch and Edition ranges with Sapphire Crystal screens. The display quality is really sharp and the touchscreen is very responsive. But while Apple says the screens are super strong, they do seem open to the elements, and I couldn't but feel concerned that a drop or bang could easily lead to an expensive repair job.
Set up seems to be reasonably straightforward and involves pairing Watch with your iPhone (it only works with devices running Apple's iOS operating system). You do this via a strangely hypnotic and funky moving image on the face of Watch, which works something like a QR code, providing unique information about your watch securely to the handset. Apps on your phone that have a version for Watch are then downloaded and installed automatically.
Apple recently released the new version of the Watch operating system, Watch OS2. Among the most important fresh features is that some apps now run on the Watch itself rather than the iPhone, making them quicker and more versatile, and negating the need for constant tethering.
The rest, however, continue to run on the iPhone, which means there can be a noticeable and quite irritating lag between the time you press an app or tap a function, and when it executes. This lag is even more prominent in apps requiring the iPhone to connect to the internet. The Twitter app, for example, can be very slow to open and update. It's also possible to confuse and crash apps in Watch if you do too much tapping before the software has caught up.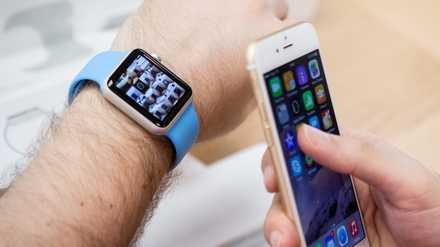 First and foremost, Watch is for telling the time. There's a whole range of customisable faces to choose from – more than enough to suit most tastes. Even a Mickey Mouse one for, well, Mickey Mouse fans!
But a major problem is that the screen is not always on. Instead the wearer must twist their arm in the manner you do when you look at your watch, in order to automatically activate the display. Fine in theory, but in practice I found it was far from perfect, and I would often have to contort my wrist into a strange angle in order to get it to work.
Watch, for obvious reasons, does not have a keyboard. Instead text is entered via Siri or through a series of stock responses pre-loaded on it. I have tried to learn to love Siri on other Apple devices, but have always found it imprecise and tricky. The version on Watch appears to be no different and I regularly found myself reading back responses to messages that I had dictated which were incorrect, with no easy way of quickly amending them.
One of the surprising benefits is that you can make and receive phone calls through Watch. Surprising, because I always imagined anyone doing it would feel like such a twit talking into their watch in public that they would never use the feature. The trick, therefore, is to use it in the comfort and privacy of your own company or in the car, for example, where it is actually quite handy.
The other really stand out feature for me was notifications. I found it particularly useful to check messages at a glance to see if they warranted further action. A little subtle tap on the wrist, from the built in haptic engine, alerts you to an incoming notification, and by the time you've tilted your arm to look, it's actually appeared on screen.
It is of course possible to take further action like replying or forwarding mail, messages, etc using Watch. But in the week I've been trialling it, I've usually pulled out the phone to do that. Maybe that says something about me; or maybe it says something about Watch.
If you are into monitoring your health and fitness, you will probably enjoy the Activity and the Workout apps. Activity allows you to set targets for calorie burning, standing and brisk movement. It is mildly engaging at the start, but after a while the overly persistent reminders to stand, move, etc become a little tiresome.
People into more serious levels of exercise will, however, get more use from the Workout app, which enables you to set goals and get progress updates on a range of activities, like running, walking, cycling, etc. The built in heart rate sensor, accelerometer and GPS do the work. And because Watch is water resistant, sweat is thankfully not an issue.
One of the big questions about Watch when it was first announced and the released was will the battery get it through a day of normal use? Well the answer, in my experience, is resoundingly yes. In fact I didn't have to top it up once during the day with its magnetic inductive charging cable in the week I've been using it, which included some days of heavy use. It seems a full overnight charge will usually get you through the day.
However, it's not all rosy. While the Watch's own battery meets the mark, it has a perceptible draining effect on the device it is tethered to. In fact I would estimate on a day of heavy use it used up a good 20 per cent of my iPhone's battery, prompting me to have to top it up instead.
There are lots of other features which might appeal to people with different needs and wants. The clever "Timelapse" function allows the user to skim forward in time through their calendar by simply turning the digital crown. Users can store music on Watch, which can be listened to via a pair of (not included) Bluetooth headphones, without the need for the iPhone to be present.
A range of security features should mean that Watch is not an attractive target for would be thieves. So called third party "Complications" can be added which provide information that users might care about most to the Watch's face. And of course, while it isn't here in Ireland yet, Watch supports Pay – Apple's digital payment system.
Which brings me to the question – is it worth it? My answer is going to make me sound like I am sitting firmly in the middle of the fence. But the truth is, it depends.
If you love Apple products; if you have the money to spare; if you enjoy tracking your fitness; if you like to know what's happening via notifications on a second-by-second basis; if you like jewellery; if you like customisable Mickey Mouse watch faces, then Watch is for you.
But if you are expecting a device that allows you to do everything you need and love to do on your phone, but in miniature, then you may well be disappointed. Performance can be sluggish and functionality limited. Watch in its current guise is more an accessory than a stunning revolution in technology, like the iPhone was.
That's not to say that further developments won't yield features that will make it a must have. An embedded SIM card, an always on screen, more powerful hardware and a greater range of apps would change a lot.
So don't rule it out. This is only the first of likely many iterations of the product.
Watch is undoubtedly one to watch.