RTÉ's Northern Editor Tommie Gorman offers an insight into the life and times of Paddy Armstrong
On Holy Thursday night, two women sat together at a function in the basement section of Eason's on Belfast's Royal Avenue that is sometimes used for book launches.
Dressed in a suit, author Paddy Armstrong read from a tenderly-crafted speech. After driving from Dublin to his home town, Brian Kennedy sat nearby, guitar in hand, on standby to sing 'Carrickfergus'.
As the author worked his way through the shorthand account of his life, one of the two women wept discreetly.
They are the mother and sister of Paul Hill, who with Paddy Armstrong, make up the surviving duo of the Guildford Four.
Like the late Martin McGuinness, Paddy was born in 1950. He was the only boy among five children, in a working class West Belfast family.
When he was 11, his two-year-old sister, Gertie, was killed by a bus after she ran back to collect the shoe that had slipped from her foot on the Falls Road.
Snow was falling on the Christmas Eve morning when, as an 18-year-old, he helped to carry his 51-year-old father's coffin after a brain tumour had killed him.
Paddy saw the mood change as the first phases of the Troubles erupted on Belfast's streets. He instinctively avoided conflict and never considered joining the IRA.
His widowed mother had borrowed money from a local priest and part of 22-year-old Paddy's reasoning for taking the ferry boat was work in England might help to pay back the debt.
He quickly embraced a different kind of a life. Away from home, shacking up in squats, smoking dope, popping pills, drinking, partying, stealing food from shops, going to the bookies, losing more often than winning, borrowing money, moving on to a new squat, occasionally picking up bits and pieces of work.
On a summer's night in September 1974, he met a beautiful English girl, Carole Richardson, at a party. She was 17 and she was like the character in the Richard Thompson song 'Beeswing':
"She was a rare thing, fine as a bee's wing
"So fine a breath of wind might blow her away."
They became an item and continued to live close to the edge in a subculture of their contemporaries. Once Paddy and Carole made an effort to escape from the cycle and headed towards Dover, bound for France.
After the money for B&Bs ran out, they slept in a barn but soon they accepted the plan was doomed and they headed back towards London.
Within months, the pair of them, along with Paul Hill and Gerry Conlon, would be locked up in jail, convicted IRA bombers, Category A prisoners.
Imprisonment
Paddy Armstrong's account of his trial, conviction and incarceration makes for very uncomfortable reading.
The only solid evidence against what was a most unlikely four-member IRA cell was the series of statements, provided by them, implicating each other, signed after they had been physically and mentally abused.
For his role in the October 1974 IRA Guildford bombing in which five people were killed and 65 injured, Paddy Armstrong was sentenced to life imprisonment with a formal recommendation of a term of not less than 35 years.
Even after a number of IRA teams involved in a series of violent attacks were subsequently caught in England, and admitted they were also the ones responsible for the Guildford bombing, Paddy Armstrong and the three others remained incarcerated.
Armstrong claims that violence, meted out from a cohort of prison staff, was a feature of the string of institutions where he was detained.
He singles out one "screw", Mick Haynes, for treating him like a human being when he was assigned to work in the prison garden.
He is ashamed over an incident when he throws boiling water over a prisoner who has been goading and bullying him.
His mother, Eileen, continued to work as a cleaner in Belfast's Queen's University and after she had saved enough money, once a year she would visit him.
Carole Richardson was imprisoned in a selection of England's high-security female prisons. Paddy kept the letters and drawings she would occasionally send him.
Once, after 13 years behind bars, they were allowed a prisoner-to-prisoner visit and they had a chance to kiss:
"The warmth and softness of her lips, her mouth is unbelievable.
"I'm laughing and she is laughing and I think I would be happy to die right now."
Another important person also kept faith in Paddy. In 1975, a Guildford solicitor, Alastair Logan, was assigned to his case after none of the larger, more experienced local firms passed on the opportunity to take the legal aid work.
He became convinced that the convictions were a miscarriage of justice and even after payment ceased, he refused to disengage.
His obsession with pursuing a retrial was a factor in the break-up of his marriage. Logan's work and the endeavour of another solicitor, Gareth Peirce, had a significant role in the dynamic that led to the reversal of convictions of the Guildford Four, the Birmingham Six and the Maguire Seven.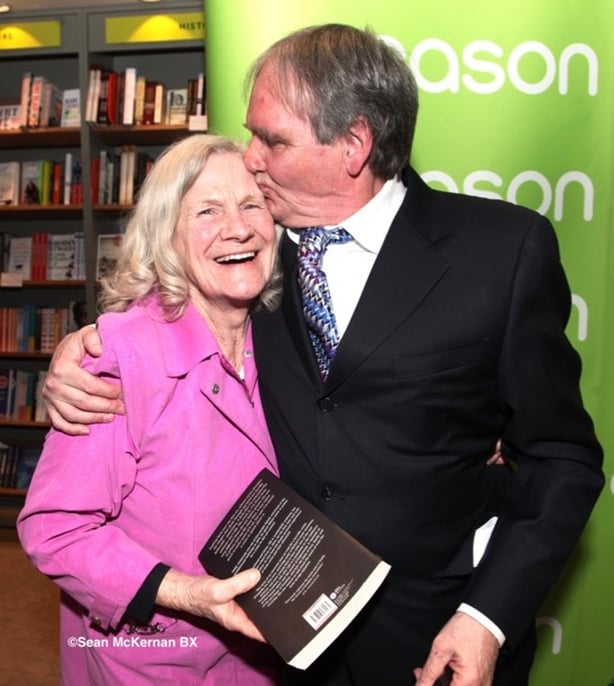 Life after release
The account of life since incarceration constitutes the up-to-now little known details of Paddy Armstrong's story.
Soon after their release he did meet with Carole Richardson. But maybe prison had destroyed the potential of their love and they went their separate ways.
He struggled to readjust: he drank and gambled, now and then placing £5,000 accumulator bets. He and Gerry Conlon were hired as consultants for Jim Sheridan's film 'In The Name Of The Father' and they had great times, drinking with the film crew in Lillie's Bordello in Dublin.
He sought peace from the turmoil by moving to an apartment in a quiet Scottish coastal town but had to make an emergency exit when heavies came in search of gambling debts.
And then, just as Paddy Armstrong was the most unlikely bomber and one of the most obvious victims of Troubles-related injustice, without warning, the magic happened for him.
Six years after his release from jail, on a summer's night in 1996, while waiting for a gig to start at Dublin's International bar, he spotted a blonde-haired woman called Caroline.
Her two brothers were in the Garda; she was a music and science teacher in a Clontarf secondary school.
Her family came from the Irish town often associated with jails - Portlaoise. As she mulled over his request for a date she asked him had he ever been in the IRA or held a gun?
Caroline married Paddy in 1998, two years after they met. Their son, John, was born the following year. A daughter, Sofie, arrived in 2002. Paddy became a house-husband, bringing the children to school, preparing the dinner and collecting them again before Caroline returned from her work.
Paddy's mother, Eileen, died from heart problems in August 2002. The woman who had lugged supplies of vinyl records to her only son in a string of high-security English prisons lived long enough to see him settled and happy.
Carole Richardson died from cancer in 2012. She left strict instructions: "No press. No reporters. I don't want them to get any more column space from me. Keep it out of the papers."
Last year Carole's daughter, Louise, came with some friends to visit Paddy and his family in Clontarf. Paddy left the room as the others sat to watch a First Tuesday documentary from October 1989, featuring the Guildford Four, after their release from prison.
He was drawn back towards the group, as he heard Carole Richardson's voice and saw her face filling the screen.
"And as her voice continues to float from the living room to where I'm standing, just inches from the glass door, there's a sound somewhere in the distance. A high-pitched, keening sound. Like an animal in pain. It's the most primal wailing and seems to come from the very core of someone's being. It's only when I feel Caroline's arms around me that I realise this sound is coming from me. From a place that, until 10 minutes ago, I would have sworn does not exist."
Paddy came to Belfast in June 2014 for the funeral of Gerry Conlon. He helped to carry his remains from St Peter's Church on the Falls Road, through "what was a battlefield from the late 60s up to and well beyond the day we all took the boat to England."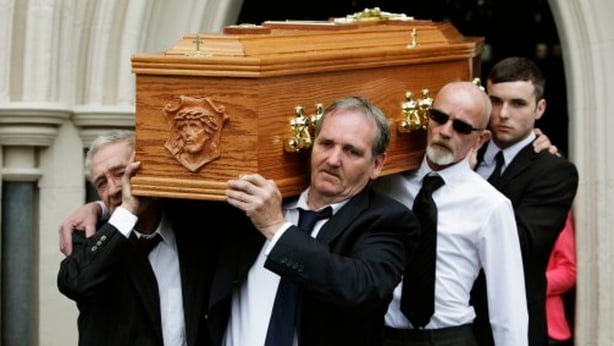 Explaining his reason to tell his story, Paddy Armstrong says:
"Maybe I need to let it out more. Especially now that he (Gerry) and Carole are both gone. There's only the two us (Paddy and Paul Hill) left to tell our story. So that the world never forgets. So that what happened to us can never happen again."
The resulting book is one more valuable insight into the layer upon layer of awful pain that flowed from what we call the Troubles. It is also the story of how the life of a man has been turned around by the love of a woman.
*Life after Life is ghost written by journalist, Mary Elaine Tynan, a past pupil of Caroline Armstrong. In his review of Life After Life in The Observer, Chris Mullin wrote: "I am familiar with just about all the considerable body of memoirs arising from the miscarriages of justice of the 1970s, but I can say without equivocation that this is the best. Beautifully written. If it were a work of fiction, it would be worthy of the Man Booker shortlist".
*Paddy Armstrong and his solicitor Alastair Logan featured on the Marian Finucane Show on 1st April available via podcast