By Edel McAllister
Jean-Claude Juncker joked that he couldn't have a sex change to help the gender balance of his new European Commission, branding the figure of nine women out of his 28 strong cabinet as "pathetic".
Presenting his new cabinet to MEPs in Strasbourg this week, the incoming president of the European Commission got a round of applause as he described his efforts to persuade governments to nominate a woman.
However, Mr Junker said his new team was made up of "political heavyweights" and promised they would deliver on the copious challenges ahead.
There may have been some consternation here over Phil Hogan's nomination, but it was a minor headache compared to the mess that was the Slovenian nomination.
The former Slovenian PM Alenka Bratusek pretty much nominated herself despite her party losing power. Parliament failed to ratify the appointment, leaving Mr Junker with a last-minute reshuffle.
Mr Junker will be relieved to see his team start work on 1 November, despite the scale of the financial challenges before them.
Added to those challenges is the larger number of Eurosceptic members of parliament.
This week's plenary session saw the United Kingdom Independence Party cry foul when they almost lost their status as a group in the parliament.
The 48-strong Europe of Freedom and Direct Democracy Group had the required numbers of MEPs from seven countries to form a group.
But then Latvian MEP Iveta Gigeule resigned from the newly formed group, or was persuaded to resign as UKIP leader Nigel Farage believes.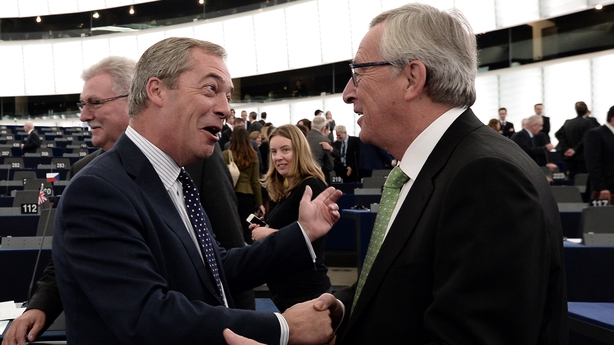 Mr Farage accused the president of the parliament, Martin Schulz, of pressurising her to leave the group in exchange for a position as chair of a delegation, something Mr Schulz and the European People's Party deny.
In the end, UKIP managed to team up with Robert Iwaszkiewicz - an MEP from the Polish Congress of the New Right - known for anti-EU rhetoric and controversial views about women.
Mr Farage defended the move and later warned Mr Juncker that "this would be the last EU Commission to govern Britain because we will be out of here".
UKIP's anti-EU tone is striking a cord in Britain where Prime Minister David Cameron is seeking renegotiation of Britain's terms of EU membership, a development that Ireland is watching somewhat anxiously.
Fine Gael MEP and EPP member Brian Hayes told RTÉ's European Parliament Report that Mr Cameron's demands to cut EU migration was a breach of a fundamental EU principle of freedom of movement.
"The four fundamental pillars of the EU are the free movement of goods, services, people and capital throughout the Union," he said.
"It is unfortunate that an issue of such critical importance to Britain, the EU and to Ireland is becoming entangled in internal British party politics.
"Electoral considerations now appear to be driving Britain's relationship with the EU rather than the long term strategic interest of the UK."