Fresh violence broke out in the Ukrainian capital Kiev this morning as police moved to break up barricades set up by anti-government protesters.
Below are the main events in the crisis, which began when the government scrapped an agreement with the European Union.

2013
21 November
The authorities unexpectedly suspend talks on an Association Agreement with the European Union in favour of closer economic relations with Russia, causing the pro-European opposition to call protests.
24 November
Tens of thousands protest on Independence Square, also known as the Maidan, which was the scene of the Orange Revolution. Other rallies are held in numerous other cities, including Lviv in western Ukraine.
30 November
Riot police violently disperse a protest on the Maidan, with dozens wounded, many of them students.
The opposition calls for President Viktor Yanukovych to step down and early elections, condemning the authorities' harsh tactics.
1 December
A massive crowd of protesters gathers on the Maidan, with thousands setting up a camp of tents and building barricades.
Around 300 are wounded in clashes in front of the presidential administration building. Hundreds of protesters occupy Kiev's city hall building.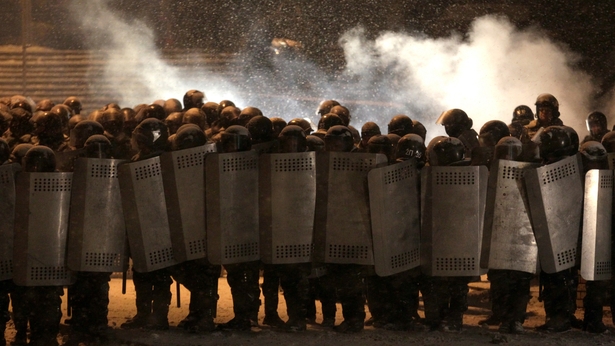 8 December
As hundreds of thousands protest on the Maidan, a group of nationalists topples a Lenin statue in the city centre.
11 December
As US Assistant Secretary of State Victoria Nuland and the European Union foreign policy chief Catherine Ashton visit Kiev, police attempt to storm the Maidan to dislodge the protesters, but are held back by the protesters and forced to retreat.
17 December
Mr Yanukovych travels to Russia and obtains a loan of $15 billion (€11bn) and a huge price cut for the gas it buys from Russia. The opposition accuses the president of "selling out" the country but seems wrong-footed by the deal.
25 December
A journalist from opposition website Ukrainska Pravda, Tetyana Chornovil, known for her articles harshly critical of Mr Yanukovych, is beaten by unidentified attackers. The attack prompts the protests on the Maidan to grow and is strongly condemned by the West.

2014
10 January
Ukraine's former interior minister who is now in the opposition, Yuri Lutsenko, is beaten up by police during clashes between protesters and police and is hospitalised with concussion. Around 50,000 people protest over the next two days in reaction to the attack.
19 January
Around 200,000 people gather on Independence Square two days after Ukraine passes laws curbing protests that prompt strong criticism from the West and lead to the protesters whistling and heckling the opposition leaders for the first time.
Dozens are injured in clashes between protesters and police close to the square that continue over the next days.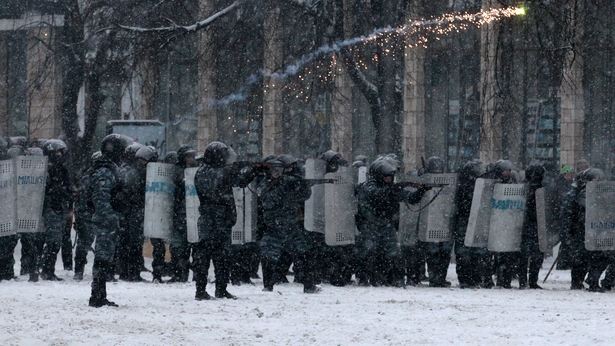 22 January
After Ukrainian Prime Minister Mykola Azarov threatened that security forces would use force against "provocateurs", police storm protesters who have hunkered down behind barricades close to the Maidan.
The opposition says that at least two protesters have been killed. The interior ministry confirms one death.