Ukrainian opposition leaders have emerged from crisis talks with President Viktor Yanukovych saying he had failed to give concrete answers to their demands.
They told supporters on the streets to prepare for a police offensive.
At least three protesters are thought to have died, two from gunshot wounds, despite official denials from the police.
The three opposition leaders who met Mr Yanukovych said they were ready to face police bullets.
Boxer-turned-politician Vitaly Klitschko told the thousands of protesters gathered on Kiev's Independence Square that during three hours of talks the president had given no clear response to their demands that the government be dismissed and sweeping anti-protest laws ditched.
"Today they (the police) are preparing to clear us out of the 'Maidan' (Independence Square)," Mr Klitschko declared.
"We must do all we can to stop them clearing us out," he said.
He urged people to stay overnight and defend the square in central Kiev, and drew a roar of support from protesters when he declared: "If I have to go (on to the streets) under bullets, I shall go there under bullets.
"Tomorrow if the President does not respond ... then we will go on the offensive," he said.
Former economy minister Arseny Yatsenyuk echoed his words, and referred to the overnight shooting deaths which the opposition has blamed on police despite official denials.
A third man died after plunging from the top of Dynamo football stadium while fighting with police.
"I will not live in shame. Tomorrow we will go forward together. If there will be a bullet in the forehead, so be it. It will be honest, just and brave action," he said.
The deaths were the first protest-related fatalities since the crisis erupted last November after Mr Yanukovych ditched a trade deal with the EU in favour of financial aid from Soviet-era overlord Russia to prop up Ukraine's ailing economy.
The direct talks between Mr Yanukovych and the opposition were the first concrete move towards negotiating an end to two months of civil unrest which have culminated in violent clashes between hard-core radical protesters and police.
The protesters, inflamed by news of the deaths, faced off again with riot police, whom they have battled near the government headquarters since Sunday night.
Though repelled by occasional forays of baton-wielding riot police, they have continued to return to the spot, setting tyres ablaze and sending clouds of black smoke wafting into police lines.
Fifty people were detained overnight and 29 of them were officially charged with taking part in mass unrest, police said.
A total of 167 police have been injured, officials said. There was no estimate of the number of civilians injured.
The European Union has threatened to take action against Ukraine over its handling of the anti-government protests over the deaths.
European Commission President José Manuel Barroso said the EU was shocked by the deaths, deplored the use of force and called on all sides to immediately halt violence.
"If there is a systematic violation of human rights, including shooting at peaceful demonstrators or serious attacks to the basic freedoms ... then we have to rethink our relationship with Ukraine and possibly (there will be) some consequences," he said.
Mr Barroso added that it was too soon to say what the consequences might be.
During overnight violence in Kiev, two people died from gunshot wounds while a third was said to have fallen from the top of the Dynamo soccer stadium, the general prosecutor's office said.
The anti-government protests erupted last November after President Yanukovych shunned a trade pact with the EU at the last moment and instead turned to Russia for financial aid.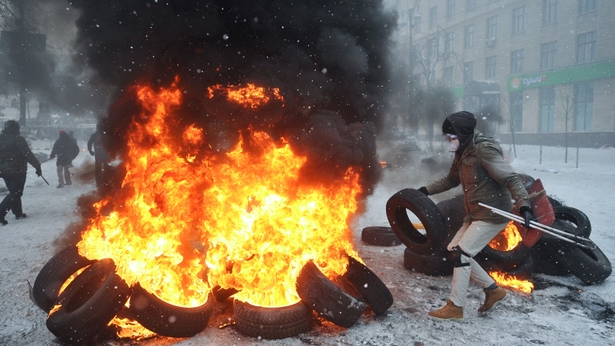 Swedish Foreign Minister Carl Bildt and his Lithuanian counterpart Linas Linkevicius said on Monday that further violence could lead to EU sanctions against Ukraine, although no official discussions have been held so far.
The US embassy in Kiev said it had revoked the visas of several unidentified Ukrainians in response to action taken against protesters in November and December and said further measures could be taken.
Earlier, Ukrainian Prime Minister Mykola Azarov said "terrorists" were threatening the lives of ordinary citizens in the capital and the "criminal" actions of protesters will be punished.
Demonstrators threw petrol bombs and police responded with rubber bullets and stun grenades.
The latest clashes broke out when police, using tear gas, tried to dismantle a protest camp but were repelled by demonstrators hurling home-made petrol bombs, witnesses said.
Mr Yanukovych has agreed to meet the three main opposition leaders for talks on the crisis.
Poland's foreign ministry summoned the Ukrainian ambassador in Warsaw to voice its concern about the crackdown on anti-government protests in Kiev.

Katarzyna Pelczynska-Nalecz, secretary of state at the ministry, told the ambassador that Poland felt "deep concern" about new laws in Ukraine restricting protests, and said the flare-up of violence this week might be linked to the new restrictions.