A survey of ancient Irish genomes has found evidence that the parents of an adult male buried in the heart of the Newgrange passage tomb were first-degree relatives.
The research of the male's genome suggests that he was among a ruling social elite which is similar to the inbred Inca god-kings and Egyptian pharaohs.
The study, which was led by archaeologists and geneticists from Trinity College Dublin, focused on the earliest periods of Ireland's human history.
The team conducted a painstaking genetic analysis of the ancient bones of 44 individuals recovered from all the major Irish burial traditions court tombs, portal tombs, passage tombs and other natural sites.
Famous for the annual winter solstice, little is known about who was buried in the heart of the Newgrange passage tomb which was built over 5,000 years ago. 
The survey of the genomes, which has been published in the Nature journal, suggests that the man buried in the chamber belonged to a dynastic elite.
Researchers also found a web of distant familial relations between the man and other individuals from sites of the passage tomb tradition across Ireland, including the mega-cemeteries of Carrowmore and Carrowkeel in Co Sligo.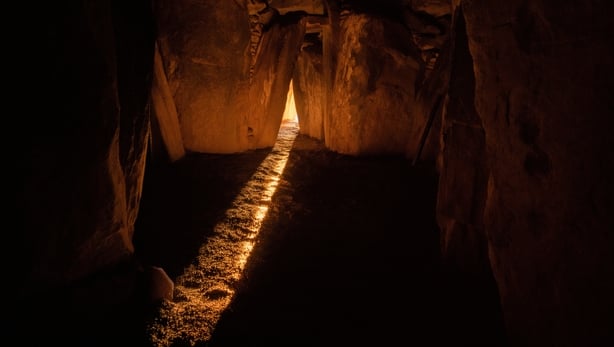 TCD's Dr Lara Cassidy, who was first author of the paper, said that the man's genomes is a sign of close breeding.
She said: "We all inherit two copies of the genome, one from our mother and one from our father; well, this individual's copies were extremely similar, a tell-tale sign of close inbreeding. In fact, our analyses allowed us to confirm that his parents were first-degree relatives.
"It seems what we have here is a powerful extended kin-group, who had access to elite burial sites in many regions of the island for at least half a millennium," she added.
We need your consent to load this rte-player contentWe use rte-player to manage extra content that can set cookies on your device and collect data about your activity. Please review their details and accept them to load the content.Manage Preferences
Trinity College Dublin says that the analysis, which stretched over two millennia, uncovered other unexpected results.
It revealed that before the monument builders arrived en masse on these shores over 5,000 years ago Ireland was home to a small hunter gatherer population whose genome also indicates long-term isolation from Britain and Europe.
However, it warns that this replacement was not absolute as "a single western Irish individual was found to have an Irish hunter-gatherer in his recent family tree, pointing toward a swamping of the earlier population rather than an extermination".
The researchers also discovered evidence of the earliest yet diagnosed case of a child with Down syndrome in the 5,500-year-old Poulnabrone portal tomb in the Burren, Co Clare. This predates the previous earliest confirmed case of Down syndrome by about 4,000 years.
The study was carried out in collaboration with University College London, NUIG, University College Cork, University of Cambridge, Queen's University Belfast, Sligo Institute of Technology and the National Monuments Service.