There weren't too many people cheering out loud when Minister for Finance Paschal Donohoe unveiled his budget for next year.
But if you happened to be in the physics departments of some of the country's academic institutions you might have heard a low-key whoop or two, or at very least witnessed a few smiling faces.
That's because after a long campaign, the astronomy, astrophysics and related industrial community has finally convinced the Government to join the European Southern Observatory.
Europe's leading international astronomy body, ESO, operates some of the world's most impressive telescopes in some of the most inhospitable parts of Chile.
Its equipment and researchers have been responsible for some of the biggest astronomy discoveries of recent years and with the European Extremely Large Telescope, or E-ELT, under construction it will make many more.
Until now, Ireland hasn't been a member of the organisation.
But that will change next year when we will join the accord, opening the door to Irish researchers to officially access the equipment and the network of academics that use it.
It will also enable Irish firms working in software, data analytics, photonics and more to bid for lucrative contracts (the E-ELT will cost over €1bn).
It's a good day for Ireland's small but vibrant and growing professional and amateur astronomical community.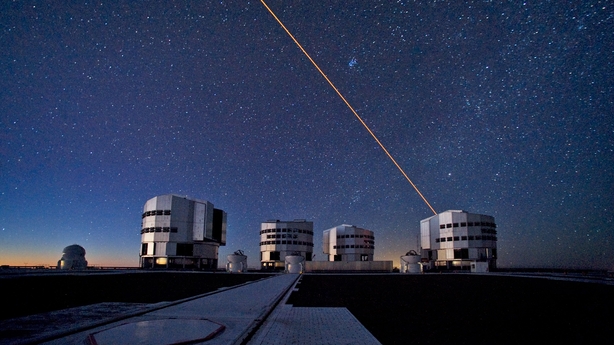 But while this was the biggest headline grabber in the research sphere from Budget 2018, it is unlikely to be enough to appease those in the wider field of science.
That's because there was very little else by way of new funding announcements in the allocations revealed in the budget day speech.
Yes, Science Foundation Ireland will get €4.5m for a new world class research centre in the area of precision pasture-based dairying.
But what about the three other SFI centres that were approved as part of the same open call for applications, yet cannot be established because of a lack of funding?
They will have to sit on the shelf until this time next year – or until there is a supplementary estimate added to the Department of Business, Enterprise and Innovation budget.
There was also a modest amount of €7.5m announced for a new Masters and PhD programme, which will be welcomed.
But yet again there was no big step towards proper funding of the research sector here.
Two years ago the government set a target of doubling the total funding of research and development from private and public sectors to 2.5% of GNP by 2020 under its science strategy, Innovation 2020.
But since then, despite their best efforts, officials at the Department of Business, Enterprise and Innovation have been unable to convince the mandarins at the Departments of Finance and Public Expenditure and Reform to loosen the purse strings.
The result is that half way through the strategy, spending on R&D is now 1.42% of GNP, a huge distance off the targeted amount. And this at a time when the economy is growing fairly rapidly, making the target harder to reach.
The Government acknowledges this, the minister responsible for research, John Halligan, even admitting at a post-budget briefing that he is now unsure the target will be met.
Clearly it won't and that leaves the wider research community frustrated once more.
SFI has a raft of plans it could implement if funding were increased.
So too have individual researchers who are becoming increasingly dependent on other grant schemes from Europe and elsewhere.
There are also many opportunities and challenges of Brexit lying ahead which will require money to navigate.
The rationale for increasing research funding is a no-brainer, proponents say.
Countless studies have shown how investment in R&D can deliver a substantial return in the medium to long-term for any organisation or economy that does it they argue.
They are pragmatic enough to recognise and acknowledge that there are many other competing demands for funding, particularly urgent ones like the housing crisis, as well as the health and education systems.
Yet the scientific community argue investment in the work they do will ensure a strong and resilient economy in the future, which will help address challenges like these and deliver real world practical solutions.
So while astronomers will be looking to the skies with a broad smile on their faces in the wake of Budget 2018, the rest of the scientific community will be left wondering when their star will rise.
Comments welcome via Twitter to @willgoodbody