Bishop Niall Coll has been ordained as the Bishop of Ossory at the Cathedral of Mary in Kilkenny.
He was appointed by Pope Francis in October last year.
Born in Letterkenny in Co Donegal, Bishop Coll was ordained a priest for the Diocese of Raphoe in 1988.
Today, he thanked those in the Diocese of Ossory who had already extended a warm welcome to him.
He said he had been reliably informed by a diocesan historian that he is the 96th Bishop of Ossory and the first Ulsterman to serve in the office.
Bishop Coll replaces the former Bishop of Ossory Dermot Farrell who is now the Archbishop of Dublin.
Archbishop Farrell was principal consecrator at the ordination, along with two co-consecrators - Bishop Coll's Maynooth classmate, Bishop Denis Nulty and the Bishop of Raphoe, Alan McGuckian.
In the long tradition of the Catholic Church where each new bishop picks a motto, Bishop Coll chose - 'Christ Jesus our hope', 'Críost Íosa ár ndóchas', 'Christus Jesus Spes Nostra' - taken from the opening salutation of the First Letter of St Paul to Timothy.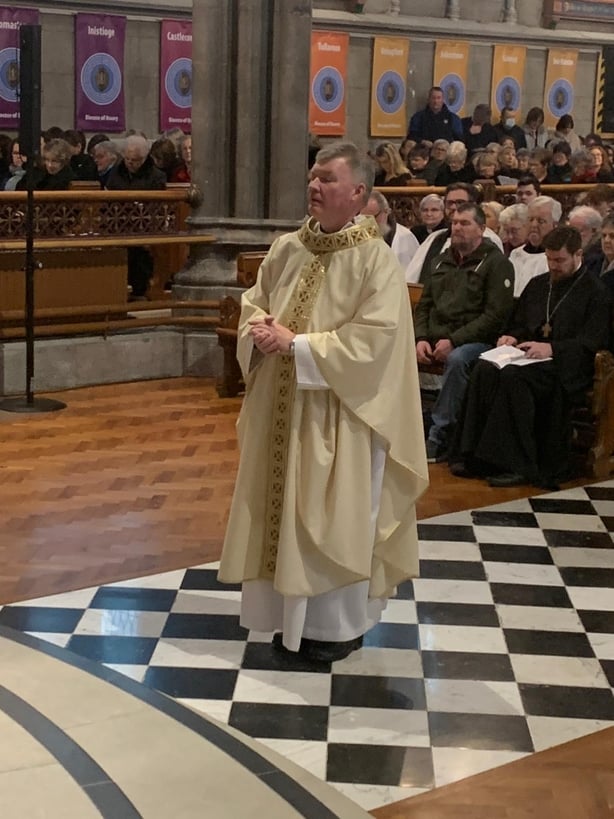 He told those gathered that in an era marked by strong currents of secularisation, materialism and individualism, when many people have pushed God to the margins of life, Christians can be tempted to lose hope and retreat into "a holy huddle".
He said this was exacerbated for many due to the Covid-19 pandemic, the war in Ukraine, civil conflicts raging elsewhere, economic difficulties, especially for young people, rising prices, climate change and social unrest especially in relation to the family.
While he said some may be tempted to lose heart, to despair would fly in the face of the Gospel.
He added that committed Irish Catholics know that a new way of being Church needed to be built up from the ground - blending the old faith and, "where possible, the new ground of contemporary Irish society in a new organic synthesis.".
He commended discussions, reflections and actions already underway in Ossory as part of of the Synodal process of renewal in the Catholic Church.
Bishop Denis Nulty, Bishop of Kildare and Leighlin, who served as Apostolic Administrator to the Diocese since Archbishop Dermot Farrell took up his role in Dublin, said he had seen at first hand the wonderful life of the Diocese, which he said, "is alive with the faith".
He said he looked forward to accompanying the new Bishop on the synodal journey as a neighbouring Bishop and friend.
In his homily, Fr Kieran O'Shea described the challenges and opportunities that lie ahead for the new Bishop as "formidable and exciting".