Dozens of people demonstrated at Trinity College Dublin this evening in solidarity with protesters in Iran.
It was part of a worldwide rally at more than 100 universities today.
Even though demonstrators in Dublin were thousands of kilometres from Iran, many were reluctant to speak openly for fear of what may happen family and friends back home.
"I'm wearing a mask because although I would like to show my face and show who I am and naturally support what's happening in Iran, I'm afraid [that I'll be identified] and they'll do something to family back home," one woman said.
She said from speaking to family members back home, footage on social media showing demonstrations are just the tip of the iceberg.
"As an Iranian, or as a human, we should stand for their voices. We have to do as much as we can. There's no voices in Iran, there's no internet at the moment," another person said.
---
Decision on Iran embassy reopening 'under review' - Coveney
---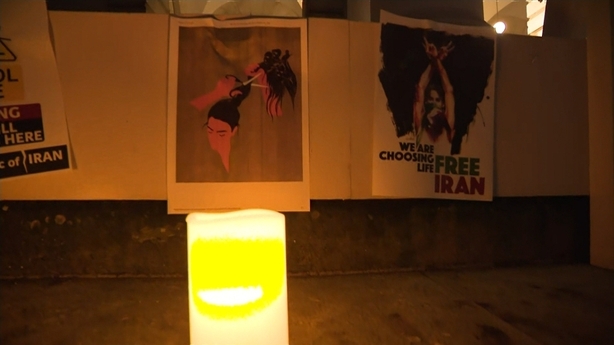 Trinity College Dublin Student Union President Gabi Fullam said it was important to organise the event to be a voice for those who cannot speak out.
"I helped support the Iranian students on campus by bringing this together as a show of solidarity for other students around the world who have been imprisoned or facing incredibly harsh punishment from the Iranian government," she said.
Protests continue in the Islamic Republic with demonstrators calling for more freedoms for women and for those in power to step down.
Iranian authorities have attempted to clamp down on protesters following two months of protests.
NGOs say at least 450 people have been killed including 60 children.
Around 18,000 people have been arrested.