Owners of a trout farm in Co Kilkenny say help is needed if they are to survive the current inflation crisis.
Goatsbridge Trout Farm in Jerpoint has been hit with widespread substantial price increases and owners Mag and Ger Kirwan are hoping tomorrow's Budget will bring some help.
Managing director of the farm Mag Kirwan says: "We cannot sustain the losses we've been having over the last six months... we would just have to close our doors. It's a cry for help really."
The business, which has been in operation for 50 years, supplies a variety of rainbow trout products to small and large retailers in Ireland and abroad.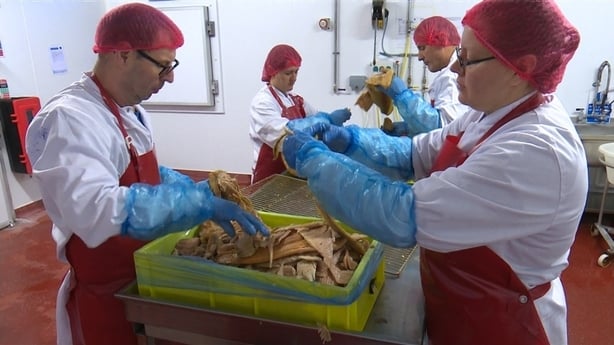 She says: "The electricity bill for this site alone has gone up from €8,000 to €38,000, fish food has gone up by approximately €12,000 from €28,000 to €40,0000, the cost to transport pallets to the UK has doubled from €70 to €140. Packaging has gone up 35% and diesel has gone up. It's just crazy."
Ms Kirwan says they reluctantly tried raising prices of some products to recoup some of the extra expense but then lost business.
"People baulked and said they can't afford to buy from us. A lot of people are buying imported trout now. We're starting to win back some of that business because we do give the service."
Goatsbridge was originally set up by Ger Kirwans's parents and currently employs 28 people.
For years it has been a strong and viable SME but the situation it finds itself in now is like that of many other businesses in the food and agri-food sectors according to David Leydon head of Food and Agribusiness with professional services firm IFAC.
Mr Leydon says: "It's a very difficult time for food and agribusinesses. Energy costs, input costs and salary costs are increasing and on the other side we see consumers are tightening up on their spending and that's really impacting on premium food brands.
"It's really a time to batten down the hatches, to manage cash flow as tightly as possible but they do need support to manage this situation. They do need an energy price cap.
"Without that they won't be able to manage their cost flow over the coming months, they won't have any clarity on what type of margin they need to keep the doors open."
Tomorrow, a range of supports for businesses are expected in the Budget, including low-cost loans, grants for exporters and manufacturers and an energy scheme.
Mag Kirwan says substantial help will be required.
"We really need something like a Covid payment to really keep us going. I don't know where to turn. I can see us having to mothball some of this operation."