The National Ploughing Championships will return to Ratheniska, Co Laois in two weeks as it is held for the first time since 2019 due to the pandemic.
An additional draw at this year's event will be the World Ploughing Championships. This competition had been set to take place in Russia, but was cancelled when the war in Ukraine began.
At a preview event on the 900-acre site today, Anna May McHugh - the managing director of the National Ploughing Association - said she and her team are looking forward to the arrival of 300,000 visitors from across Ireland and abroad for the event between 20-22 September.
Over 1,700 stands make up the tented city that has sprung up on the site in recent weeks.
There is also a particular emphasis on sustainability at this year's event with all on-site electricity being generated using recycled vegetable oil.
Solar power street lighting and extensive recycling are also being deployed.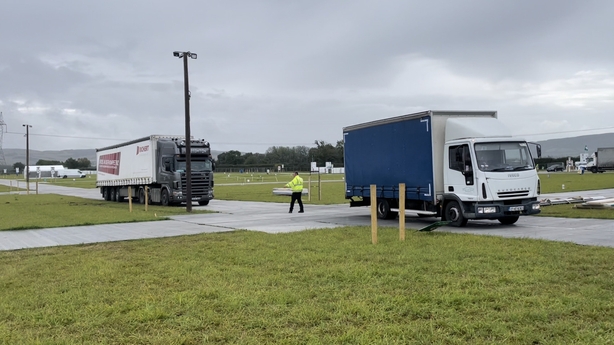 "We are delighted to be back," says Anna May McHugh managing director of National Ploughing Association.
"Three years is a big gap and you are trying to think of things you did back in '19 to repeat again in 2022 but the event is going very well, the organisation is going extremely well. We're well ahead with progress and we are looking forward to welcoming about 300,000 people to Ratheniska."
Due to the large crowds expected, gardaí will have an extensive traffic management system in place.
"We'd appeal to people not to use their own sat navs or their own navigation system in their cars and to follow the signage. There will be an extensive plan rolled out, colour coded for each route whatever direction in the country you are going to be coming from. We're appealing to people to follow the traffic plan and the guidance the gardaí will provide," Ms McHugh said.