A unique village in Co Antrim has cleared the first hurdle in a bid to become a UNESCO World Heritage Site.
Gracehill is the only Moravian settlement on the island of Ireland, with its own Bishop and original buildings and burial ground dating back more than 260 years.
"Moravians always chose beautiful names for their settlements. This village was built on a hill, a hill of grace," says church member Sallyann Johnson.
What is known today as the Moravian church was one of the very early Protestant churches and dates back to 1457, when it was established in the regions of Moravia and Bohemia, which later became the Czech republic, now called Czechia.
"Moravian is a bit like a nickname in a sense from the place where the church started," says Bishop Sarah Groves.
"We have an official title, which is the Unity of the Brethren, but everybody knows us as Moravians."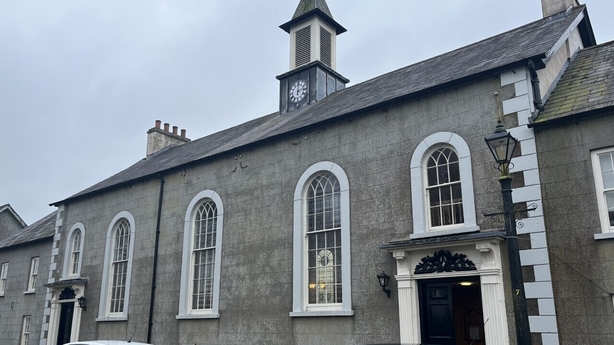 It came to Ireland when an evangelist called John Cennick travelled to Dublin from London in 1746. Five Moravian churches were established in the city and he also ventured north after being asked to do so by a grocer from the town of Ballymena in County Antrim who'd been impressed by his preaching.
None of the churches established in Dublin still function, but one of the buildings remains in Kevin Street, with the Moravian image of a lamb and flag on the stonework, and a cemetery on Whitechurch Road is still maintained by a small Moravian fellowship.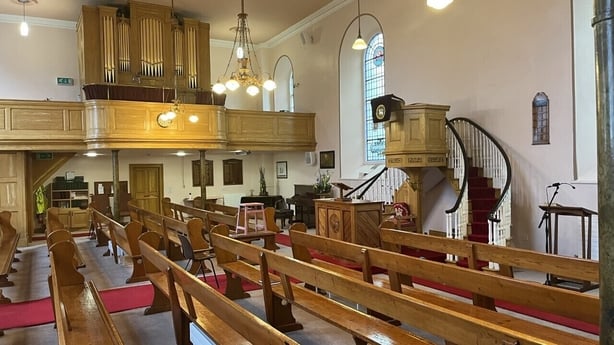 The settlement of Gracehill was founded in 1759. As was practice at the time, plans for all Moravian settlements had to be sent for approval to what was regarded as the mother church in Germany.
Bishop Groves also presides over four other smaller congregations north of the border, but Gracehill, with a congregation of just over 100, is the centre.
"It's set out as a continental settlement would be with a square, with a church, with a burial ground linked in, with the public houses round the square and then private family houses dotted around the area," she explains.
"As Moravians we put a huge emphasis on community and relationships. So our relationship to God is obviously primary, but then it's our relationship to each other, and that's spelt out in the way that the settlement is designed, because it's designed around the idea of community."
The square, with a pond at its centre, remains intact. Original buildings include separate houses for single men and single women, the shop and what was an Inn.
There are separate entrances to the church, signposted the Brother's Walk and Sister's Walk, and men and women also traditionally sat separately inside.
While those customs have long since gone, one remains when Moravians die and are laid to rest in what they call God's Acre, the Anglicised version of a German name meaning "Field of God".
Men are buried on one side of a tree lined pathway and women on the other, with headstones of equal size, symbolising equality in death.
"It goes back to Moravian spirituality," explains the Bishop.
"The idea is not so much that people are separated in death, but actually that we're buried together as part of the congregation in our own groups."
Education was a huge part of Moravian life, with the church claiming to have been ahead of the game in terms of equality.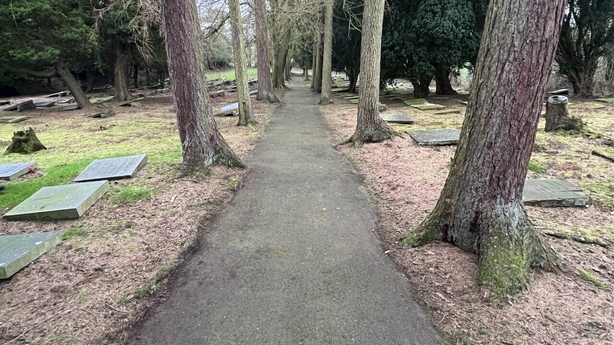 Gracehill once had four schools, also split on the lines of gender. There were two day schools for children from the local area and two fee paying boarding schools, called academies, which attracted pupils from all denominations from all over Ireland.
At its height around 500 pupils aged from six to 18 attended school in the village.
A classroom from one of the schools has been recreated in one of the original buildings.
Sallyann Johnson says diaries kept by the church recall how the mother of one of Ireland's greatest playwrights was expelled for breaching the strict moral code of the time, which forbade boys and girls mixing.
"Samuel Beckett's mother spent a short time at school here," she says.
"Mary Roe Beckett was quite, what you would call, a spirited girl, I mentioned about the high moral standards, so she was caught talking to boys over the fence.
"That was unfortunately the end of her stay at Gracehill Ladies Academy."
There are dozens of church diaries under the watchful eye of village archivist Jackie Neill, who is also one of a number of local tour guides.
"A Moravian minister is duty bound to write a diary," she explains, caressing a bound book dated 1760 from a congregation in Ballymena which no longer exists.
"In the diaries you will find some of them just write about their sermon, some of them everyday events in the village, and some of them write about historical things that are going on around them, so we have a very, very good range of history from the 1700s onwards."
They include diaries from the churches in Dublin.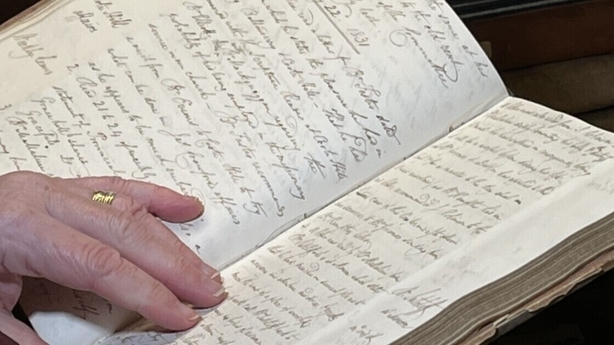 "I've actually just started researching them at the minute and it tells of when the French came in the 1700s and how soldiers were thrown off the bridge in Dublin and about the fighting that went on there.
"During partition as well, we've just done recently research on partition and how down in Dublin they had to stop the services etc., because of fighting and rioting in the streets."
One of the diaries written in Gracehill mentions a murder mystery involving two sisters who both died shortly after moving to the village from Redcastle in Co Donegal in the 1800s.
"They were very friendly with the local doctor. The elder sister died in December, the other in January, and tongues started wagging," Jackie explains.
"The elder sister was actually exhumed and in the 1800s you had to be exhumed by candlelight, you weren't allowed to do it because it was anti-church. She was actually exhumed twice and they decided that she had been poisoned.
"The doctor was brought to trial, but nothing was ever proven."
A modern day doctor, David Johnson, is chair of the Gracehill Trust and has been campaigning for years to have the village designated as a UNESCO World Heritage Site.
"It's the only complete Moravian settlement in Ireland and it was the first place in Northern Ireland to be designated a conservation area so it's always been somewhere that's been seen as being special," he says.
"The reason that you get World Heritage status is because you can demonstrate what's called outstanding universal value, and that means something that is so special that it transcends generations of humanity, so it's a huge accolade.
"We think that what the Moravians brought in terms of not just the religious element, but in terms of the ethos that they brought in terms of equality and in terms of education is so important that it needs to be better known. It's a very early example that we could do with following even today."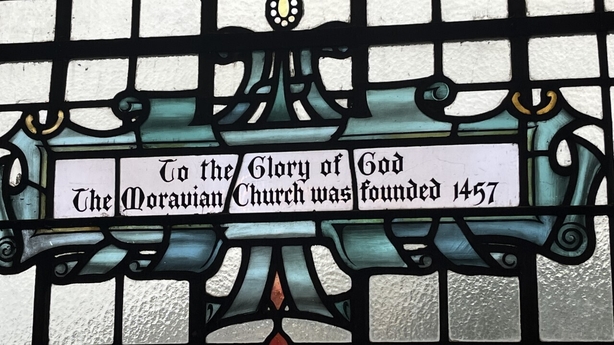 David is involved with Moravian congregations in Denmark, Germany and the United States seeking to have Gracehill and others added to the list.
He believes the village's unique heritage merits recognition, and an important first hurdle has already been crossed.
"We've been admitted to the tentative list, which is the step before actually getting on to the full world heritage list, so we're really excited," he explains.
"We've taken huge leaps forward. It's been a long journey but we're actually getting there and likely to, hopefully, have some firm decisions in the next couple of years."
While all of the former Moravian churches in Dublin closed, the stained glass windows from one of them survives in Gracehill.